US Navy, Japanese responders perform radiation-leak drill for USS Ronald Reagan
by
Alex Wilson
Stars and Stripes
December 16, 2021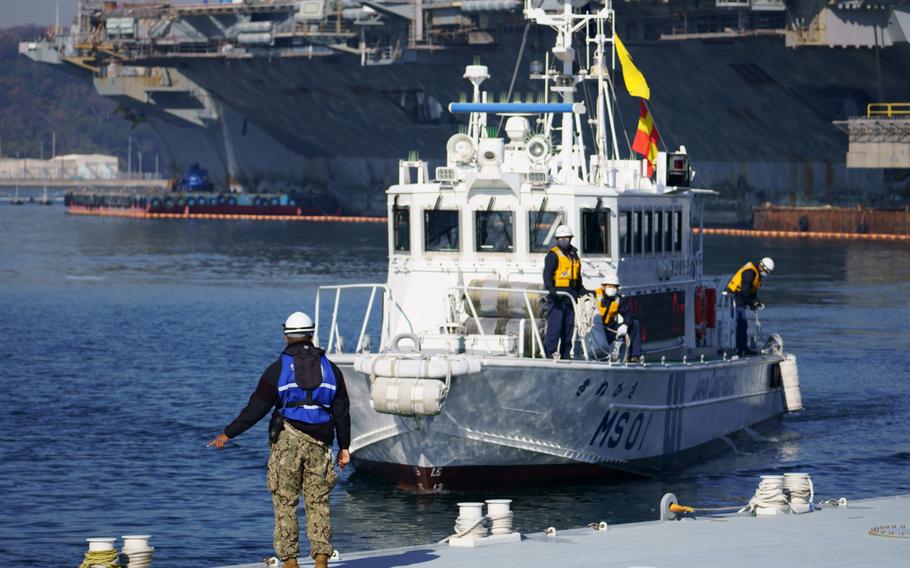 YOKOSUKA NAVAL BASE, Japan – For two hours Wednesday, teams of Japanese and American first responders rehearsed what they need to do to contain a leak of radioactive coolant from the aircraft carrier USS Ronald Reagan.
Working near the nuclear-powered warship, the responders isolated the simulated leak, notified local and national authorities, and began sampling the surrounding water.
A spokeswoman for the Naval Forces Japan, Cmdr. Katie Cerezo, described the leak scenario as "rare but credible." This year marked the 14th annual exercise aimed at preparing for what the U.S. officially describes as an unlikely event.
The joint drill included teams from the Navy, the city of Yokosuka, the Japanese government and the Japan Coast Guard.
"In preparation for the drill, the Government of Japan, Yokosuka City, and U.S. Navy have continued to work very closely together to further develop and practice planning and coordination, communications, information sharing, and joint monitoring protocols," Cerezo told Stars and Stripes in an email Thursday.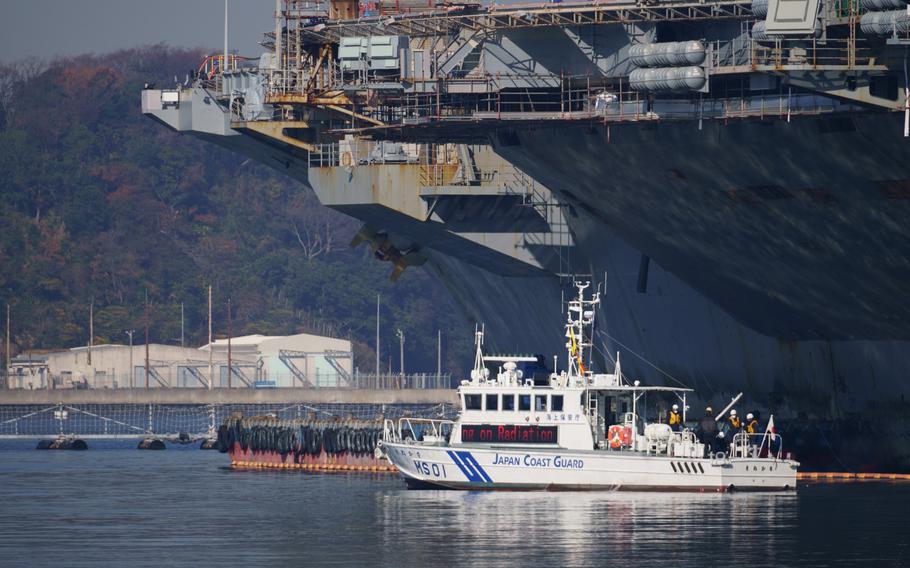 When asked whether the drills are meant to address public concerns over the presence of a nuclear-powered U.S. warship in Japan, Cerezo said she couldn't comment on behalf of the Japanese public, but that the drills demonstrate the Navy's "commitment to public health, safety and the environment."
She also said that such vessels have operated for more than six decades "without experiencing any reactor accident or any release of radioactivity that had an adverse effect on human health, marine life or the quality of the environment."
Nuclear power, whether aboard warships or as a source of domestic power, has the potential to divide the Japanese population.
Prime Minister Fumio Kishida, once an advocate for restarting Japan's nuclear power plants idled since the 2011 Fukushima Daichii meltdowns, dialed back his position ahead of elections that brought him into office in October, according to the Reuters news service.
Since the Fukushima disaster, precipitated by a massive earthquake and tsunami, Japan has restarted only a third of its 33 reactors, according to Reuters.
A March 2020 poll by the Japan Atomic Energy Relations Organization found 60.6% of 1,200 people polled want nuclear power generation discontinued either immediately or gradually.
Only 11.3% of respondents expressed a positive view of nuclear-generated power and supported an increase in nuclear power availability or a return to pre-Fukushima levels of generation.
However, public support for nuclear power increased for the third year in a row, from 6.9% in 2017.
---
---
---
---