Nevada sailor becomes 14th Navy service member to die of coronavirus complications
by
Chad Garland
Stars and Stripes
October 7, 2021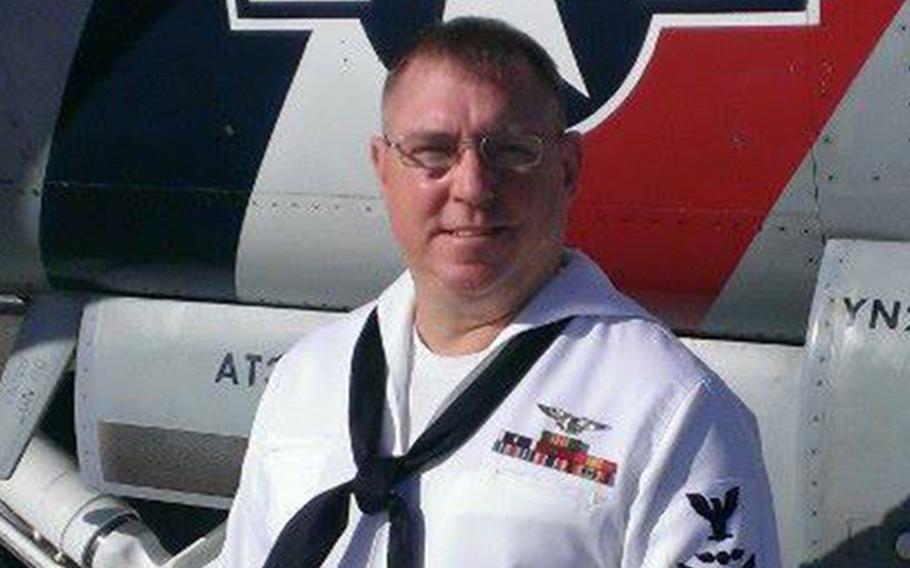 Friends and family mourned the death of a 51-year-old Navy petty officer from coronavirus complications this week, as the service continues to work toward vaccinating nearly all sailors by late November.
Petty Officer 1st Class Cory Weber died Sunday at Sunrise Hospital in Las Vegas, the Navy said.
An aviation electrician's mate assigned to Naval Aviation Warfighting Development Center in Fallon, Nev., he'd been hospitalized since Sept. 20, the service said in a statement Wednesday.
Weber tested positive for COVID-19 on Sept. 17, the Navy said. His death a little over two weeks later shocked fellow service members, who turned to social media to share their grief.
"Not the news I was expecting to get this morning," Christopher Barnes wrote Sunday on Facebook. "Saw him just before I left Fallon, fist bumped on the way out the door. Talked to him a few days before he got sedated and he was in good spirits."
The Navy would not comment directly on Weber's vaccination status but said Wednesday that none of the Navy's deaths has so far been among fully vaccinated personnel.
Weber was assigned to a small command that serves as the center of excellence for naval aviation training and tactics development, which includes the famed Top Gun school. It's made up of about 260 officers and enlisted personnel and some 50 contractors, its website states.
Several friends shared recollections of Weber in comments on a Facebook post containing over a dozen photos of him. Some didn't know he was sick. Others thought he'd already recovered.
"I messaged him just to ask if he was good cause I hadn't heard anything, and got nothing. Guess I still didn't think this," wrote Chandra Jean Barnes. "I'm still waiting for a response, like it didn't happen."
The deaths of more than 60 service members have been attributed to complications of COVID-19. Weber is the 14th such Navy fatality, but the service did not say whether he was among the 90% of its active-duty force that had been fully vaccinated.
With 94% of its military personnel having received at least one vaccine dose, the Navy is leading the Defense Department in inoculations for the virus, followed by the Air Force at nearly 89% and the Marines at about 82%, according to a Stars and Stripes analysis of Pentagon data as of Sept. 30.
Unless exempted, active-duty sailors and Marines have until Nov. 28 to be fully vaccinated, and reserve members have until just after Christmas. Deadlines for the Air Force are Nov. 2 and Dec. 2, respectively, for members on active duty and in the Guard and reserves.
The Army is trailing the other services, with 67% of soldiers at least partially vaccinated, the analysis showed. But its Dec. 15 deadline for active-duty members to receive both doses is the latest of the branches. Army reservists and Guard members have until June 30 to get both doses.
All DOD civilians must be fully vaccinated by Nov. 22. Over 330 members of the Pentagon's civilian workforce, 114 contractors and 27 dependents have died from complications of the disease, recent data show.
Of more than 376,500 total military-related cases, nearly 350,000 patients have recovered and 5,335 remain hospitalized.