Helicopter's rotor struck flight deck of USS Abraham Lincoln causing fatal crash, Navy investigators find
by
Caitlin Doornbos
Stars and Stripes
September 8, 2021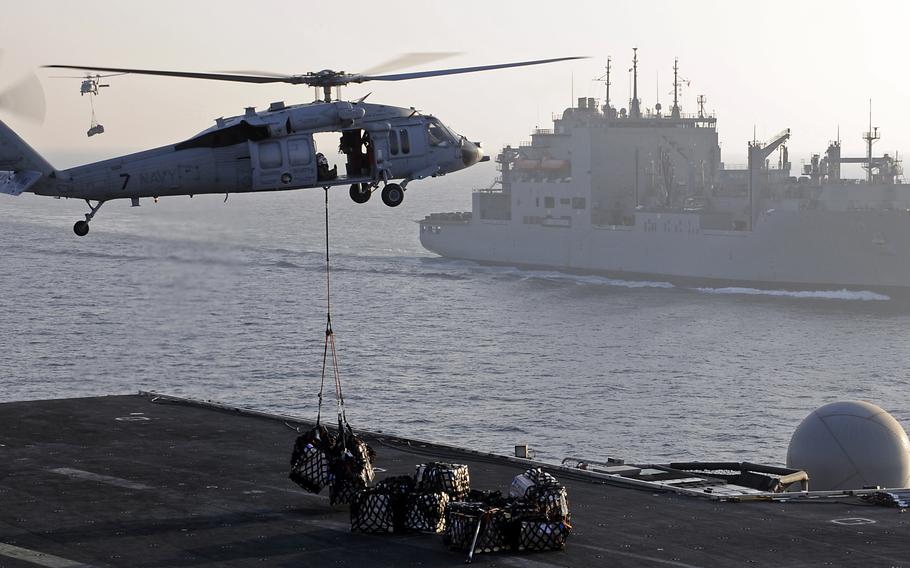 WASHINGTON — A Navy helicopter's rotor struck the flight deck after landing on the aircraft carrier USS Abraham Lincoln, causing the crash that killed five sailors last week, according to a Naval Safety Center report.
An MH-60S Knighthawk had just touched down aboard the Abraham Lincoln on Aug. 31 when it "experienced side-to-side vibrations causing the main rotor to strike [the] flight deck," according to the report.
The helicopter then fell over the side of the carrier and into the ocean off the coast of San Diego, according to the report. One sailor was rescued, but five others — Petty Officer 2nd Class James P. Buriak, Petty Officer 2nd Class Sarah F. Burns, Lt. Bradley A. Foster, Lt. Paul R. Fridley and Petty Officer 3rd Class Bailey J. Tucker — were never recovered.
The Navy and Coast Guard searched for the missing crew members for four days before declaring them dead on Saturday. The sailors were assigned to Helicopter Sea Combat Squadron 8, according to the Navy.
Five other Abraham Lincoln sailors were injured in the incident, but the Navy has not released further detail about how they were hurt. Two were taken to San Diego for treatment while the others were treated on board for minor injuries, the service said Sept. 1.
The crash was the Navy's 10th "aviation class-A mishap" this year, which the service defines as one that causes a fatality or permanent total disability, more than $2.5 million in damages or destroys an aircraft, according to the report.
It was also the first fatal Navy aviation crash of 2021, though two crew members were seriously injured Aug. 19 in a TH-57 Sea Ranger crash at Naval Air Station Whiting Field in Santa Rosa, Fla., according to the report.