For Carl Vinson crew visiting Japan, COVID-19 restraints mean golf, softball and movies on base
by
Alex Wilson
Stars and Stripes
August 30, 2021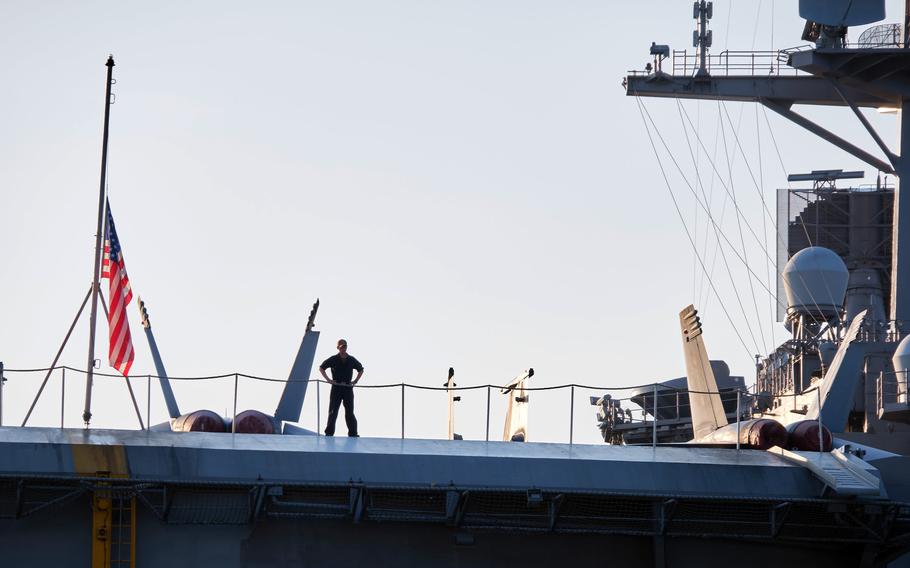 YOKOSUKA NAVAL BASE, Japan – Though sailors on liberty from the USS Carl Vinson are restricted to this naval base south of Tokyo, leaders are doing what they can to provide them with rest and recreation.
The San Diego-based aircraft carrier pulled into Yokosuka, south of Tokyo, on Saturday, for its first visit in nearly two decades. Although sailors are unable to leave base due to COVID-19 restrictions, the installation has planned several events to offer as much entertainment as possible, base spokesman Randall Baucom told Stars and Stripes by phone Monday.
"We've set up a few different activities for sailors to enjoy their time here at Yokosuka," he said. "We hosted a softball tournament yesterday and today; we had a 5K fun run this morning and we've also opened the Green Beach outdoor swimming pool just for the Vinson sailors."
Both base movie theaters, including Yokosuka's Fleet Theater, which typically doesn't operate on weekdays, are open for the visiting sailors, Baucom said.
Some of the Carl Vinson's crew members are playing in a golf tournament at Naval Air Facility Atsugi, according to Naval Forces Japan spokeswoman Cmdr. Katie Cerezo. Those sailors will be driven directly to Atsugi to maintain coronavirus safety protocols.
Kanagawa prefecture, where the naval base is located, and neighboring Tokyo and Chiba prefectures are under a government-imposed public-health emergency until Sept. 12. Most of Kanagawa is considered by base authorities a high risk for contracting COVID-19, the coronavirus respiratory disease.
Restrictions for the visiting carrier's crew are tighter than for those assigned to the base, but not by much. The base population is subject to a nightly 8 p.m. to 5 a.m. curfew with few exceptions and may not dine inside off-base restaurants or visit amusement parks, zoos, aquariums or museums.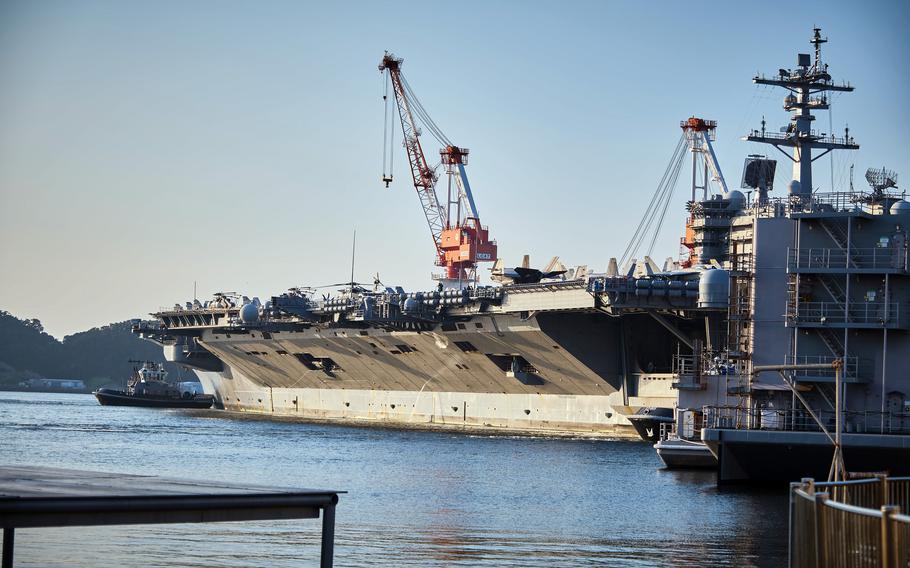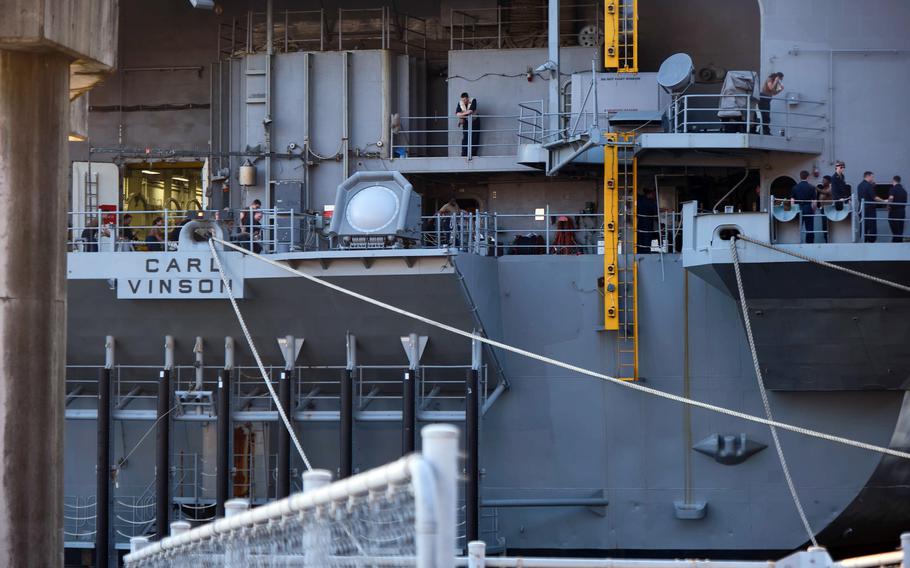 The Navy announced the Carl Vinson's imminent arrival Thursday, although it gave no specific date.
"Our crew is excited and honored to have this opportunity for an on-installation port visit," the carrier's skipper, Capt. P. Scott Miller, said in a Navy news release. "Carl Vinson, the embarked air wing and our strike group staffs are looking forward to this time of relaxation and a short pause from our underway time in support of global and regional stability."
Baucom said he couldn't say how long the carrier would remain in Yokosuka. The Navy routinely does not comment on ship movements due to operational security concerns.
Aircraft carrier replenishment cycles typically last between three and four days.
The Carl Vinson last pulled into Yokosuka in 2003, Cerezo said Friday. It deployed to the Western Pacific that year for an eight-month tour as part of a backfill operation for the USS Kitty Hawk Battle Group, which was sent to the Persian Gulf in support of Operation Iraqi Freedom.
The carrier now homeported at Yokosuka, the USS Ronald Reagan, departed Japan early this summer to support the withdrawal of U.S. forces from Afghanistan.
The Carl Vinson left the West Coast on Aug. 2 for a deployment supporting "global maritime security operations," according to the Navy. Its strike group is the first to deploy with F-35C Lightning II stealth fighters and Navy CMV-22B Ospreys aboard.