Hampton Roads' Navy installations add new restrictions due to increasing COVID-19 cases
by
Lyndon German
The Virginian-Pilot
August 27, 2021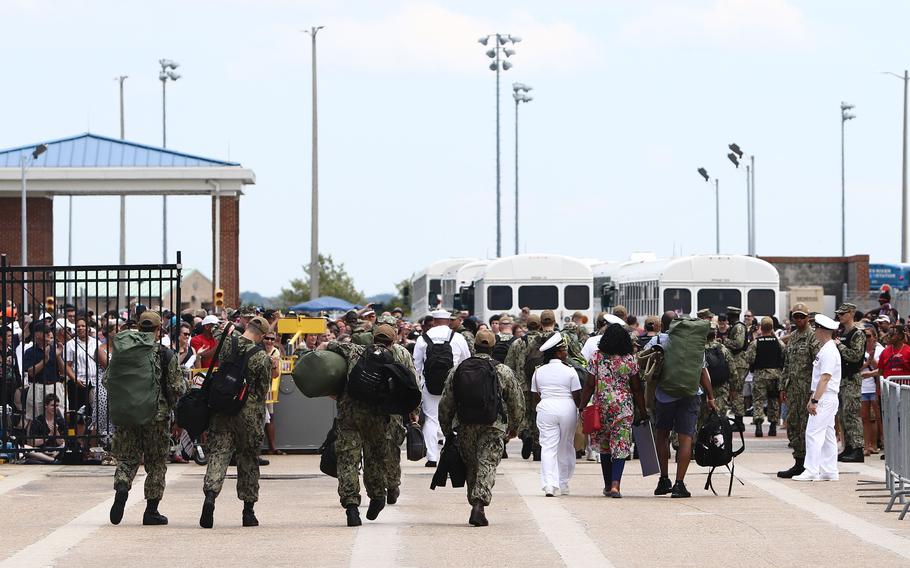 (Tribune News Service) — Naval installations across Hampton Roads were ordered to enter new health and safety protocols Friday due to increasing coronavirus cases in the community.
The Department of Defense employs emergency health measures known as health protection conditions or HPCONs. Commanders review and update these HPCONs based on risk levels within a local community.
HPCON levels range from the routine level zero and ascend to levels Alpha, Bravo, Charlie and the most severe level Delta.
In Hampton Roads, Navy sites are now operating under Level Charlie.
The move to condition Charlie was a result of sustained community transmission that included a daily average of 31 to 60 new cases per 100,000 population in the last seven days, according a press release from the Navy's Mid-Atlantic region.
Under Charlie, occupancy levels on installations are restricted to less than 25 percent of their normal capacity and military exercises may be modified or canceled.
Military commanders also may restrict unvaccinated personnel from off-installation venues such as bars, restaurants and concert halls. There will also be limited capacity at gyms and restaurants on base.
Military treatment facilities may also limit elective surgeries with guidance from the Defense Health Agency and the Assistant Secretary of Defense for Health Affairs.
The Hampton Roads area was most recently in HPCON Charlie from Nov. 18 to May 1. At that time, military personnel were barred from all nonessential activities off base.
Sailors who are fully vaccinated are not subject to individual restrictions any higher than those corresponding to HPCON Bravo. Meaning, service members are expected to practice social distancing, avoid unnecessary physical contact with others, avoid unnecessary travel, seek guidance from their employees and unit commandeers and observe local restrictions.
"This virus has shown us time and again the best way to beat it is for everyone to get vaccinated," Rear Adm. Charles Rock said in a press release. "The vaccine is safe and effective. The sooner everyone gets the shot, the sooner we can return to normal. I want everyone to encourage their friends, family members and neighbors to get vaccinated so we can sink COVID-19 once and for all."
Wearing masks indoors on military installations is still required of all military service members, civilians, contactors and visitors regardless of vaccination status. Military personnel in Hampton Roads also must adhere to state and local guidance regarding off-base activities. .
If local conditions worsen, HPCON levels can increase.
Lyndon German, frederick.german@virginiamedia.com
©2021 The Virginian-Pilot.
Visit pilotonline.com.
Distributed by Tribune Content Agency, LLC.