'The best day in the Navy': Destroyer USS Mahan returns to Norfolk after 7-month deployment
by
Dave Ress
The Virginian-Pilot
August 6, 2021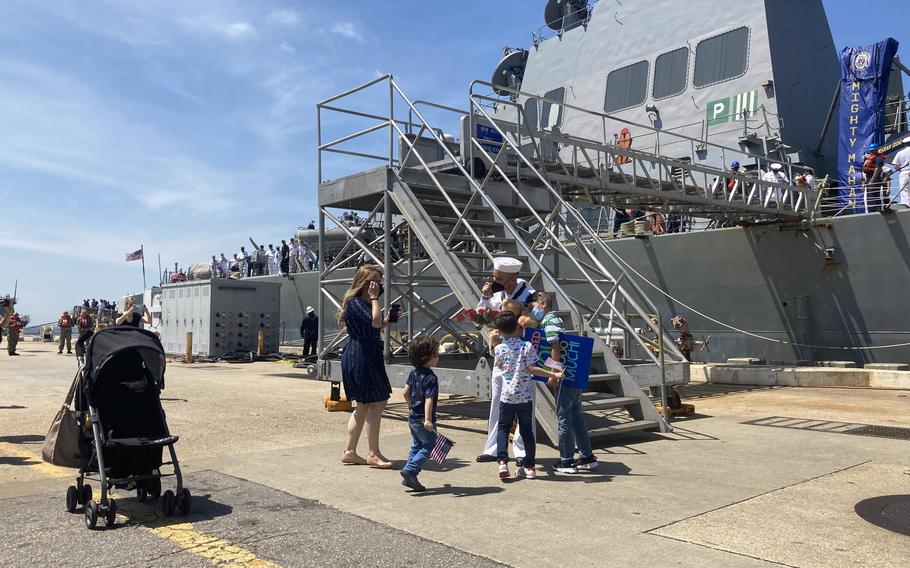 NORFOLK, Va. (Tribune News Service) — It takes a lot of planning on the home front to welcome a Navy ship such as the USS Mahan back from deployment — just as there's a lot of work for any ship's family readiness group during those months away.
In the case of the Mahan, the group has been busy even before deployment, when sailors were on restrictions of movement orders to prepare for deployment — the aim of the group is to be there for any Mahan spouse, child of parent that may be struggling while their sailor is away.
So from group president Kettie Hooker, it was a piece of cake, rounding up drinks and snacks for the families waiting by pier 7 for the destroyer's homecoming on Friday.
So, too, was assembling the gift bags of blankets, teddy bears and gift cards for new parents, as well as passing out small American flags to wave — and, eventually, teddy bears since the group had ended up with more than needed for the new parent.
The hard part is being separated.
The good part is the hugs and kisses pierside, said Petty Office 3rd Class Jose Corral Salomon. He was first off the ship — an honor earned by new parents and a ship's top sailors — after his children and wife raced to the gangway to welcome him back.
This was a tough deployment, lasting seven months during the pandemic, said Cmdr. Chris Cummins, the Mahan's captain.
"But in seven months, I saw the crew come together, as a family," he said.
That, he said, was the best part of a deployment that saw Mahan steam 41,000 miles, escort dozens of ships through maritime choke points, provide air defense support for USS Dwight D Eisenhower and the other ships of its carrier strike group, and operate with France's Charles de Gaulle aircraft carrier in the Arabian Gulf.
But coming home tops it all, he said, adding:
"This is the best day in the Navy,"
—
©2021 The Virginian-Pilot.
Visit pilotonline.com.
Distributed by Tribune Content Agency, LLC.