Back-to-back deployments and now back home: Eisenhower Carrier Strike Group returns to Norfolk
by
Dave Ress
The Virginian-Pilot
July 18, 2021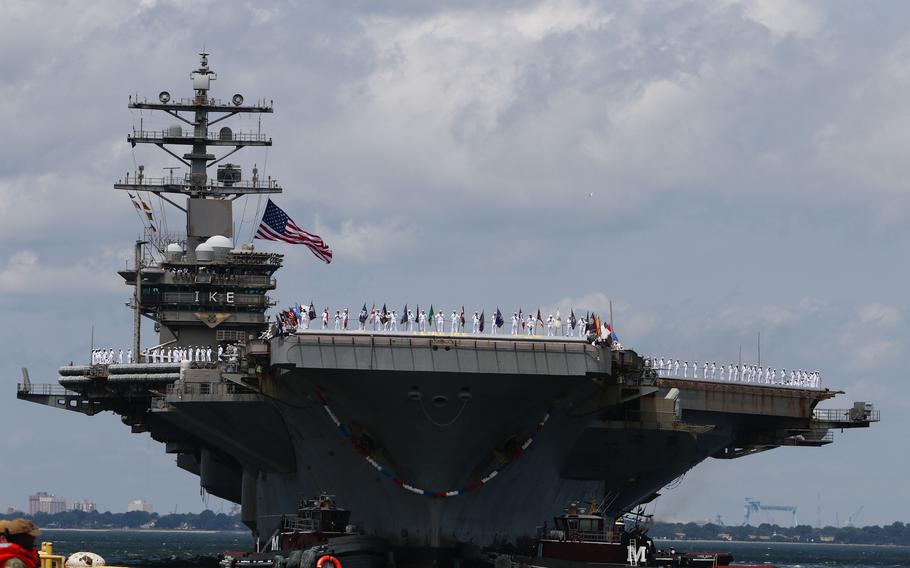 NORFOLK, Va. (Tribune News Service) — Up on the bridge of USS Dwight D. Eisenhower, as Boatswain's Mate 3rd class Kateri Alvarenga-Gomez piped 2nd fleet commander Vice Adm. Andrew Lewis abroad, you could just make out the top of the tallest hotels at the Virginia Beach Oceanfront.
At the Eisenhower's top speed of more than 30 knots, it would have taken about 90 minutes to pull beside its pier at Naval Station Norfolk. But the carrier, at the end of its second deployment in a year, wouldn't actually make it for another 18 hours.
"Looking forward to getting home?" Lewis asked Boatswain's Mate of the Watch Jamia Sanders, in charge of the enlisted sailors on the bridge, and helmsman Andrea Aguirre.
Aguirre cracked a big grin for just a few seconds, then snapped her attention back to the screen in front of her, holding course at 305 degrees.
Lewis was there to tell the crew that the Eisenhower Carrier Strike Group, after sailing more than 190,000 miles, operating in waters from the Norwegian and Black seas to the Arabian Sea and the Gulf, had earned the Navy Unit Commendation, one of the highest honors the Secretary of the Navy can grant a crew.
And while Capt. Paul Campagna said everyone in the crew is eager to see family and friends again, "everyone knows the job isn't over until the last line is tied at the pier."
"We had back-to-back deployments, been at sea for most of the last two years, and my husband has had the kids for years," said Petty Officer 1st Class Jamice Wood, a 13-year veteran. "I think he's ready for me to be home ... and I want to spend time with him and the kids."
"I was this close," said Petty Officer 1st Class Jack Bozeman, holding up two fingers just an inch apart and saying his son was born just four days ago. The baby is his fourth child, but the first to be born while he was at sea.
"She gets it, she knows why I have to be here," Bozeman said of his wife. "She's got the kids helping, they're a lot older, and we live in military housing and lot of the families help out."
"I'd swim if they let us," Petty Officer 1st Class Harvey Goodwin joked, saying his big priority now that the Eisenhower was just a few hours from docking at pier 14 at Naval Station Norfolk was to bond with his 5-month-old son, born while the Eisenhower was in the Mediterranean.
On the carrier's final full day at sea, circling off the Virginia shore to run a series of tests on its radar and combat systems, Aguirre's smile and focus on course 305 was the order of the day.
"There've been repairs to do," she said, even after the carrier air wing's planes had returned to Naval Air Station Oceana.
"We want to leave our pod the way we found it," said Petty Officer 1st Class Alyssa Lopez. "There's lots of little things to do, the pace isn't as intense ... it can be hard to focus when we're so close, but with my friends here and the jobs to do, that helps."
The Eisenhower barely had a break after returning from its 2020 deployment in August. Within weeks it was back for a series of "underways," training for its next deployment. Returning just after Christmas, it had barely arrived in Norfolk when the Navy's restriction of movement order came and a few weeks after that was in a final exercise before deploying in mid-February.
"I think the challenges we had, COVID, and the feeling that we came through them together are keeping everyone focused," Campagna said.
"We were tested and tried and we came through together — I think there's a real feeling of connectedness now and it makes it easier to maintain our focus," Campagna said.
The carrier, air wing and destroyers and cruisers deployed Feb. 18 and launched in a three-day joint exercise near the approaches to the Strait of Gibraltar with sailors and aviators from Morocco.
Keeping shipping chokepoints like Gibraltar, Bab-el-Mandeb and Hormuz open and practicing operations with allies was a key assignment for the deployment, which often saw the strike group's ships ranging thousands of miles from one another.
But three months in, the Eisenhower had to shift gears — an assignment for its Carrier Air Wing 3 to fly in support of the continuing campaign against Islamic State remnants in Syria and Iraq.
In what was to be its final weeks in the Middle East came another new challenge: providing air support for the withdrawal of U.S. forces from Afghanistan. Those orders meant staying out a bit longer, as between April and June, the air wing's pilots provided close-air support.
"I remember, I went on the loudspeaker to tell sailors we were going to extend our deployment and why," Rear Adm. Scott Robertson said.
"I remember one sailor in particular," a young machinist's mate from the engineering department, who came up afterward for a quick word, Roberston said.
"He said: 'Don't worry, Admiral, we're going to get this done.'"
©2021 The Virginian-Pilot.
Visit pilotonline.com.
Distributed by Tribune Content Agency, LLC.