US and South Korean troops clear city streets in wake of Typhoon Hinnamnor
By
Stars and Stripes
September 9, 2022
---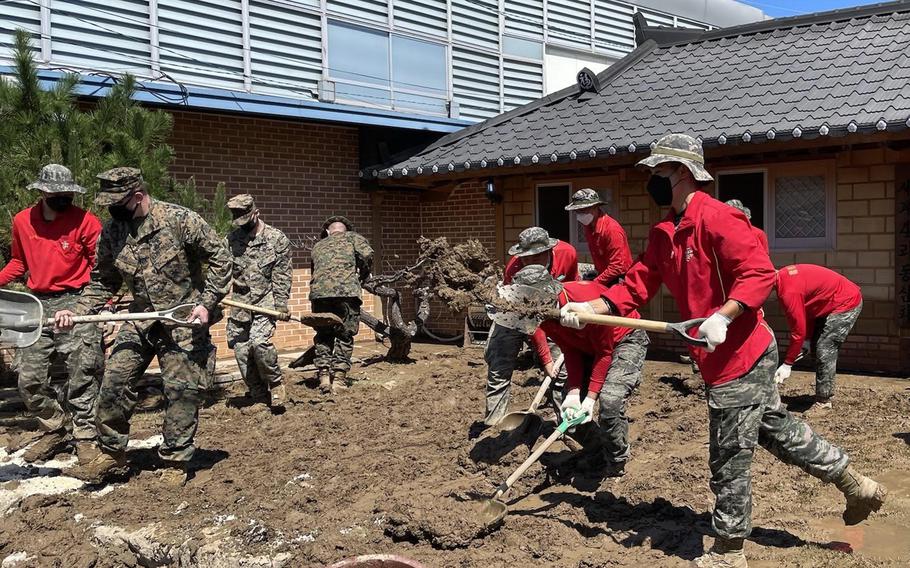 U.S. service members joined their South Korean counterparts to clean up one of the places hit hardest in South Korea by Typhoon Hinnamnor.
Starting Wednesday morning about 50 Marines and sailors from Camp Mujuk and nearly 200 South Korean marines of the 1st Marine Division hauled debris and shoveled mud in nearby Pohang city.
The typhoon killed 11 people after making landfall Monday evening in South Korea, according to a Central Disaster and Safety Countermeasures Headquarters update on Thursday. Seven died in a flooded underground parking lot at an apartment in Pohang, 175 miles from Seoul on the southeastern coast.
The Americans and South Koreans worked through the debris in local markets and historical areas of the city, where they routinely train together.
"Because of the strength of the alliance and our relationship with the [South Korean marines], we were able to swiftly provide aid to the surrounding community following the damages caused by Typhoon Hinnamnor," 1st Lt. Austin Gallegos, spokesman for U.S. Marine Corps Forces Korea, told Stars and Stripes in an email Friday.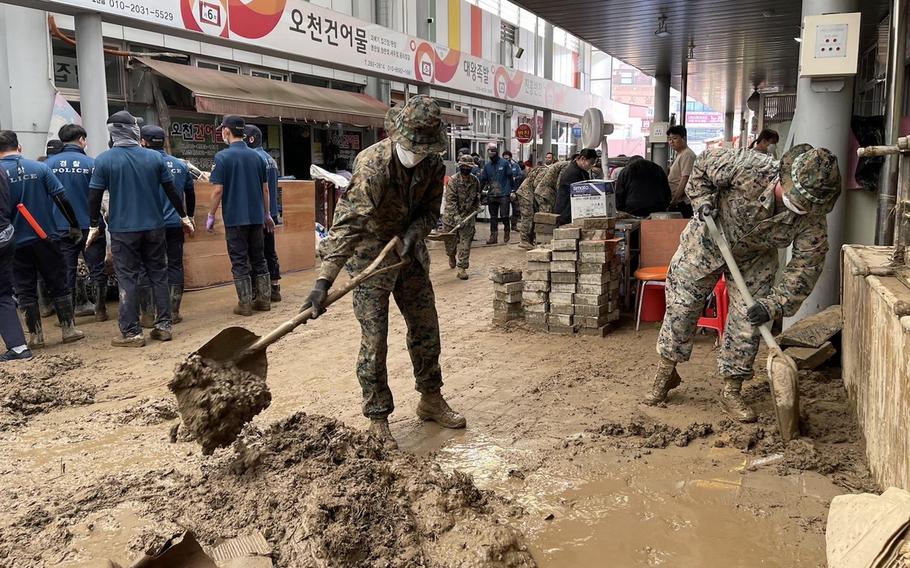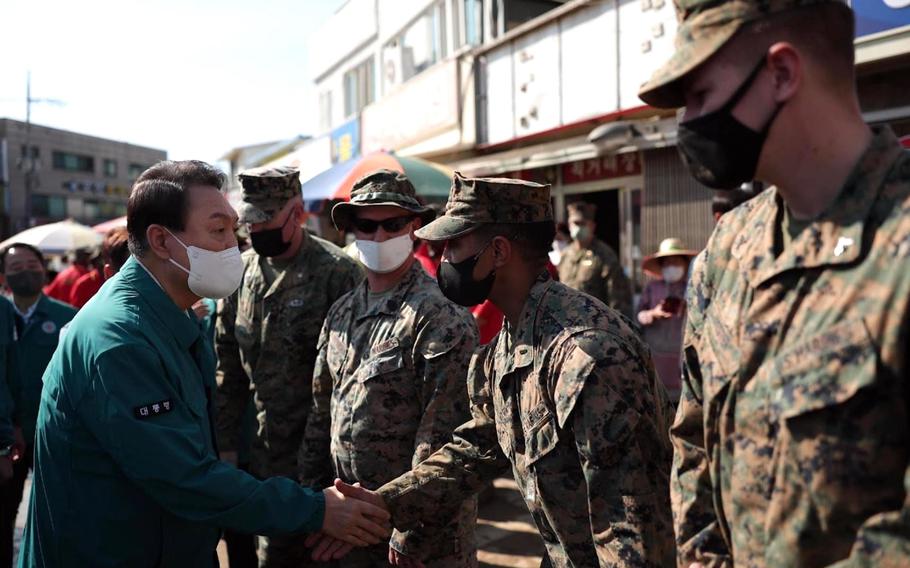 The Marines and sailors answered a call for help from the Pohang mayor's office, which fielded a blizzard of aid requests from local citizens, according to Gallegos.
South Korea's presidential office declared special disaster zones in Pohang and nearby Gyeongju city, designations that mean the state will cover much of the recovery and cleanup costs.
Around 1,300 South Korean troops have been directly involved in recovery efforts since the typhoon made landfall, South Korea's 1st Marine Division said in a news release Tuesday.
The South Korean service members pulled debris from municipal drains, ferried first responders in amphibious assault vehicles and delivered water pumps and other heavy equipment to restore the city's infrastructure.
South Korean President Yoon Suk Yeol visited Pohang on Wednesday to survey the damage and greeted service members helping in the recovery effort. Yoon said he felt "solidarity and hope" for the country after seeing firsthand the volunteers who came together to restore the city and comfort the victims.
---
---
---
---