Marine Corps now has 2 fully operational F-35B stealth fighter squadrons in Japan
By
Stars and Stripes
May 26, 2022
---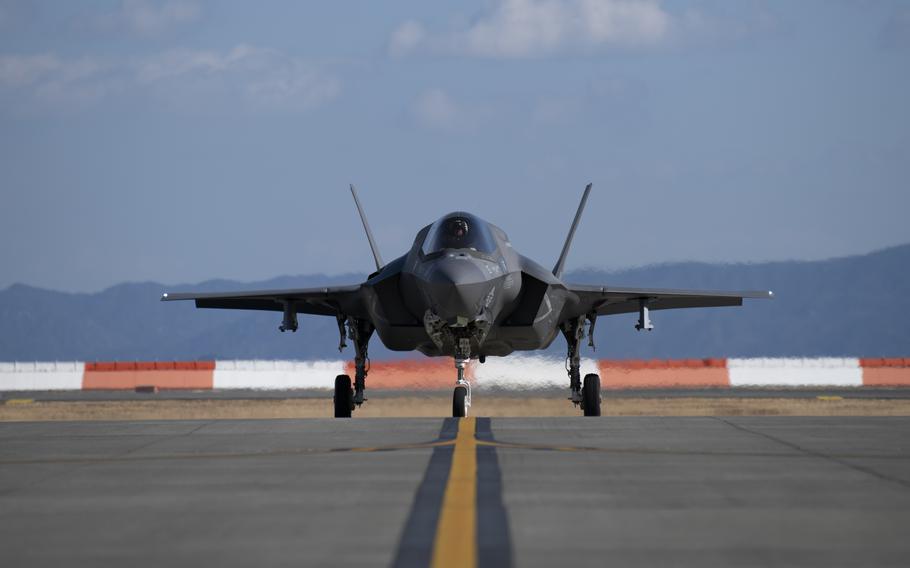 A second squadron of F-35B Lightning IIs became fully operational this month at Marine Corps Air Station Iwakuni, Japan, bringing the total number of stealth fighters there to 32.
Marine Fighter Attack Squadron 242 as of May 17 has the required pilots, aircraft and maintenance capabilities needed to take part in missions with the 31st Marine Expeditionary Unit, according to an email Tuesday from Capt. Tess LaBossiere, a spokeswoman for the 1st Marine Aircraft Wing. The 31st MEU, based on Okinawa, is a crisis response force of more than 2,200 Marines.
The Marine Corps on Sept. 9 approved the squadron for smaller scale operations with 10 jets, a little over one year after being designated as an F-35B squadron in October 2020, LaBossiere said.
Now fully operational, the squadron fields 16 jets.
"[This] milestone is the culmination of well over two years of planning and execution, all while being forward deployed and in the face of a global pandemic," squadron commander Lt. Col. Michael Wyrsch said in a May 19 news release from 1st Marine Aircraft Wing.
Squadron 242 joins Marine Fighter Attack Squadron 121, which arrived at MCAS Iwakuni in January 2017. It also fields 16 F-35Bs.
"U.S. Forces Japan now has two [fully operational] F-35 squadrons prepared to receive tasking from higher header quarters in order to maintain a free and open Indo-Pacific," LaBossiere said in the email. "It enhances posture and preparedness and lethality in the region."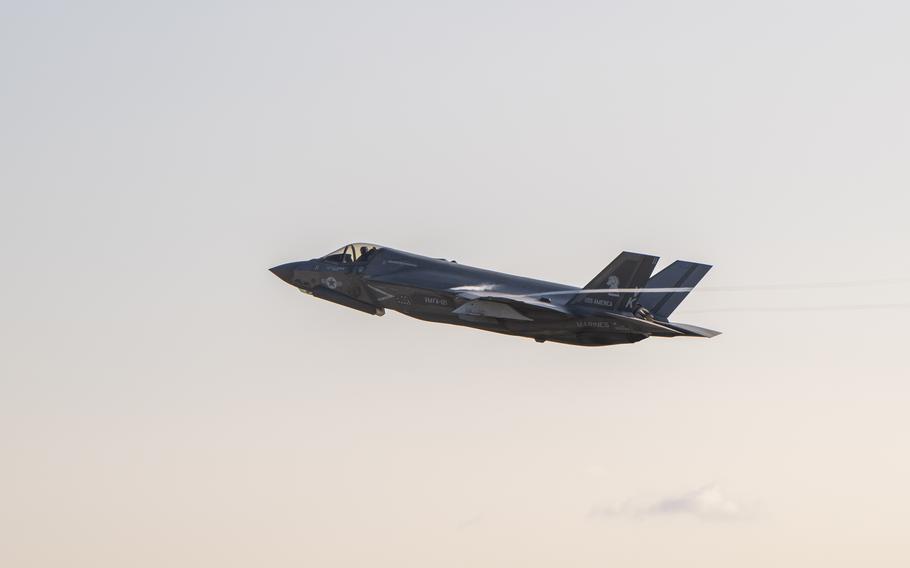 The squadrons' establishment follows a trend of U.S. military expansion and modernization across the Indo-Pacific. The strategy is a response to mounting tensions with China, which the Defense Department routinely refers to as its "pacing challenge" in the region.
The F-35B, one of three variants, is capable of short takeoffs and vertical landings that allow it to operate from flat-deck amphibious assault ships like the USS America, homeported at Sasebo Naval Base.
The Marines also fly the F-35C, which can operate from the aircraft carriers. The service's first squadron of F-35Cs, Fighter Attack Squadron 314, went to sea in January aboard the USS Abraham Lincoln.
The service considers the F-35 the "future of Marine Corps tactical aviation" and the replacement for its inventory of AV-8B Harriers, F/A-18 Super Hornets and EA-6B Prowlers, according to the wing's news release.
The F-35 is also flown by the Air Force and Navy and is the costliest weapon system in Defense Department history, the Government Accountability Office said in an April 2021 report.
Each aircraft has a price tag of approximately $103 million, according to manufacturer Lockheed Martin, and the estimated costs over the life of the program exceed $1.7 trillion.
---
---
---
---