Water bottle dropped from Marine Corps Osprey prompts Okinawa safety complaints
by
Matthew M. Burke and Mari Higa
Stars and Stripes
November 26, 2021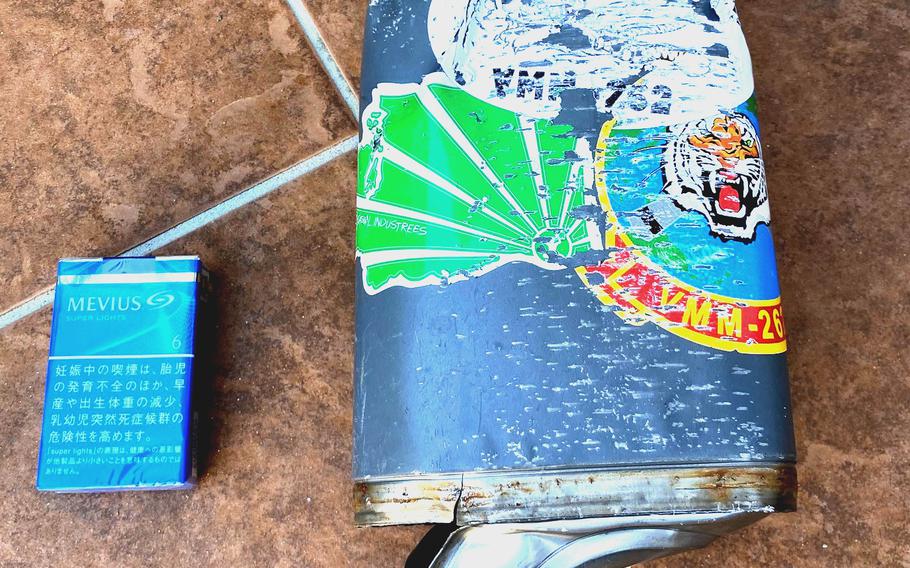 CAMP FOSTER, Okinawa – Okinawa's governor expressed "strong doubts" about U.S. military aircraft safety this week after local officials said a Marine's metal water bottle fell from a MV-22 Osprey in flight Tuesday and landed in a residential area.
The incident occurred at approximately 6:45 p.m. and involved a tilt-rotor aircraft assigned to 1st Marine Aircraft Wing at Marine Corps Air Station Futenma, a spokesman from the Okinawa Defense Bureau, which represents Japan's Ministry of Defense on the island, said by phone on Friday.
No injuries or property damage were reported, the spokesman said. Some government officials in Japan customarily speak to the media on condition of anonymity.
"Aircraft-related accidents could lead to serious damage to people's lives and properties," Okinawa Gov. Denny Tamaki said at a press conference Wednesday. "I cannot help having strong doubts about the U.S. military's safety management system."
Details about the incident were scant this week. Tamaki said at a series of press conferences that the water bottle was made of metal and had fallen in an undisclosed residential area. The news site Nippon.com reported Wednesday that a damaged stainless steel bottle 12 by 6 inches was found near the entrance of a private house.
A spokesman for Ginowan city's Military Base Affairs Department sent Stars and Stripes a picture of the bottle by email Friday. The photo depicts a crushed, can-like object bearing two Marine Corps squadron logo decals.
The III Marine Expeditionary Force and 1st Marine Aircraft Wing did not immediately reply to an email seeking comment on Friday, a holiday for the U.S. military.
The defense bureau conveyed its regret over the incident to the Marine Corps, asked officials to identify the cause and to take effective preventative measures in the future, the bureau spokesman said. The defense bureau was told the Marines are investigating the incident and all Futenma flight crews have been instructed to follow procedures to secure equipment.
"This kind of incident could lead to great damage to people or property as well as to cause anxiety of the nearby residents," the bureau spokesman said. Chief Cabinet Secretary Hirokazu Matsuno uttered similar sentiments at a press conference on Wednesday.
Ginowan Mayor Masanori Matsukawa lodged a complaint Wednesday with the defense bureau.
"I cannot help but feel strong anger that another accident happened," Matsukawa wrote in his letter, which was posted on the city website.
A similar incident involving the tilt-rotor aircraft occurred on Aug. 12 when an Osprey returned from night training and the crew reported a missing panel and piece of fairing.
Tamaki said at the time he was "infuriated" by the incident and called for an immediate halt to flight operations at the U.S. base. The Marine Corps declined to do so.
---
---
---