Marine fighters fly with live Harpoon anti-ship missiles from base in Japan
by
Jonathan Snyder
Stars and Stripes
October 26, 2021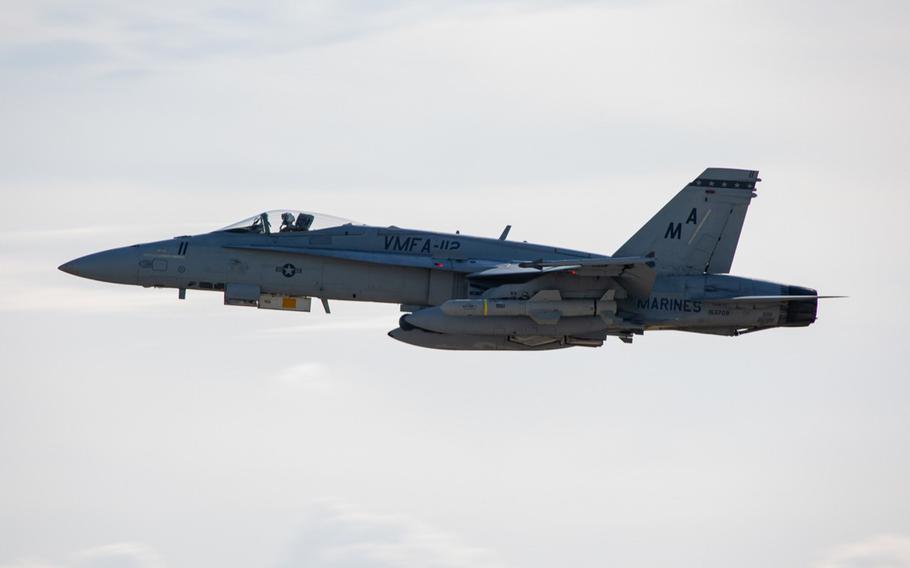 MARINE CORPS AIR STATION IWAKUNI, Japan – A squadron of Marine reservists from Texas recently flew their F/A-18 Hornets from the air station with live, anti-ship Harpoon missiles, a practice a Marine spokesman says may become more frequent.
Marine Fighter Attack Squadron 112 sortied Oct. 19 with the AGM-84D Harpoon, a surface-skimming, rocket-propelled weapon with a 500-pound warhead, slung from their aircraft, according to a tweet two days later by a 1st Marine Air Wing spokesman. It was the second time the Cowboys flew with Harpoons in their holsters, Maj. Kenneth Kunze wrote.
Flying with Harpoons between exercises keeps Marine aviators proficient but also sends a message, Kunze wrote in an email Friday to Stars and Stripes.
"Conducting operations such as this demonstrates our steadfast commitment to our partners and allies in the region and communicates that we are ready to 'Fight Now' in defense of a free and open Indo-Pacific," he said. "Anti-ship capabilities are important for sea control and sea denial missions along the first island chain."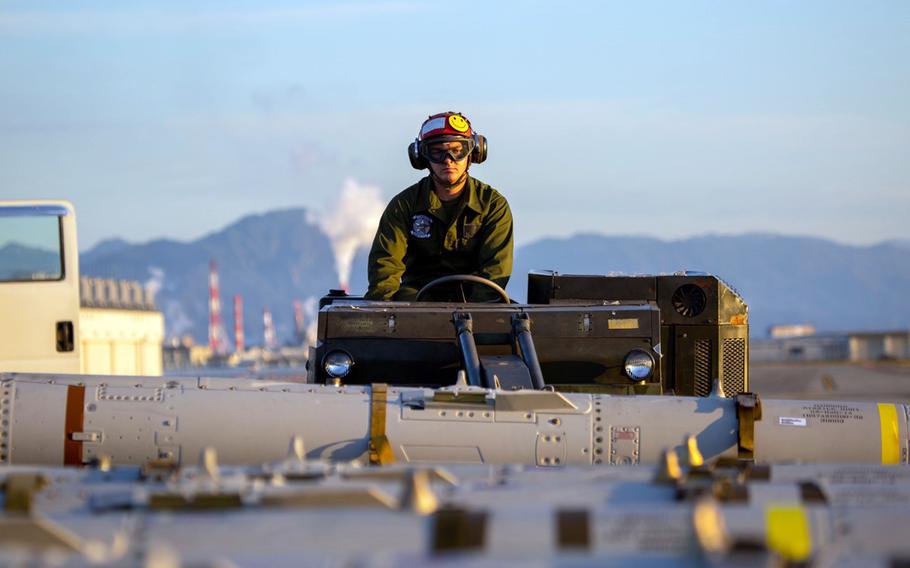 The "first island chain" presents a geographic barrier between China, the Pacific Ocean and the Philippine Sea. It includes Japan's four main islands, the Ryukyu Islands, Taiwan and the Philippines. Its strategic naval chokepoints are reckoned vital to any conflict in the region.
The Harpoon missile is the world's most successful anti-ship missile, according to Boeing, its maker. It has a low-level cruise trajectory with active radar guidance. The missile can strike targets over-the-horizon on land and ships in port and uses GPS navigation to hit a designated target.
The latest version provides "high hit probability against warships near to shore or travelling in narrow sea routes," according to naval-technology.com.
The Cowboys are reservists from Naval Air Station Joint Reserve Base Fort Worth, Texas. They arrived at Iwakuni on Japan's southeastern coast on Sept. 18 as part of a routine, six-month unit rotation.
"Our fixed-wing assets are stationed in Iwakuni, and it is natural for them to conduct this type of training at their home station," Kunze wrote. "Historically we have participated in joint exercises like Valiant Shield in Guam with the joint force conducting live Harpoon flights and missions. Continued home station training between exercises is vital to maintaining proficiency and lethality."
Harpoon flights may become routine, Kunze wrote.
"Marine Aircraft Group 12 leadership in Iwakuni says to expect to see our jets flying with these more frequently," he said.