Marines release lieutenant colonel confined, fired for videos bashing US officials over Afghanistan withdrawal
by
Corey Dickstein
Stars and Stripes
October 5, 2021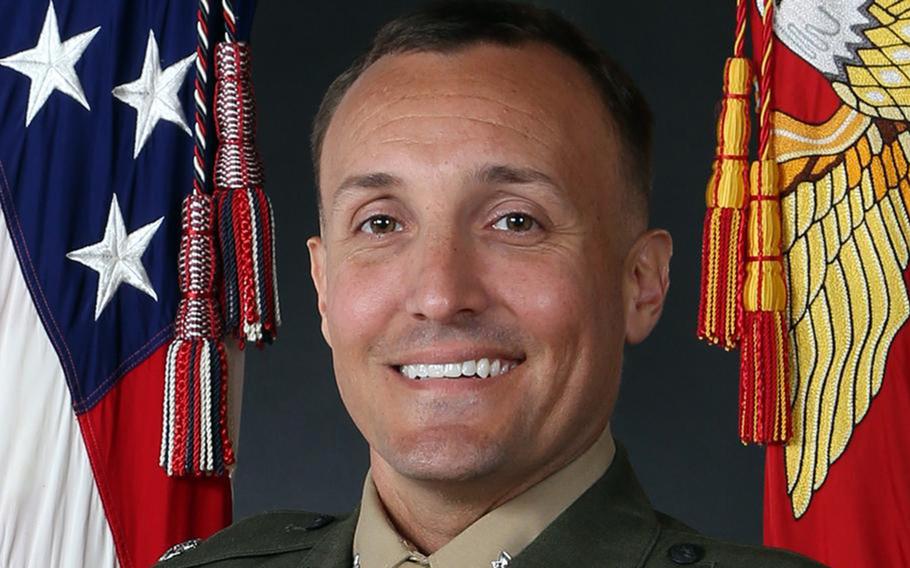 A Marine lieutenant colonel jailed last month after Corps officials said he violated a gag order for issuing social media videos disparaging top American officials and generals has been released from the brig, the service announced.
Lt. Col. Stuart Scheller Jr. was released Tuesday from confinement at Camp Lejeune, N.C., where he'd been held since Sept. 27 after he and his attorneys forged an agreement with Marine Maj. Gen. Julian D. Alford, who leads Marine Training Command, said Capt. Sam Stephenson, a spokesman for the command. Scheller was ordered held in pretrial confinement last month after posting several videos on Facebook and LinkedIn that were highly critical of top officials over the U.S. withdrawal from Afghanistan.
Scheller, a 17-year infantry officer who has served in Iraq and Afghanistan, was fired from his job as the commander of an infantry training battalion at Camp Lejeune on Aug. 27, after posting a video demanding accountability for top military officers and U.S. officials in the hours after a bombing killed 13 U.S. troops in Kabul amid the U.S. evacuation from Afghanistan.
In the video that garnered hundreds of thousands of views, Scheller expressed his "growing discontent and contempt for … perceived ineptitude at the foreign policy level." In follow-up videos, he accused Marine Gen. Kenneth "Frank" McKenzie, the commander of U.S. Central Command, of dereliction of duty, promised to resign his commission and help "bring the whole (expletive) system down."
Marine officials had previously said Scheller would be held in confinement until the results of an Article 32 hearing, a pre-trial military hearing similar to grand jury proceedings in civilian courts. Before Tuesday, Scheller had not been charged with a specific violation of the Uniform Code of Military Justice. Marine officials previously said the hearing would examine whether he had committed offenses including contempt toward officials, willfully disobeying a superior commissioned officer, failure to obey lawful general orders, and conduct unbecoming an officer and a gentleman.
But the Marine officer might now be facing charges, according to the Pipe Hitter Foundation, an organization run by former Navy SEAL Eddie Gallagher and his wife. Gallagher was court-martialed in 2019 on allegations of war crimes, but he was acquitted of most of the charges. He was allowed to retire as SEAL chief petty officer, after former President Donald Trump intervened in his case because the Navy sought to remove him from the elite ranks of the SEALs and demote him.
The foundation has been supportive of Scheller and has been raising money for him. In a statement that the group issued Tuesday, the foundation said charges had been filed, and Scheller would "face them at a court-martial." The foundation did not immediately respond to a request for further details about the charges.
The Marine Corps also did not immediately respond Tuesday to a request for additional information about the case.
In its statement, the Pipe Hitter Foundation said Scheller remained subject to a gag order after his release from the brig. The group described that order as "unlawful."
"Lt. Col. Scheller has submitted a request for redress regarding the unlawful order," the statement reads. "The command has not yet replied to the request."
Scheller also submitted a request to Navy Secretary Carlos Del Toro to resign his commission instead of facing a trial, according to the foundation.
Last week, 27 Republican lawmakers sent a letter to Gen. David Berger, the Marine Corps commandant, demanding Scheller's removal from the brig, writing the move appeared to be "simply for messaging, retribution and convenience."