Marine officer of viral video fame now in brig after defying gag order
by
Chad Garland
Stars and Stripes
September 28, 2021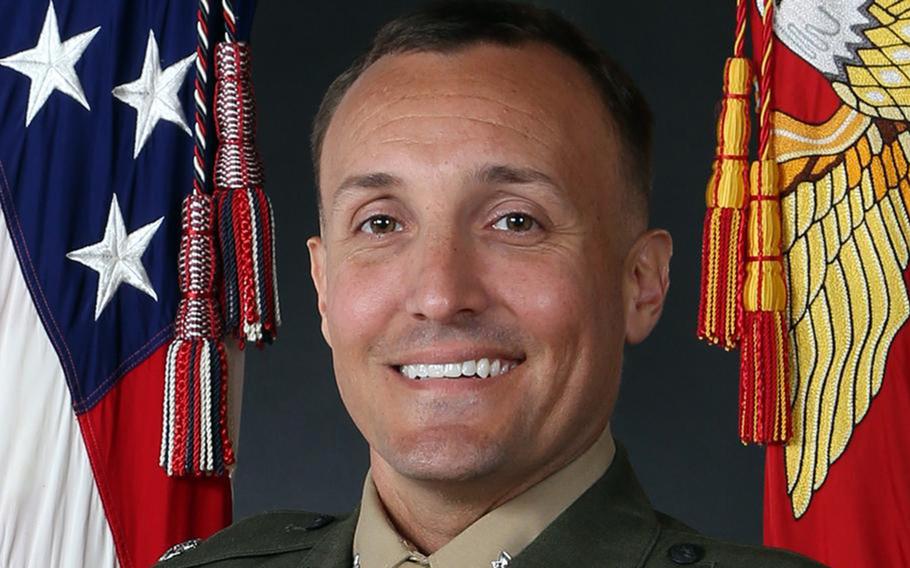 A Marine officer whose video calling out senior military and civilian leaders over the American withdrawal from Afghanistan created an online sensation has landed in the brig after violating a gag order. 
Lt. Col. Stuart Scheller Jr. is in pretrial confinement at Camp Lejeune, N.C., said Capt. Sam Stephenson, a spokesman for the service's Training and Education Command. He's being held pending an Article 32 hearing, the military equivalent of a grand jury proceeding.  
Scheller has not been charged, Stephenson said in an email, but "the general nature of the offenses" the hearing will consider are contempt toward officials, willfully disobeying a superior commissioned officer, failure to obey lawful general orders and conduct unbecoming an officer and a gentleman. 
In Facebook and LinkedIn posts Saturday, Scheller appeared to quote from the text of a gag order imposed by the Marine Corps, stating that he was "hereby ordered to refrain from posting any and all material, in any form without exception, to any social media," including through proxies or third parties.
Scheller, who suggested he's been advised that he faces felony charges that could "ruin your whole life," went on to critique former Presidents Donald Trump and Barack Obama, as well as a number of active and retired generals, including former Defense Secretary Jim Mattis.
"Please have the MPs waiting for me at 0800 on Monday," Scheller wrote while addressing his commanding officer. "I'm ready for jail."
The 17-year infantry officer had already been fired from command of the service's Advanced Infantry Training Battalion at Camp Lejeune for posting his viral video critique in the wake of the Aug. 26 bombing at Kabul's international airport. The blast killed 11 Marines, a sailor, a soldier and at least 169 Afghans.
He promised in a follow-up video that he would resign his commission and refuse any benefits. 
That video raised concerns because in it, Scheller invited his followers to help him "bring the whole (expletive) system down." In a later post, he said they'd do so "in a constitutional manner." 
Earlier this month, he posted video and text messages about plans to prefer a dozen charges of dereliction of duty against the head of U.S. Central Command, Marine Gen. Frank McKenzie. 
Critics have questioned his methods and his mental health, while supporters have praised him as courageous for sacrificing his military career and retirement for his principles. 
His Facebook, LinkedIn and YouTube accounts have gained tens of thousands of followers, and his posts routinely get thousands of likes and hundreds of comments. 
At one point, he said friends, family and legal advisers had told him to stop posting and he even went back on his own promise to take a break from social media.
He was detained Monday after violating the Marine Corps' order to stop, his father Stu Scheller Sr., said in a LinkedIn comment co-signed with his wife Cathy.
Their son's command "seems to be concerned" about him, but lacks "the tools to support him," the parents said. They added that "incarceration appears to be their only solution."
The Pipe Hitter Foundation, an organization run by former Navy SEAL Eddie Gallagher and his wife, began raising funds to back Scheller's transition out of the military and provide other support, including assistance with "mounting legal expenses," it said in a statement last week.
The former SEAL, who was court-martialed on war crimes allegations in 2019 and acquitted of most of the charges, appeared Monday on KUSI News in San Diego's morning program with his wife, Andrea, to discuss their support for Scheller. 
"He wants to retire honorably," said Andrea Gallagher. "It's the fact that he called the leadership of the military into question, demanded accountability, that he is going to be basically used as a scapegoat."