Marines in Hawaii try advanced base ops at Large-Scale Exercise 2021
by
Wyatt Olson
Stars and Stripes
August 14, 2021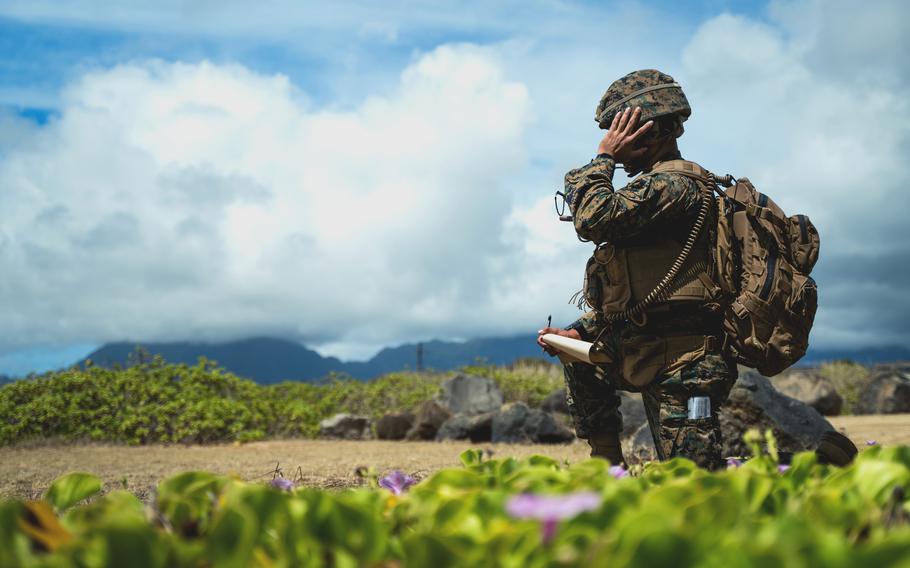 MARINE CORPS BASE HAWAII — During World War II, the Navy and Marine Corps locked arms during the years-long strategy of island-hopping toward Japan.
Navy ships would deliver an invasion force of Marines to an island and support their advance with naval gunfire.
Now the Marine Corps is experimenting with an expeditionary model that will turn that paradigm around, with Marines supporting Navy ships at sea.
The Navy's Large-Scale Exercise 2021 in the Hawaiian Islands has been the Corps' first chance to test its expeditionary advanced base operations concept with a joint force of Navy and Coast Guard vessels, according to Lt. Col. Rollin A. Steele, executive officer of the 3rd Marine Regiment based at Marine Corps Base Hawaii.
Large-Scale Exercise 2021, which began early this month and ends Monday, involves training among five numbered fleets within U.S. Fleet Forces Command, U.S. Pacific Fleet and U.S. Naval Forces Europe and runs across 17 time zones.
Roughly 3,000 Marines are in the Hawaiian Islands participating the exercise, whose Navy contingent includes the aircraft carrier USS Carl Vinson and elements of its strike group.
The Marine Corps' experimentation with expeditionary advanced bases during the exercise stems from Force Design 2030, which among other things calls for the transformation of Steele's regiment into the 3rd Marine Littoral Regiment within the next couple years.
The new force design focuses on small maneuvering units instead of large assault forces, a change geared toward what U.S. forces could need in a future conflict with China in the far-flung spaces of the Indo-Pacific.
"The whole point of [the Marine Littoral Regiment] is: How can the Marine Corps support the naval fleet in sea control and sea denial?" Steele told Stars and Stripes during an interview Thursday at Marine Corps Base Hawaii.
They are testing approaches for that support during the exercise by deploying groups of infantry from 1st Battalion, 3rd Marines to two locations on Oahu and one on the island of Kauai, Steele said. Once in place, the units stealthily set up expeditionary advanced base operations, he said.
Under the littoral structure, the 1st Battalion will be designated Littoral Combat Team 3, he said.
One group loaded up rucksacks with supplies, weapons and needed surveillance equipment and marched across Oahu.
The second was transported to an Oahu shoreline via amphibious hovercraft.
The third unit, flown to Kauai, experimented with an intelligence-gathering system called Network on the Move-Airborne, which provides data in real time collected by the entire joint force.
Steele compared a flight without network on the move as similar to a passenger disembarking a 10-hour commercial flight, turning on a cell phone and being overwhelmed by hours of missed calls, messages and news.
"So, when we land on that objective, we [already] have the most cutting-edge real-time information and intelligence," he said. "If we need to adjust our plan, or adapt our plan or confirm our plan, you know, we could do that while we're flying. We're not blind at some point."
The two-pronged purpose of the expeditionary advanced bases is to provide Navy ships with surveillance information and to provide precision fire.
A series of advanced bases "can free up the ships to be in more important places," Steele said.
"We want to prevent any gaps, any blind corners," he said. "As the old saying goes, if you defend everywhere, you defend nowhere. If I spread my defense out so thin to cover everywhere, then I don't really have much of a defense because they're not capable anymore."
Marines at the advanced bases deploy various sensors — predominantly drones —-- to provide maritime awareness to ships and aircraft in the theater.
Part of the learning curve during this exercise is assessing just how much of that surveillance equipment – along with all the other needed sustainment supplies — Marines can feasibly carry in.