Third Fleet HQ deploys to Hawaii for Navy's unprecedented five-fleet global combat exercises
by
Wyatt Olson
Stars and Stripes
August 10, 2021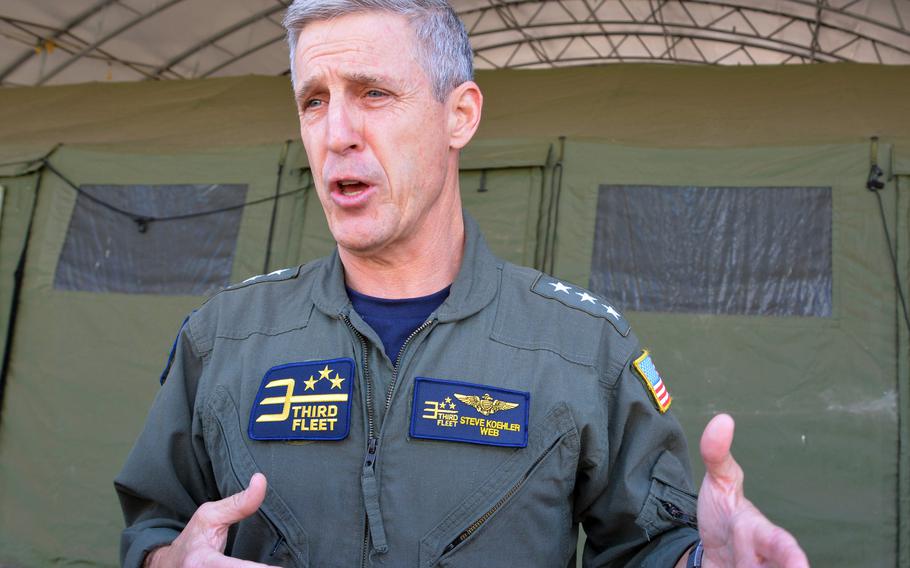 JOINT BASE PEARL HARBOR-HICKAM, Hawaii — For the remainder of August, the San Diego-based 3rd Fleet will be headquartered in a scrum of tents in Hawaii while its command takes part in unprecedented, worldwide Navy drills.
Large Scale Exercise 2021 kicked off last week, with synchronized training taking place among five numbered fleets within U.S. Fleet Forces Command, U.S. Pacific Fleet and U.S. Naval Forces Europe.
"The training is based on a progression of fleet battle problems and scenarios that will assess and refine modern warfare concepts, including distributed maritime operations, expeditionary advanced base operations, and littoral operations in a contested environment," the Navy said in a news release last week.
The worldwide exercise is a subset of the even more extensive Large Scale Global Exercise 21, according to a separate news release last week by U.S. Indo-Pacific Command, whose job it is to make the joint force, multinational exercise a reality.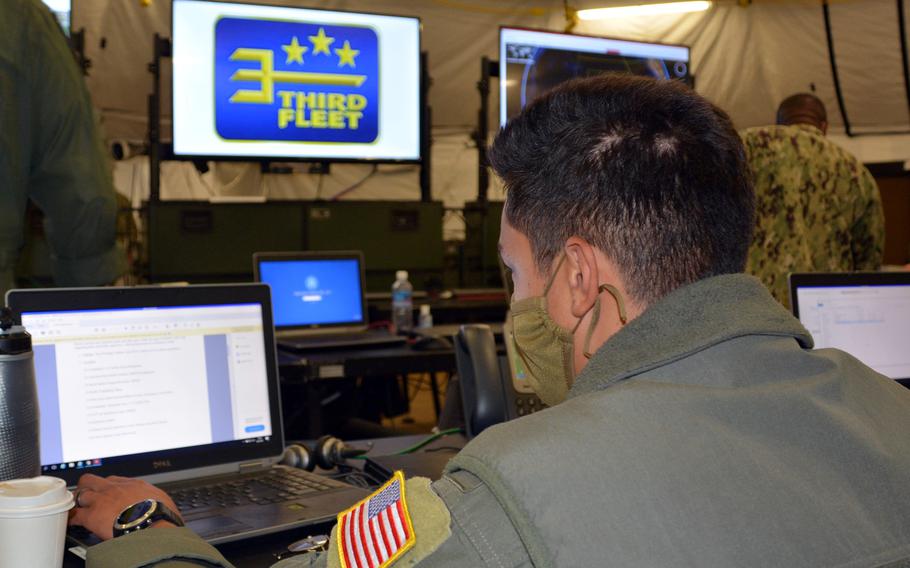 Large Scale Global Exercise 21 incorporates the Army, Navy, Air Force and Marine Corps for training with military forces from the United Kingdom, Australia and Japan through Aug. 27.
Roughly a dozen dark-green tents were pitched a week ago at Joint Base Pearl Harbor-Hickam to serve as 3rd Fleet's temporary home.
"I've brought the entire headquarters function here, inside this expeditionary mock capability," fleet commander Vice Adm. Steve Koehler told reporters while standing near the tents.
"So, I'm command-and-controlling all of 3rd Fleet — both within the exercise and real world – from here," he said. The fleet includes 100 ships, 400 aircraft and roughly 68,000 personnel, he said.
The scale of the maritime training is unprecedented in the modern era, Koehler said.
"When you're looking across the large-scale naval exercise here that we're doing, certainly in my 35 years this is the first of a kind where we are bringing in all of the naval forces together, synchronized across the whole Navy, in the meetings that we're having all day long across these 17 time zones," he said.
"Right now, we're exercising combat scenarios across the entire maritime of the globe," he said.
The global exercise force — which also includes elements of the Navy's 2nd, 4th, 6th and 7th Fleets — includes about 36 vessels at sea, from carriers to submarines, as well as "an unlimited array of constructive, or computer-generated units," 3rd Fleet said in a news release Monday.
The exercise fleet Koehler oversees includes the aircraft carrier USS Carl Vinson and some of its strike group, which arrived in the Hawaiian Islands on Sunday.
The guided-missile cruiser USS Lake Champlain and guided-missile destroyers USS Chafee and USS Stockdale from Destroyer Squadron 1 are also taking part in the exercise.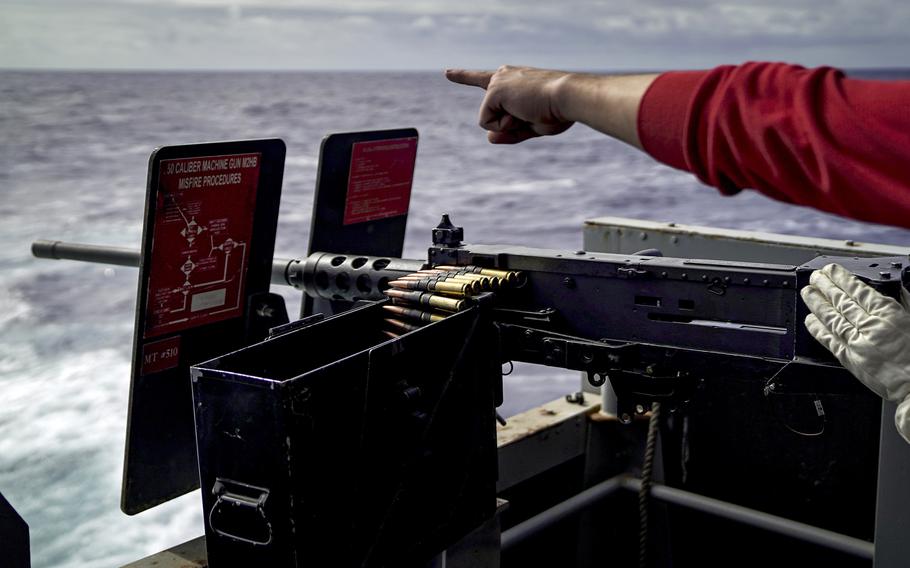 The core of Large-Scale Exercise 2021 involves "leveraging integrated fighting power of multiple naval forces to share sensors, weapons and platforms across all domains," Rear Adm. Dan Martin, commander of the destroyer squadron, said Sunday in a Navy news release.
"Contemporary naval doctrine demands a shift of focus from the individual carrier strike group to a fleet-centric approach," he said.
A preliminary, four-day drill wrapped up Sunday on the Coral Sea off Australia, during which the USS America Expeditionary Strike Group, along with the 31st Marine Expeditionary Unit, trained beside the Royal Australian Navy's amphibious assault ship HMAS Canberra and frigate HMAS Ballarat, and Japan Maritime Self-Defense Force destroyer JS Makinami.
The Navy has been circumspect in revealing details about what scenarios and locations are in store for the rest of Large-Scale Exercise 2021.
"I've got to be careful, specifically, of the actual assets and where they are," Koehler said Monday. "But I would tell you that this exercise takes not only the live forces that are currently underway and currently deployed. There are 'synthetic forces' that are simulated in all of the scenarios that are combined — both with the live and the constructive forces — giving us a very robust scenario. All domains: above below and on the sea, space, cyber and information."
The Navy expects to hold similar worldwide exercises every three years, the 3rd Fleet news release said.