Crowds gather to honor Marine Corps working dog trainer who died while swimming in Okinawa
by
Kristine Goodrich
The Free Press
June 25, 2021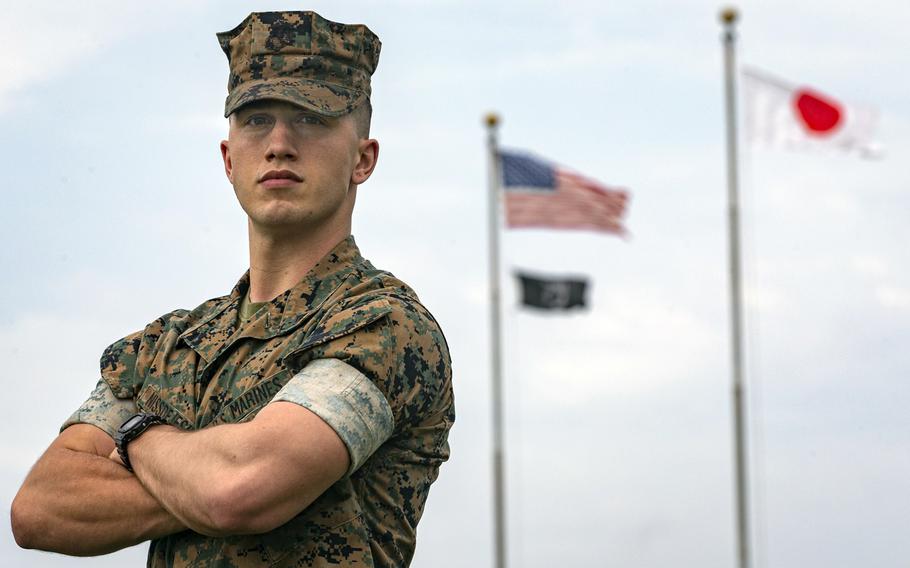 MANKATO, Minn. (Tribune News Service) — Heather Tollefson never met Cpl. Eric-John Niss-De Jesus. But she couldn't let the grieving family of the fallen Marine from Mountain Lake,Minn. pass by without showing her gratitude.
She coordinated veteran color guards, honor guards, firefighters and a medley of citizens to line Highway 169 through downtown St. Peter as Niss-De Jesus's family brought his body home.
Niss-De Jesus, 24, was stationed in Japan and drowned June 5 while swimming off the coast.
People gathered in St. Peter and several other area communities to pay tribute to the Marine and his family as he was brought home Thursday afternoon.
"Any chance I have to honor a soldier, especially a fallen soldier, I jump in," said Tollefson, a St. Peter small business owner and member of the St. Peter American Legion Auxiliary.
Niss-De Jesus graduated from Mountain Lake High School 2015, where he was a member of the National Honor Society and FFA and played football.
He went on to earn a bachelor's degree in animal science from the University of Minnesota and soon after joined the Marines.
He was stationed at Camp Kinser in Okinawa as a military dog trainer. He had been recently selected to the Marine Corps Enlisted Commissioning Program.
Niss-De Jesus was swimming with fellow Marines during a weekend off when he was caught in a rip tide, according to his family members. His body was recovered from the ocean a few days later.
People also gathered along the route in towns including Le Sueur, Mankato, Lake Crystal, Madelia, St. James, Butterfield and Mountain Lake.
___
(c)2021 The Free Press (Mankato, Minn.)
Visit The Free Press (Mankato, Minn.) at www.mankatofreepress.com
Distributed by Tribune Content Agency, LLC.