C4 explosives recovered months after disappearing from Marine Corps base in California
by
Chad Garland
Stars and Stripes
June 16, 2021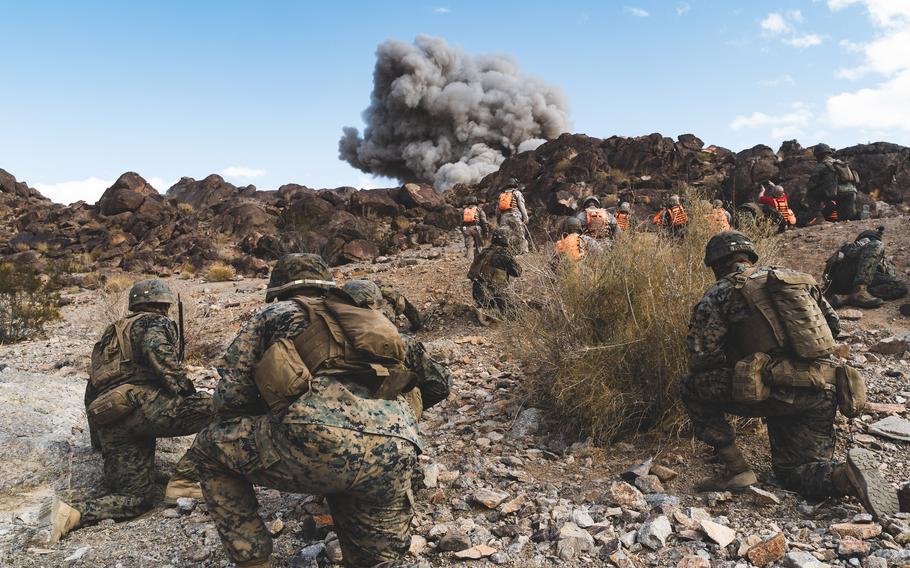 Several pounds of C4 explosives have been recovered nearly six months after they went missing from a Marine base in California, investigators said, but no suspects have been arrested.
The Naval Criminal Investigative Service is continuing the probe that began after the powerful explosives were reported missing from Marine Corps Air Ground Combat Center Twentynine Palms, Calif., in January, spokesman Jeff Houston said in a brief statement Tuesday.
"No arrests have been made and no charges have been filed at this time," Houston said. "Out of respect for the investigative process, NCIS will not provide further details while the investigation is ongoing."
Military officials suspected the roughly 10 pounds of plastic explosive might have been stolen during an exercise, San Diego's ABC10 News reported earlier this year.
About 3,500 Marines and sailors from the 2nd Marine Division from Camp Lejeune, N.C., the 1st Marine Division from Camp Pendleton, Calif., and other units from Hawaii and North Carolina were taking part in the Integrated Training Exercise 2-21 at Twentynine Palms at the time.
Located about 150 miles east of Los Angeles in the Mojave Desert, the training installation is the largest Marine base in the world at 932 square miles. More than 11,000 Marines and sailors are stationed at the combat center, a base website says.
C4 is a powerful, pliable explosive that usually comes in thin, 1 ¼-pound blocks or packed in white plastic containers.
Some 1,900 military firearms were lost or stolen from 2010 to 2019, The Associated Press reported Tuesday in an in-depth investigation that found some of those weapons had turned up later on America's streets. While the report focused on firearms such as machine guns and automatic rifles, explosives had also disappeared, the AP reported, including armor-piercing grenades that wound up in an Atlanta backyard.
Sen. Richard Blumenthal, D-Conn., on Tuesday called the report "blood curdling," and urged Army leaders to investigate during a Senate Armed Services Committee hearing.
Twitter: @chadgarland