Familiar face returns to Okinawa to take charge of 1st Marine Aircraft Wing
by
Matthew M. Burke
Stars and Stripes
June 11, 2021
CAMP FOSTER, Okinawa — Marine air power in Japan welcomed a familiar face as its new leader Friday at Marine Corps Air Station Futenma on Okinawa.
Brig. Gen. Brian Cavanaugh took command of the 1st Marine Aircraft Wing from Brig. Gen. Christopher McPhillips during a flight-line ceremony with MV-22B Ospreys and F-35B Lightning II stealth fighters parked nearby.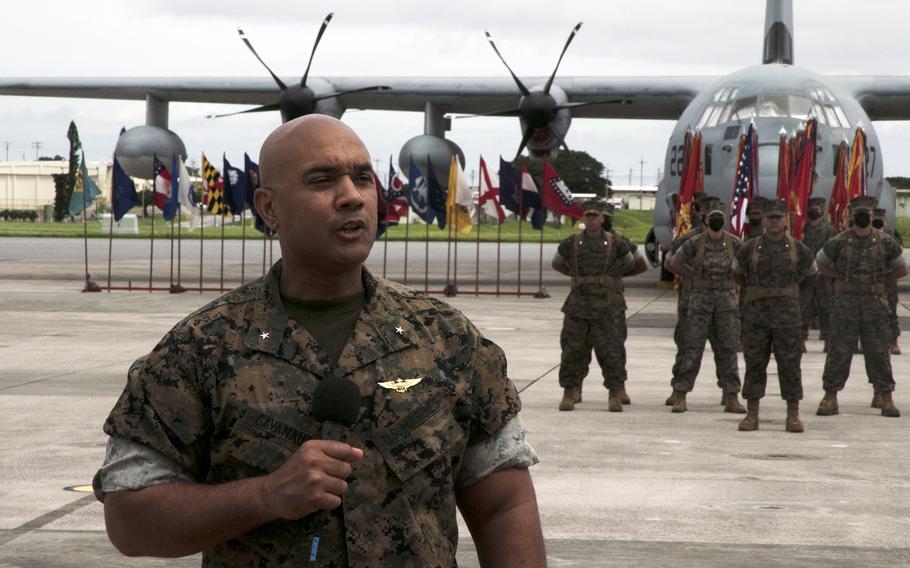 Cavanaugh, a Bronze Star recipient, is no stranger to 1st MAW. He has held every rank in his 30-year career, save for second lieutenant, while serving under its banner, he said.
"I understand that 1st MAW, through the work of Gen. McPhillips and his team, is ready to fight now and we will continue to be ready to fight now," Cavanaugh told the audience. "All I ask of the marines and sailors is to be ready."
The 1st Marine Aircraft Wing — often referred to as the "tip of the spear" in Marine aviation — consists of approximately 7,500 Marines and sailors operating a complement of fixed- and rotary-wing aircraft from bases across Japan and Hawaii. The unit is the aviation combat element of III Marine Expeditionary Force.
The wing's mission is to provide offensive air support, anti-air support, aerial reconnaissance and electronic countermeasures, according to the Marine Corps. The wing may also perform tasks on behalf of the Navy.
McPhillips, a career AV-8B Harrier pilot who took command in June 2019, heads to a joint billet at U.S. Indo-Pacific Command in Hawaii, wing spokesman Maj. Ken Kunze said Friday.
McPhillips' two years were marked by the coronavirus pandemic and a steady stream of exercises in new Marine island-fight doctrine called expeditionary advanced base operations. The strategy calls for Marines to move inside the range of an adversary's "long-range precision fires" and establish difficult-to-target forward bases.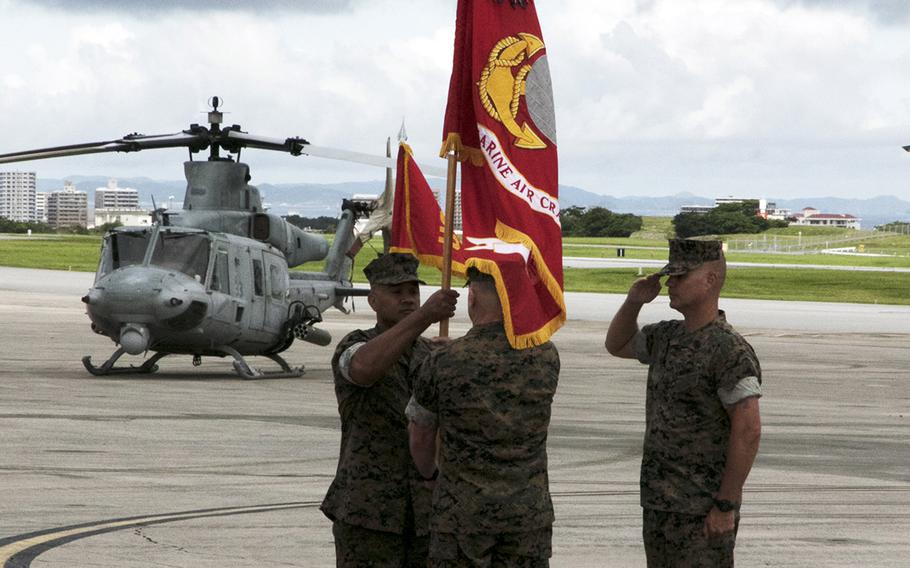 Air assets have the capability to refuel and rearm in remote and austere locations as opposed to large, static military bases that could be targeted by adversaries.
At Friday's ceremony, McPhillips lauded his Marines for remaining ready during the pandemic. He said the future was bright for the wing and III MEF.
"I couldn't be more excited about the officer that is taking my place," McPhillips said of his friend of over 30 years. "This is heartfelt for me; there is not a better person to take command of this unit right now. He's a quality leader and I think 1st MAW is going to be better off for having him."
Cavanaugh returns to the wing from Marine Corps headquarters in Washington, D.C., where he served as assistant deputy commandant for programs and resources, a March 4 Pentagon statement said.
Both he and McPhillips have been nominated by President Joe Biden to the rank of major general, the statement said.
---
---
---
---