Army's sustainment command in Europe welcomes new leader as service focuses on rapid movement
by
Jennifer H. Svan
Stars and Stripes
June 8, 2021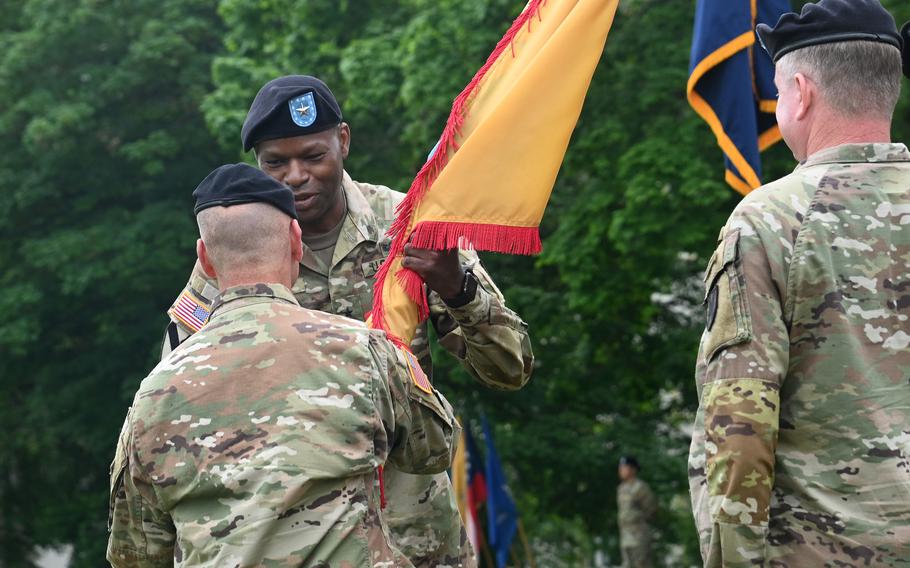 KAISERSLAUTERN, Germany — Brig. Gen. James M. Smith took command Tuesday of the U.S. Army's largest sustainment command overseas, which has expanded the service's reach across the Continent while navigating the restrictions of the coronavirus pandemic.
Smith replaces Maj. Gen. Christopher O. Mohan, who during his two years at the helm of the 21st Theater Sustainment Command helped orchestrate the movement of Army troops and equipment, gained additional access to ports and led some 11,000 soldiers and civilians.
"You've worked hand and glove with both NATO and the European Union to improve our ability to move equipment and vehicles across borders with increased speed," Gen. Christopher G. Cavoli, commander of U.S. Army Europe and Africa, said of Mohan.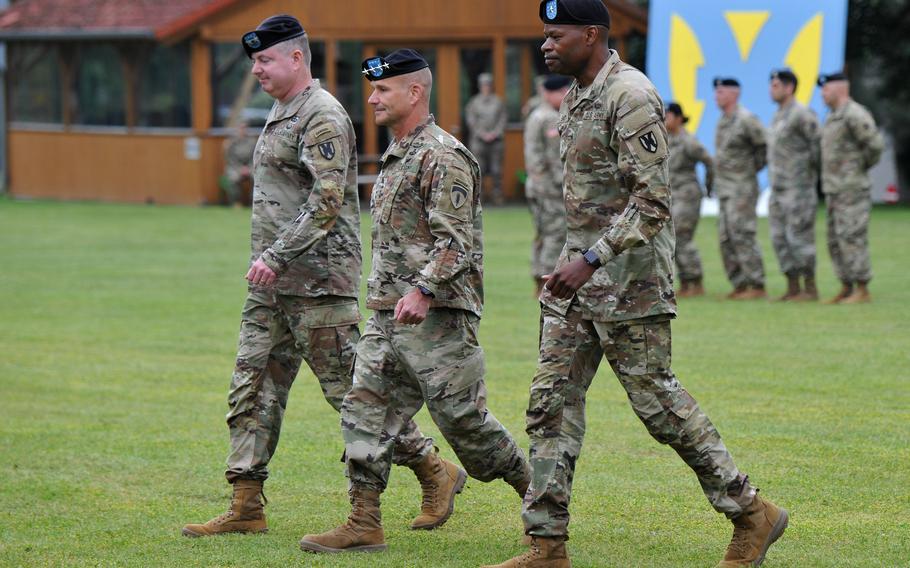 The 21st TSC is the backbone in Europe of a Pentagon strategy to keep adversaries off balance by rapidly and unpredictably moving troops and equipment from the United States. The Continent has seen one of the largest influxes of forces and hardware since the end of the Cold War, a response to increased Russian military activity in the region.
This spring, the Army transported equipment through Dunkirk, France, "for the first time in decades," Cavoli said. Last month, the command for the first time in 60 years unloaded fuel and heavy vehicles from a ship moored off Durres, Albania, and brought it to shore, Cavoli said.
"The most amazing thing is about three quarters of this you got done during (a pandemic) that tested our ability to remain ready under adverse conditions," he said.
Mohan next week will take over the U.S. Army Sustainment Command in Rock Island, Ill., an assignment that has typically been the next stop for outgoing 21st TSC commanders.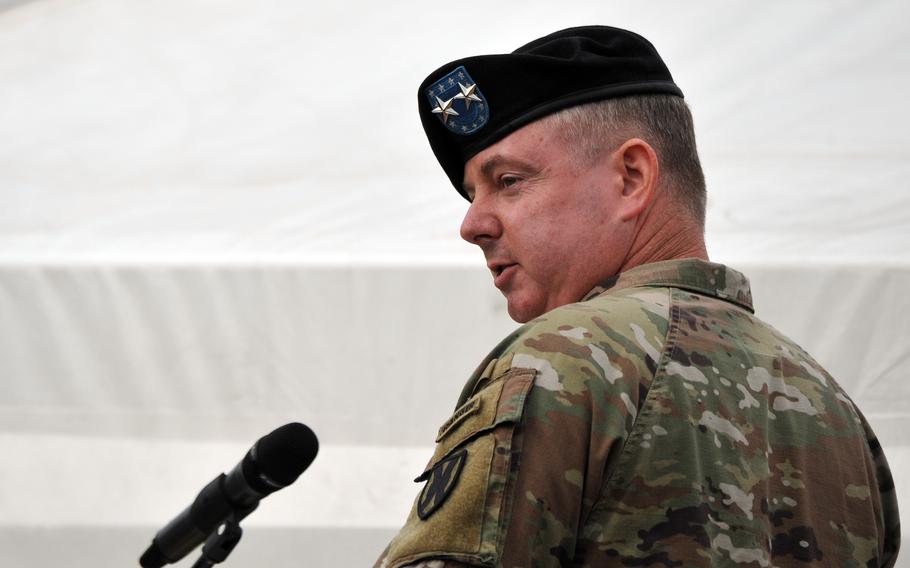 He thanked those assembled on the parade field at Daenner Kaserne for their leadership and service. There wasn't time to recount all the command has achieved, Mohan said.
"I will just say this: 'If it's happening in Europe, Team 21 either coordinated it, planned it, executed it or is executing right now. Simply put, you guys are the best."
Mohan advised Smith to enjoy every second of his tour, "because, trust me, it will be gone before you know it. You have the best mission, the best boss and the best teammates."
Smith, who commissioned into the Army in 1992 after graduating from Christopher Newport University in Virginia, comes to Germany from Fort Lee, Va., where he was the chief of transportation and commandant for the U.S. Army Transportation School and U.S. Army Sustainment Center of Excellence.
Smith said he was looking forward to leading "such a fantastic and storied organization."