89 Haitian migrants returned four days after they were stopped at sea
By
David Goodhue and Jacqueline Charles
Miami Herald
April 12, 2022
---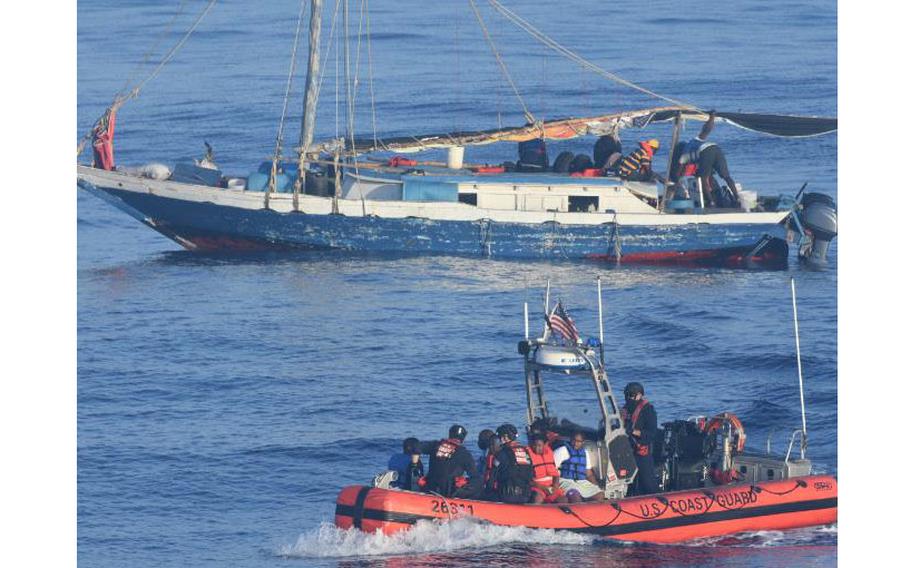 (Tribune News Service) — A U.S. Coast Guard cutter returned 89 people to Haiti Tuesday who were stopped at sea days earlier aboard an overloaded sailboat off the southeastern coast of Cuba.
The group of men, women and children are part of an ongoing migrant surge from both Haiti and Cuba to South Florida that has been keeping the Coast Guard, Border Patrol and U.S. Customs and Border Protection Air and Marine Operations units busy in the region for more than a year.
In just over a month, the U.S. Coast Guard has interdicted more Haitians at sea than it did in the last fiscal years when 1,527 were returned to Haiti.
The cutter Venturous took the migrants to the port city of Cap-Haïtien, said Petty Officer Nicole J. Groll, a Coast Guard spokeswoman.
Groll said the journeys have become so harrowing that families onboard the vessels are voluntarily asking to be taken off. During one recent repatriation, the passengers included a small baby traveling in an infant carrier.
The Coast Guard stopped the group's sailboat Saturday in the Windward Passage, 17 miles north of Punta de Maisi, Cuba, Groll said.
Since Oct. 1, the Coast Guard has stopped 3,127 migrants from Haiti on the high seas. The law enforcement agency it has not seen this many Haitians take to the ocean to flee their homeland in 18 years.
The latest surge is being driven by deteriorating conditions in Haiti where citizens are seeing an increase in gang violence, kidnappings, hunger and political turmoil, exacerbated by last July's assassination of President Jovenel Moïse.
In 2004, the last time the Coast Guard was faced with a Haitian migration surge, the agency held 546 Haitians on board cutters after intercepting about a dozen vessels in a matter of days trying to make the 600-mile journey toward Florida. At the time, the Caribbean nation was in the throes of chaos as an armed revolt eventually forced the departure of the president, Jean-Bertrand Aristide.
After the devastating Jan. 12, 2010 earthquake, Haitians once again began leaving. But instead of traveling by boat, they traveled to South America, where after years of living in Brazil and Chile, they began making their way in droves in 2016 to the U.S. Mexico border. That exodus remains ongoing.
Despite the current trend in maritime migration, Haitians traveling by land still outnumber those being interdicted by sea.
©2022 Miami Herald.
Visit at miamiherald.com.
Distributed by Tribune Content Agency, LLC.
---
---
---
---