21 more migrants land in Florida Keys; Coast Guard sees increase since October
By
Miami Herald
March 22, 2022
---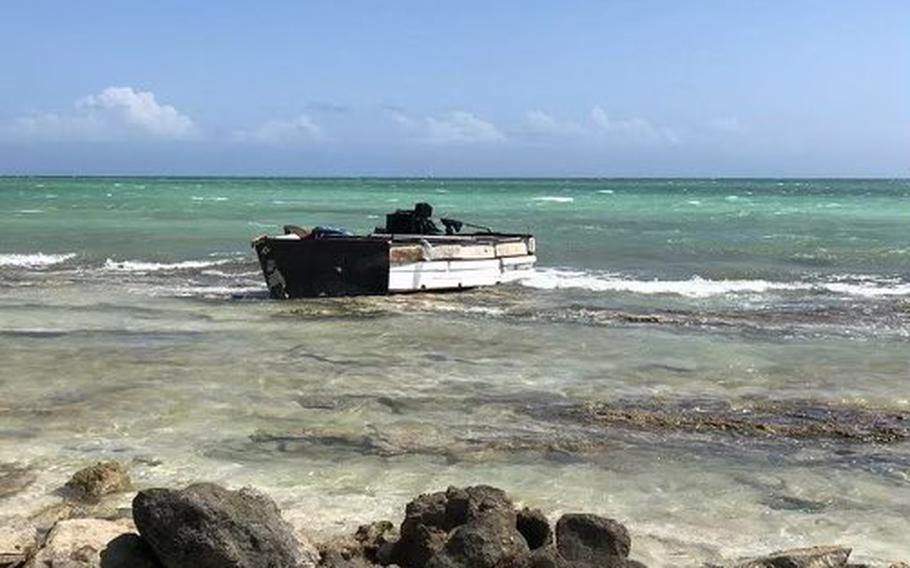 MIAMI (Tribune News Service) — Nearly two dozen people are in federal custody as two more groups of Cuban migrants made landfall in the Florida Keys on Monday.
The U.S. Border Patrol detained 21 people overall on Monday afternoon, U.S. Customs and Border Protection Division Chief Adam Hoffner said. They're the latest in a surge of people trying to escape worsening economic and political conditions in Cuba. Some 50 others have landed in the Keys since Thursday.
The first group of 14 people from Cuba was found in the Marquesas Keys, uninhabited islands about 20 miles west of Key West, Hoffner said. The migrants, who were picked up around 2 p.m., were stranded on the islands after their makeshift vessels ran aground.
"Our U.S. Coast Guard and CBP Air and Marine partners quickly arrived on scene to ensure the safe recovery of these migrants," he said. "Fortunately, all of the migrants were reported to be in good health."
Around 5 p.m., the second group of seven Cuban migrants was intercepted after making landfall in Big Pine Key.
Over the last week or so, eight separate landfalls have been made in the Florida Keys leading to the detainment of 77 Cuban migrants, five of which were unaccompanied children or juveniles.
Since the beginning of March, more than 10 migrant groups have been detained in the Keys, Customs' Chief Patrol Agent Walter N. Slosar said.
As of early March, the Coast Guard said it has already stopped 852 people at sea between Cuba and South Florida since Oct 1. That tops the 839 Cuban migrants caught on the water last fiscal year — a period that runs from the beginning of October to the end of September — and far surpasses the 49 interdicted in fiscal year 2020.
Likewise, the Coast Guard has been dealing with a marked increase in maritime migration between Haiti and South Florida, even before Sunday's landing. The latest numbers from the agency show 1,152 people from Haiti have been stopped at sea attempting to migrate to the States.
©2022 Miami Herald.
Visit at miamiherald.com.
Distributed by Tribune Content Agency, LLC.
---
---
---
---