Cold feat: US Coast Guard icebreaker's southerly sail said to be record-breaker
By
Stars and Stripes
March 2, 2022
---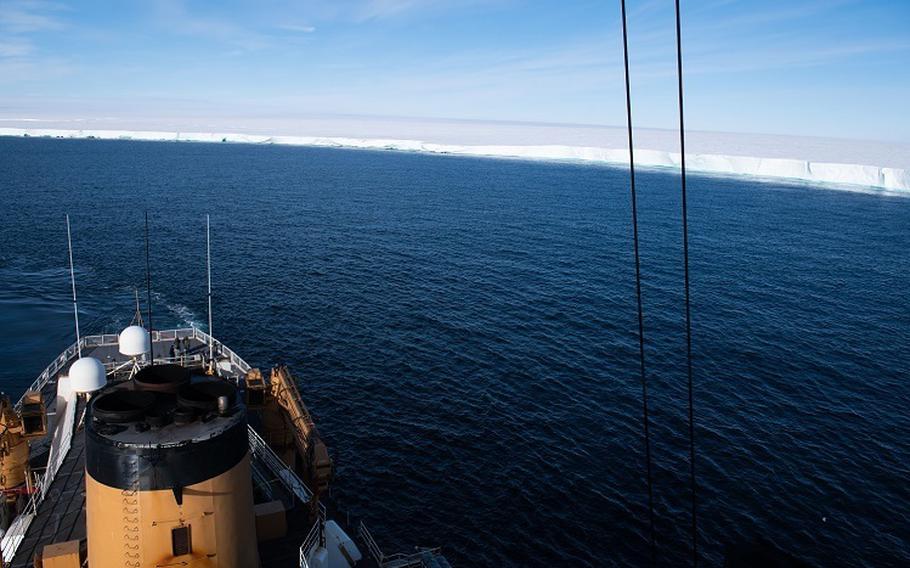 A Coast Guard icebreaker is laying claim to a world record, with crew members saying they sailed a little farther south than anyone else before them.
On Friday, the USCGC Polar Star reached a southern latitude of 78 degrees, 44 minutes and 1.32 seconds in Antarctica's Bay of Whales, according to a Coast Guard statement Tuesday.
The crew of the Polar Star is working with Guinness World Records to get official confirmation of the achievement, the statement said, without stipulating how long the process would take.
The current mark was set in 2017, when the Russian expedition vessel Spirit of Enderby reached a latitude of 78 degrees, 44 minutes. A second of latitude equals 101 feet.
The Spirit of Enderby also is sometimes referred to as the Professor Khromov.
The purported new world record was made possible because of a gradual melting of the Ross Ice Shelf. The Polar Star came within 500 yards of the shelf during its voyage, the Coast Guard statement said.
The ship's crew of about 160 sailed in waters that were previously part of the ice shelf and therefore were not navigable, the Coast Guard said.
Officials added that parts of the ice mass are as much as 12 nautical miles from the positions depicted on official charts because of the melting.
A survey by the Polar Star of nearly 400 nautical miles of the area will likely result in updates to those charts, the Coast Guard statement said.
In 1908, the British explorer Ernest Shackleton gave the Bay of Whales its name because of the numerous whales he and his crew saw there.
Three years later, Norwegian explorer Roald Amundsen established a base camp in the bay, from which he set out on his successful endeavor to become the first person to reach the South Pole.
Years later, U.S. Navy Rear Adm. Richard Byrd established Little America in the Bay of Whales and went on to explore more than 60% of Antarctica. "The crew of Polar Star is proud to follow in the footsteps of legendary Antarctic explorers like Shackleton, Amundsen and Byrd," Capt. William Woityra, commanding officer of Polar Star, said in a statement. "Even today, more than a century later, we carry on that legacy of exploration, reaching new places and expanding human understanding of our planet."
The Polar Star, the United States' only active heavy icebreaker, arrived in Antarctica last month after a nearly three-month journey from Seattle.
That was the aging vessel's 25th journey to the continent. It was there to support Operation Deep Freeze, an annual mission to resupply American scientists doing research near the South Pole.
---
---
---
---