US Army housing in Germany takes bottom ranks in annual survey
By
Stars and Stripes
September 9, 2022
---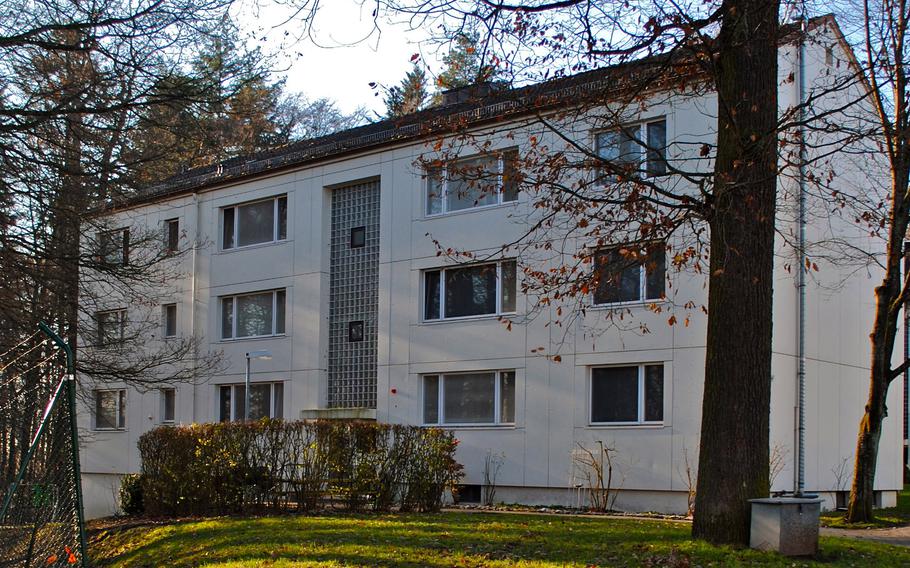 KAISERSLAUTERN, Germany — Army housing in Europe once again fared poorly in the latest Army customer satisfaction survey when compared to base housing communities in the U.S. and in the Asia-Pacific region.
It's an issue that Army leaders in Europe are vowing to fix with hundreds of millions in housing improvements and new units planned over the next six years.
Out of 20 Army installations with housing managed by the government, the bottom four in overall satisfaction were in Germany: Rheinland-Pfalz, Wiesbaden, Ansbach and Stuttgart, in order from highest to lowest. Bavaria, meanwhile, rated the sixth lowest.
The Army's 2022 Tenant Satisfaction Survey examined privatized and government-owned or leased housing. On installations with government-run family housing, 14 rated between outstanding and average, four scored below average and two — Ansbach and Stuttgart — rated poor. The poor rating, according to the survey, signifies "substandard performance and strong displeasure" with the property and/or level of service.
"Improvements are needed immediately," according to the Army's standards for housing rated as poor.
In recent years, Army leaders at base town hall meetings in Europe have fielded concerns from families about housing issues ranging from mold and brown drinking water to plumbing problems.
Those issues, however, aren't unique to Europe. At Fort Bragg, N.C., the Army since August has moved more than 200 soldiers out of condemned barracks due to substandard heating, ventilation and air conditioning.
 In Europe, Army family housing tends to be older, with less living space, than homes provided by Army installations in the U.S., said Mark Heeter, spokesman for Installation Management Command-Europe.
"Many are 1950s-era stairwell quarters, are smaller, and do not have many of the amenities commonly found in stateside residences such as yards, garages, air conditioning and privacy," Heeter said in a statement Thursday.
IMCOM is spending about $50 million per year to refurbish quarters across installations in Germany, Heeter said. Improvements planned include installing rolling window shutters, new balconies, interior and exterior renovations and demolishing lower-quality units. From 2022 through 2028, $785 million worth of construction is planned for 990 new housing units in Europe. Another 100 to 200 units per year will be improved or repaired, IMCOM said.
In Vicenza, Italy, new housing is being built at a cost of $84 million in 2021 and $90 million in 2022, Heeter said.
Overall satisfaction with housing at Vicenza improved by nearly 7 points from 2021 to 2022 in the housing survey. Survey responses for the 2022 survey were collected between January and March of this year. Vicenza's average score of 74.8 nearly boosted it to "good," a rating needing a score of 75 to 79.
Rheinland-Pfalz, which includes Baumholder — where  old housing units are also being replaced or refurbished — also improved its score, from 65.8 in 2021 to 68.4 this year. Rheinland-Pfalz also had one of the higher participation rates in Europe, with 305 of 654 surveys answered, a response rate of 46.6%.
Ansbach, by contrast, had a response rate of 17.6%, with 84 of 478 surveys distributed turned in.
The survey has provided IMCOM-Europe with "insight into residents' feelings about various areas of housing operations, customer service, and projects for Army Family Housing dwelling units," Heeter said in a statement. "We always encourage their participation, which is central to helping us understand how we can improve."
Among Army housing managed by the government, Fort McCoy in Wisconsin received the top overall score on the survey with a satisfaction rate of 94.1%. The highest rated Army housing overseas was Camp Zama in Japan, with a satisfaction rate of 87%.
---
---
---
---