'The most American town in Germany' is a growing player in Europe's defense
By
Stars and Stripes
July 25, 2022
---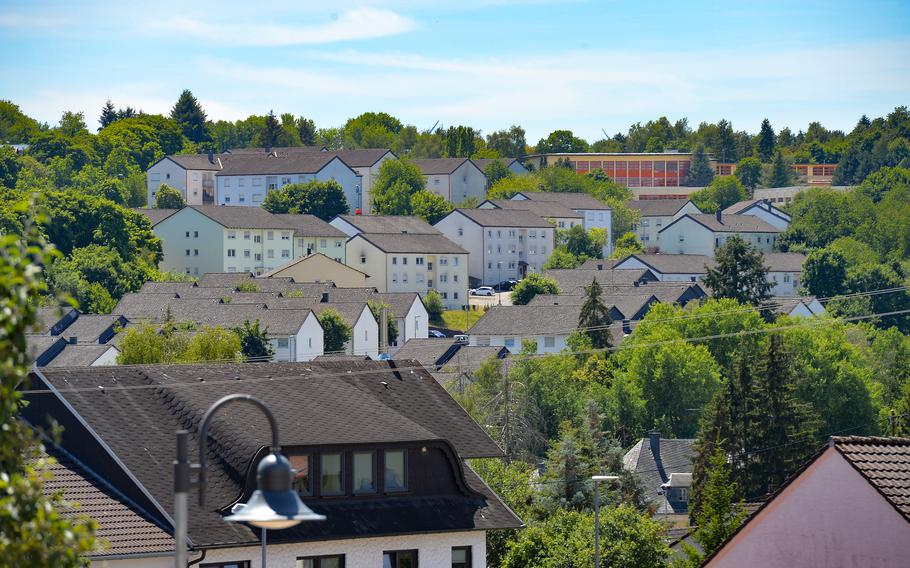 BAUMHOLDER, Germany — Forty years' worth of U.S. state license plates adorn the walls of Stadtkrug, where the mostly American military clientele dines on T-bone steaks and pork loin cooked over an open beechwood-fired grill.
The 18 oz. T-bone cuts like Stadtkrug's are a rarity in Germany. But so are towns like Baumholder, a village surrounded by miles of farms and forests, where the American population is the majority — and where the German residents are, for the most part, very happy about that.
The U.S. Army bases here were on the chopping block in 2008 and again in 2012 before gaining reprieves. While they weren't singled out as part of a now-abandoned Trump administration plan in 2020 to cut 12,000 troops from Germany, the experience left both residents and advocates of a strong defense posture in Europe alarmed.
Two years later, the mood is one of excitement. Baumholder is poised to become one of the most important pieces of U.S. and allied collective defense on the Continent, as special operations forces move in and the installation upgrades all it can for troops and their families.
"The U.S. Army would not be investing a billion dollars' worth of construction if it weren't going to keep this post as a long-term solution," said Jae Kim, U.S. Army Garrison Rheinland-Pfalz's deputy garrison manager for the Baumholder military community.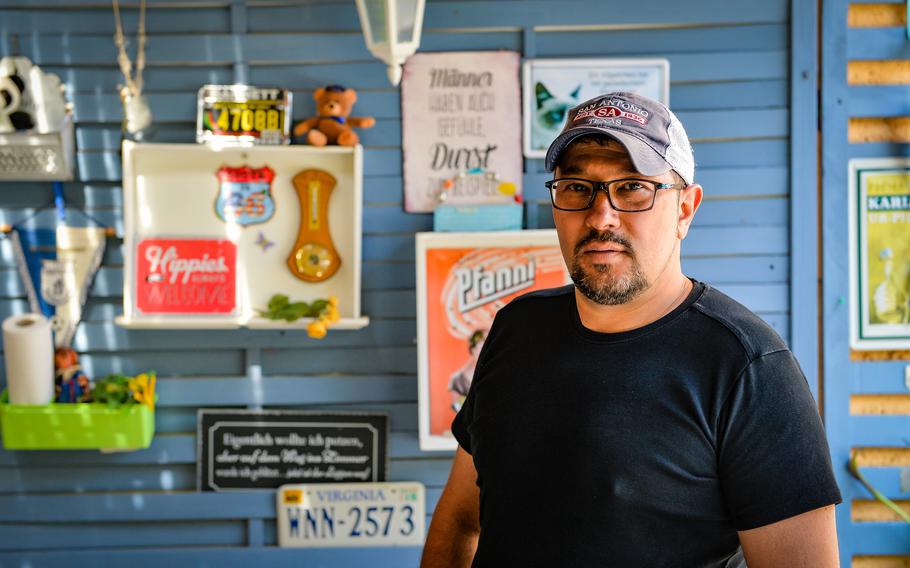 The earlier expected closures delayed years of needed infrastructure repairs at the bases, which became part of the Army's footprint in 1951.
On-post housing deteriorated, leaving base officials vowing changes in 2018 after residents at town hall meetings complained of mold infestations and brown water coming out of the taps.
Since then, construction has picked up, with a lot more to come. The White House's proposed 2023 budget set aside more than $200 million for Baumholder projects. With Russia's full-scale invasion of Ukraine looming large, the expenditures are likely to be part of the final defense appropriations.
Kim estimated that in the longer term, the Army will spend about $500 million toward quality-of-life improvements, including new housing, a lodge and an elementary school.
Another $500 million will go into barracks and unit support, including a special operations complex.
About 500 special operations troops are being repositioned from Stuttgart to Baumholder as early as this summer on a rotational basis, the Army announced this month. The move gives Special Forces ready access to more than 30,000 acres of training ranges.
Special operations units have worked for years with Ukrainian units, which surprised many analysts by repelling Russia's better-equipped forces in the initial phase of of the invasion, which began in late February.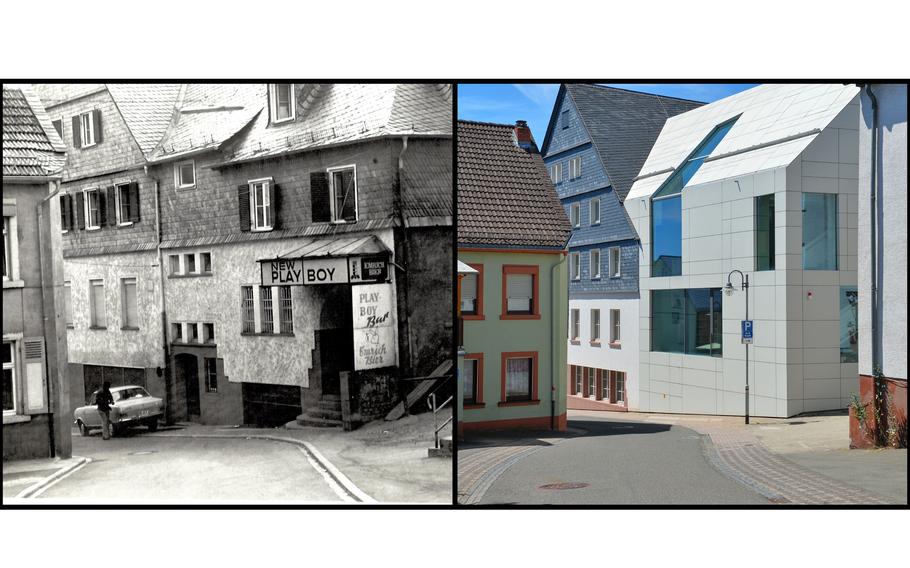 Jeans and ice cream
Every few months, whether the Americans will stay is the talk of this town of 4,300 Germans for one reason or another, says Melanie Mai, who along with her husband, Bernd, recently published the book "Americans in Baumholder: The Path from Occupier to Friend."
It expands on the work of the late Herbert Grimm, who authored a book about the Americans' first 50 years in Baumholder.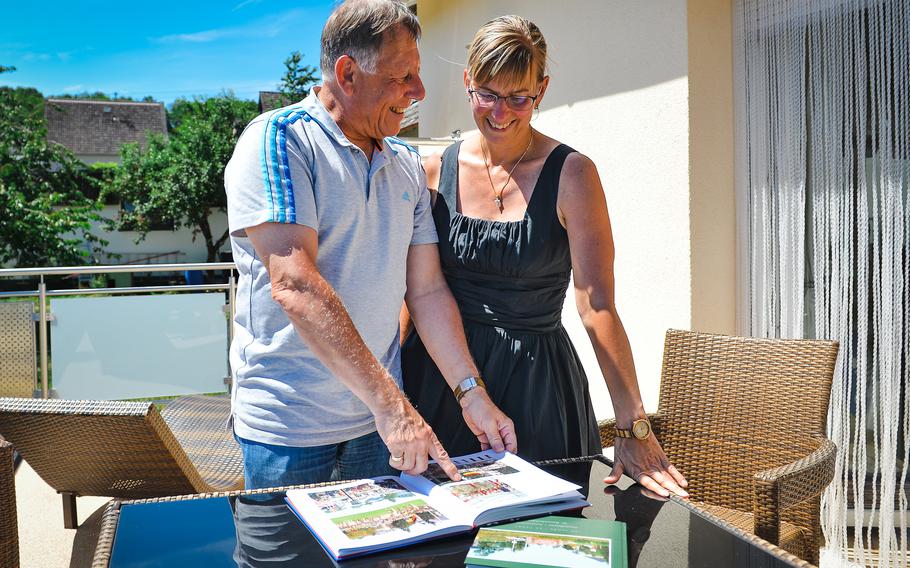 While the couple talked about the project on their sunny patio earlier this month, the booms of military training rattled in the distance.
"I'm happy to hear this because it tells me there is still military in the area," Bernd Mai said.
Mai, the host nation relations advisor, was born and raised in Baumholder and has worked on post for nearly 40 years. He remembers when more than 20,000 U.S. soldiers and their families were garrisoned at the post.
When the Americans took over the German military camp in 1951, the tiny farming village became "perhaps the most American town in Germany," they wrote.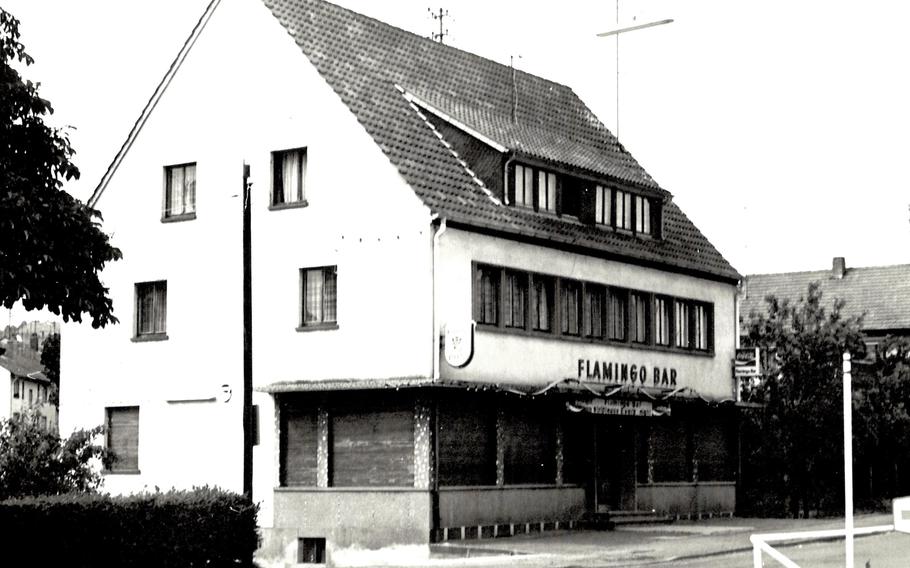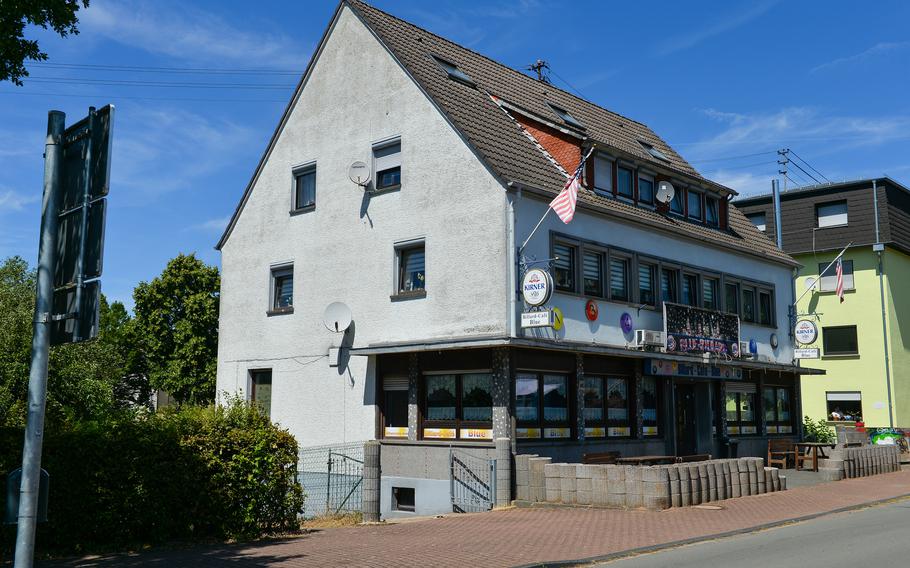 Americans forged many lasting friendships with Germans, one reason many in the town speak English and experienced American culture before a lot of other Germans did, Bernd Mai said.
"We had jeans when everybody was dreaming of jeans," he said. "We had American ice cream. We had everything."
That was the heyday, culminating in President Bill Clinton's 1995 visit to meet thousands of troops before they deployed to Bosnia.
The low point arguably came when the 170th Infantry Brigade left Baumholder in 2012 and the post's American population shrunk to about 500 soldiers and 1,500 family members and civilians, Mai said.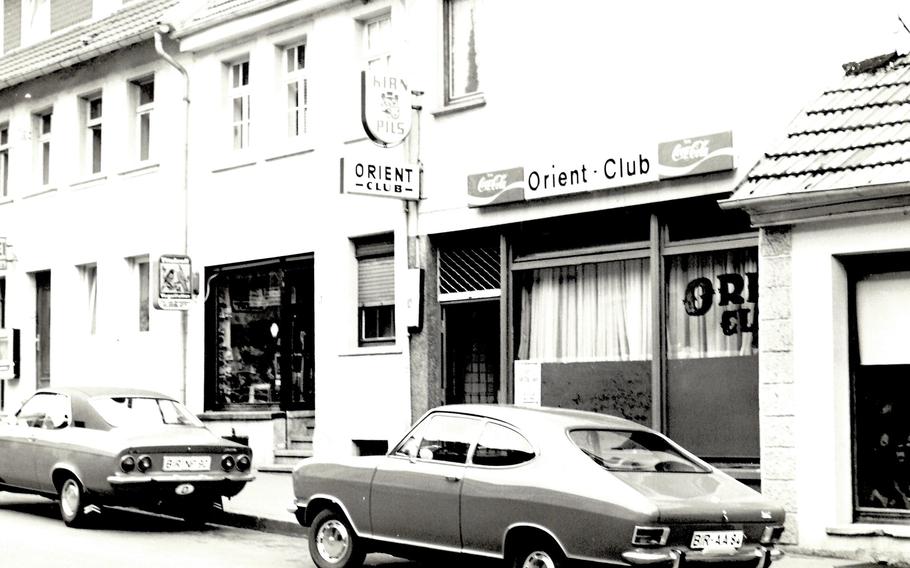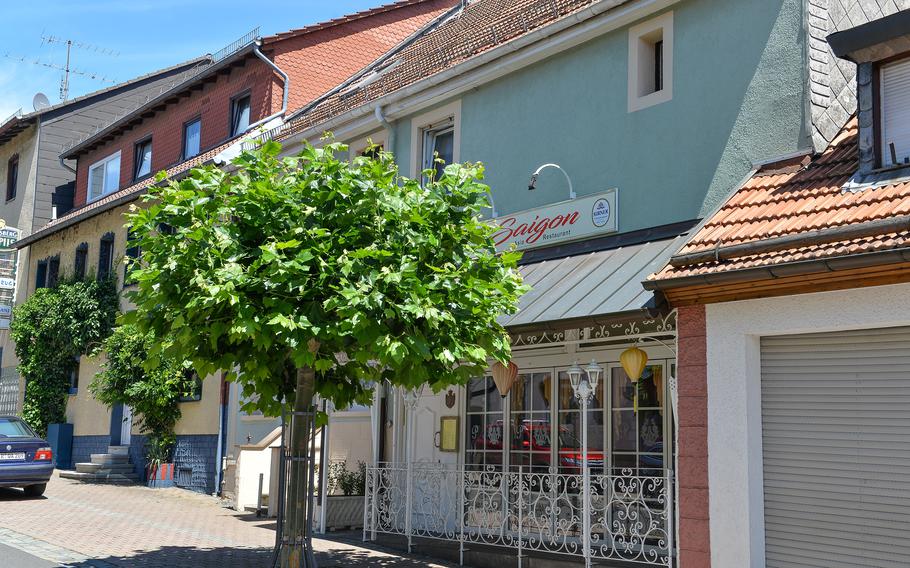 The bright lights up on the hill from the post at night were "dark all of a sudden," he said. "That was scary."
But after the 2014 Russian takeover of Ukraine's Crimean Peninsula, the post-Cold War drawdown in Europe was reversed and Baumholder began to grow.
The U.S. military is the region's main employer. About 400 German residents now work on base, down from the roughly 2,800 employed by the military in the 1950s, according to Mai. Businesses and landlords also lean on Americans to supplement their income.
"The lights would go off in town" if the Americans left, said Bernd Alsfasser, the district mayor.
Alsfasser was among those invited on post earlier this month to celebrate 70 years of Americans in Baumholder, an anniversary marked a year late because of pandemic restrictions.
"Throughout those 70 years, the city of Baumholder has hosted us, sponsored us, made us feel at home," Col. Angel Estrada, the 16th Sustainment Brigade commander and the senior military commander on post, said at the event.
"The future is bright," Estrada added. "Based on the Army's plan … for at least the next decade, Baumholder will grow."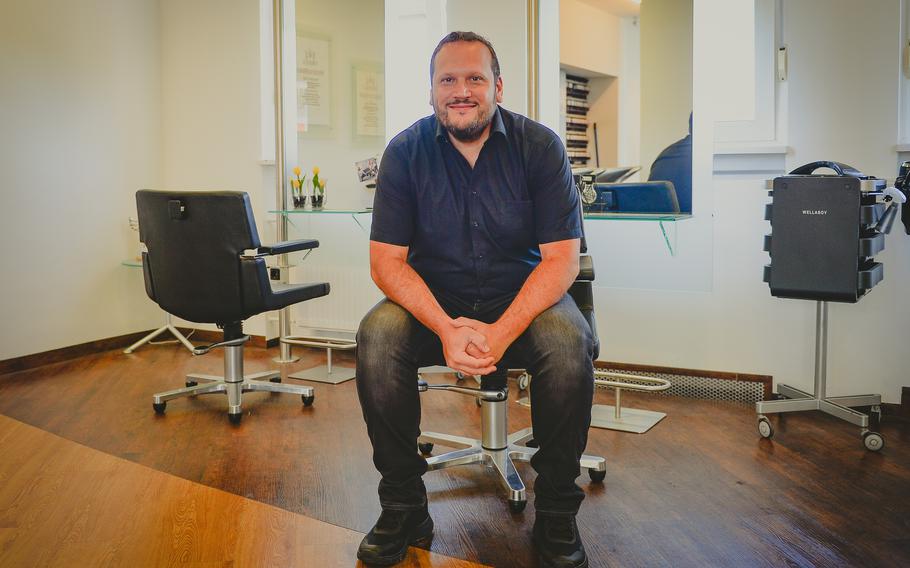 Uncle Sam means business
About 9,000 Americans, including families and civilians, are assigned to Baumholder. But the pandemic and the no-uniform policy off base, which has since been lifted, was tough on businesses.
On a recent workday, Ulrich Jung was cutting hair at his salon, Jung Friseure, which his grandfather started in 1937 and is within walking distance of the post. Customers are starting to return, he said, including Americans.
He counts Defense Department teachers on base among his most loyal customers.
Maintaining the U.S. military outpost at Baumholder "is important for the whole region," said Jung, whose father, Guenther, is the city mayor. "We have nothing else. We don't have big firms here."
Down the street, Otti Walter stood ready to greet customers just inside the longtime family shoe business he runs with his wife, Helga.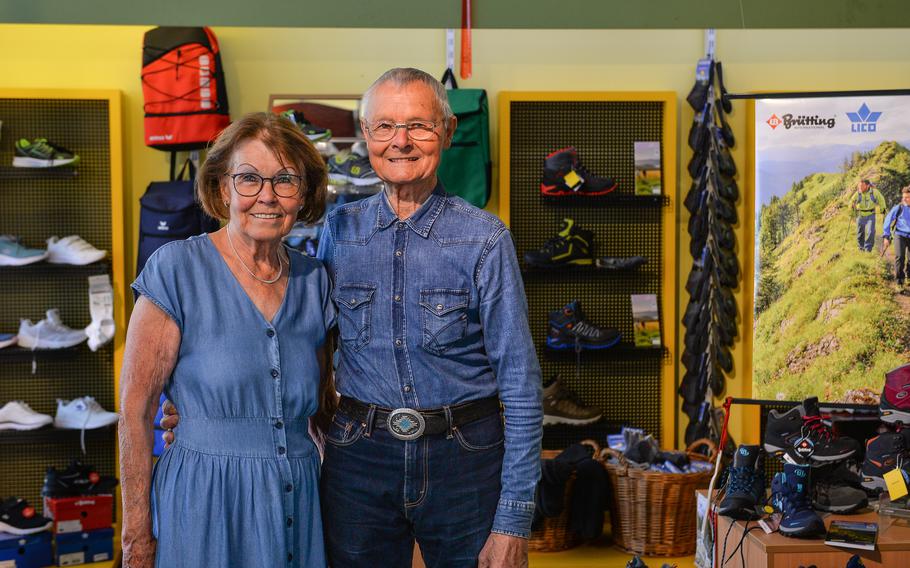 Online shoe sales have hurt business, and there just are not as many Americans shopping in Baumholder, he said. But the base is still the lifeblood of the community.
"There is no industry here except the American camp, so that's everything," he said.
It's been like that for as long as Walter can remember.
When Walter was a boy and the Americans arrived, "they said the Americans were going to be here for 10 years," he said, noting that he's now 85 and a great-grandfather.
Alluding to the war in Ukraine, he said he doesn't think the Americans are going to be on their way out anytime soon.
"Right now, it doesn't seem to be the right time for them to leave, if you look to the east," he said.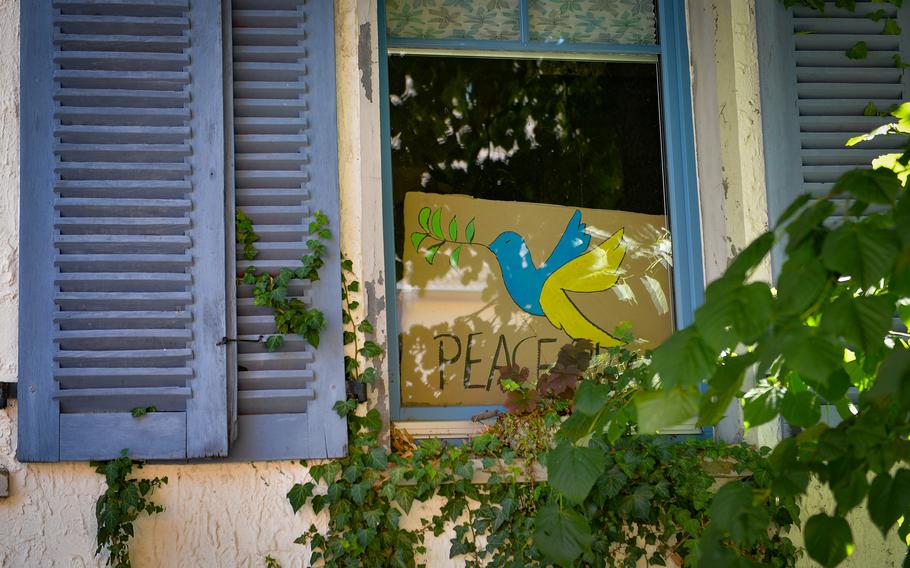 Stars and Stripes reporter Alexander Riedel contributed to this report.
---
---
---
---