Soldiers at Fort Hood save trooper's life with quick action
Stars and Stripes
July 12, 2022
---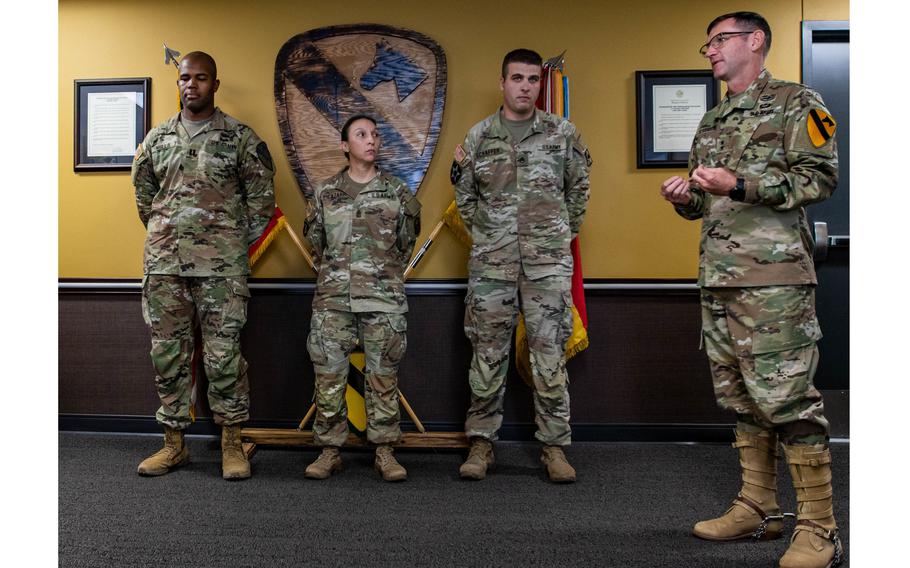 A routine run at Fort Hood this week turned into an opportunity for three soldiers to save a life. 
Cpt. Aaron Mills, commander, Headquarters and Headquarters Troop, 4th Squadron, 9th Cavalry Regiment; Sgt. Maj. Rocio Picazarri, 1st Medical Brigade operations sergeant major; and Staff Sgt. Justin Schaffer, 1st Medical Brigade schools non-commissioned officer, were recognized Tuesday with an impact Meritorious Service Medal for saving a fellow trooper's life. 
The three 1st Cavalry Division soldiers were running on Legends Way at Fort Hood, Texas, on Monday when they saw a fallen trooper on the side of the road. 
After getting closer and realizing the trooper was unresponsive and had no pulse, Mills, Picazarri and Schaffer immediately performed CPR and instructed other troopers around them to call 911.
"The quick response time is really what helped the situation," Picazarri said. 
When emergency personnel arrived, the unconscious trooper was transported to Carl R. Darnall Army Medical Center. 
The trooper is awake and responsive, according to a press release. 
Command Sgt. Maj. Shade S. Munday, 1st Cavalry Division command sergeant major, lauded Mills, Picazarri and Schaffer for their quick action. 
"Leaders take action, and that's exactly what these soldiers did to save the trooper's life," he said. 
---
---
---
---