Roll with hemp? Army seeks info about cannabis camo for snipers, scouts
By
Stars and Stripes
July 6, 2022
---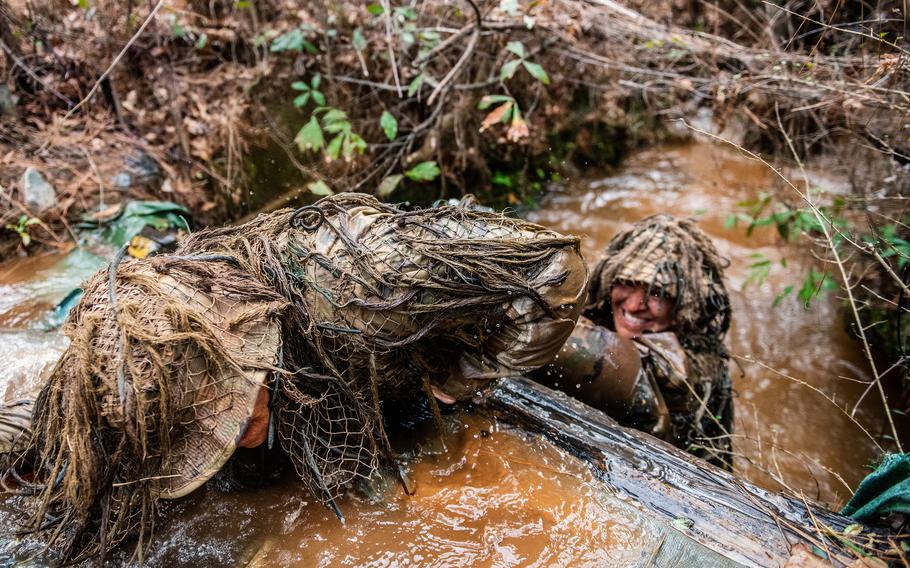 The Army wants to learn more about the possible camouflage benefits of hemp, a product derived from cannabis that could help better conceal its snipers from enemy forces.
In a request for information issued last week, the service said it is interested in how hemp yarn could be used to "break up the snipers' outline."
The Army's uniform office said the request for information does not constitute a formal solicitation for proposals and will not directly lead to any contract awards. The request is focused on how to use 400,000 yards of hemp as well as jute yarn.
While hemp is legal in the U.S., the Defense Department still prohibits the use of hemp-derived products for consumption by troops because some contain THC, the active element in marijuana, and could trigger a positive drug test.
However, the Defense Department doesn't prohibit the use of durable goods containing hemp, such as rope or clothing.
The Improved Ghillie System is the Army's effort to meet the camouflage needs of its sniper force. Ghillie suits are typically weathered with mud, sand, water or whatever else is necessary to help snipers blend into the environment.
The program calls for "amendable camouflage materials" such as hemp that can be used to change the appearance of the sniper, the Army announcement said.
Such fibers will help conceal the sniper and scout, allowing them to remain undetected when they are close to enemy forces, the Army request for information stated.
The Hemp Foundation, an industry advocacy group, says the fabric could help the military meet many of its uniform needs when it comes to durability and staying dry.
"It impedes the growth of mold and mildew, keeping the clothes odorless. Of course, cotton is also good when it comes to breathability, but hemp is a clear winner overall," according to a 2020 assessment by the organization on potential military uses of hemp.
While hemp can be abrasive in raw form, it is as soft as any other fabric after processing, the foundation said.
---
---
---
---