US, South Korea fire 8 missiles in response to North Korea's unprecedented volley
By
Stars and Stripes
June 6, 2022
---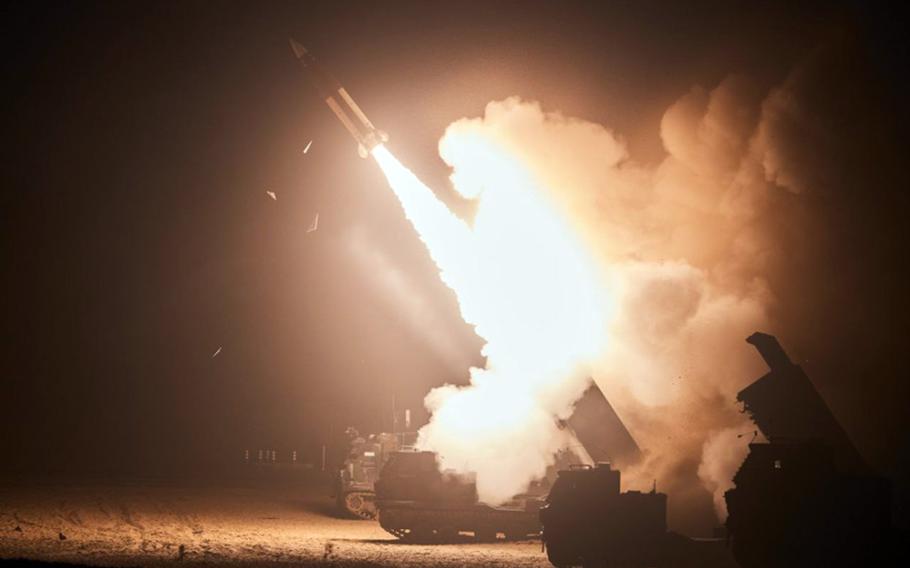 CAMP HUMPHREYS, South Korea — U.S. and South Korean forces fired eight surface-to-surface missiles on Monday morning in response to North Korea's unprecedented volley of missiles launched the previous day.
The allies' missiles were fired from the Army's Tactical Missile System at an undisclosed location toward the Sea of Japan/East Sea at around 4:45 a.m., according to a South Korean Defense Ministry news release Monday. The exercise demonstrated U.S.-South Korean capabilities to strike back at North Korea's "origin of provocation," regardless of the number of launch sites the communist regime employs, it said.
"Our military strongly condemns North Korea's successive ballistic missile provocations and sternly calls for an immediate suspension of acts" that raise tensions on the Korean Peninsula, the release said.
A separate news release from U.S. Forces Korea on Monday said seven South Korean and one U.S. Army missile were fired "to demonstrate the ability of the combined [U.S.-South Korean] force to respond quickly to crisis events."
North Korea on Sunday morning fired eight, short-range ballistic missiles from four provinces toward the Sea of Japan/East Sea. The South Korean military estimated the missiles reached three to six times the speed of sound and flew between 68 and 416 miles at altitudes of 16 to 56 miles.
The North Korean missiles did "not pose an immediate threat to U.S. personnel or territory, or to our allies," according to a statement from the U.S. Indo-Pacific Command immediately after the launches.
North Korea's state-run news outlets disclosed no information Monday about the latest series of launches.
The eight-missile volley is the most fired by the communist regime in a single event, according to an expert on North Korea.
Pyongyang "has conducted multiple launches in a single event before, but it's usually in much lower numbers," Michael Duitsman, a research associate at the James Martin Center for Nonproliferation Studies, told Stars and Stripes by phone Sunday.
The launches mark North Korea's 17th round of missile tests for a total of 28 ballistic missiles fired so far this year. It last launched a missile on May 25, hours after President Joe Biden left Asia after his first presidential trip to South Korea and Japan.
South Korea and the U.S. jointly responded to that launch by firing two missiles off the Korean Peninsula's eastern coast and taxied dozens of military aircraft as a show of force.
During their summit, Biden and newly elected South Korean President Yoon Suk Yeol agreed to start talks to initiate joint military exercises on the peninsula that were paused in 2018 during a period of warming relations with North Korea.
The allies' missile launches come as U.S. and Japanese diplomats are in Seoul to discuss North Korea's spate of provocations. U.S. Special Representative for North Korea Sung Kim met with his South Korean and Japanese counterparts on Friday, all of whom expressed concern and urged the North to "return to dialogue," according to a news release from State Department spokesman Ned Price.
Officials from the U.S., South Korea and Japan have assessed in recent weeks that North Korea was prepared to conduct its seventh nuclear test, its first since 2017.
---
---
---
---