US-South Korea combined division celebrates its seventh anniversary
By
Stars and Stripes
June 3, 2022
---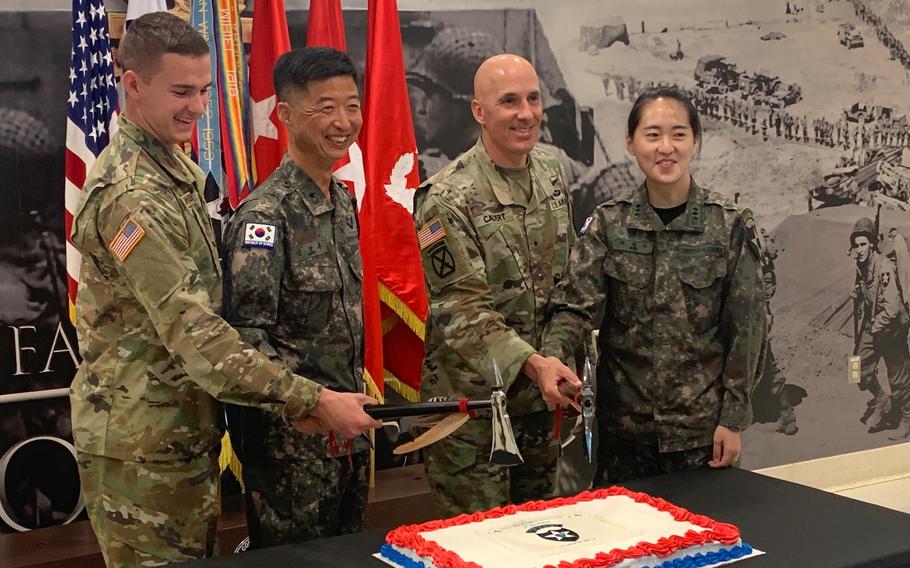 CAMP HUMPHREYS, South Korea — The Republic of Korea-U.S. Combined Division, the only division in the Army composed of soldiers from both countries, celebrated its seventh anniversary on Friday with a ceremony at 2nd Infantry Division headquarters.
The two allies formed the combined army division in 2015 as a deterrent to further conflict in South Korea.
Roughly 12,000 troops are part of the five brigades within the division and they conduct an average of 80 missions each year, including large scale joint military exercises. It also trains with a South Korean mechanized brigade.
Originally based at Camp Red Cloud, the division moved in 2018 to Camp Humphreys in Pyeongtaek, where 2nd ID, Eighth Army, U.S. Forces Korea and U.N. Command are also headquartered.
"The division will increase the level of mutual trust to become … one team," Deputy Commanding General Kim Nam Hoon said during the anniversary ceremony. "Beyond our seven-year history, [the combined division] will be at the center of peace of the Korean Peninsula — 70 or 100 years later."
The deputy commander of maneuver, Army Gen. Lance Calvert, echoed Kim's remarks and said the creation of the combined division resulted in an "intangible" contribution for the alliance.
"And that's relationship and trust," Calvert said in a speech during the ceremony. "The relationship amongst our soldiers at the tactical level, amongst our commanders at each formation and amongst the leaders."
Roughly 28,500 U.S. troops are stationed in South Korea, the majority of them at Camp Humphreys.
---
---
---
---