Army lieutenant convicted in court-martial — but not punished — for refusing coronavirus prevention orders
By
Stars and Stripes
May 4, 2022
---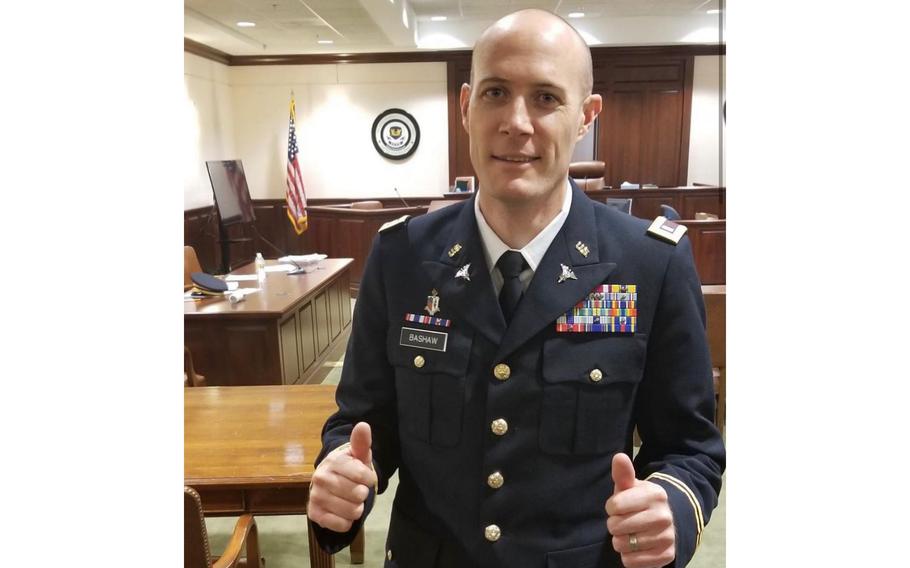 Stars and Stripes is making stories on the coronavirus pandemic available free of charge. See more stories here. Sign up for our daily coronavirus newsletter here. Please support our journalism with a subscription.
An Army lieutenant was convicted in a court-martial for failing to comply with orders related to coronavirus prevention efforts in his unit's offices at Aberdeen Proving Ground, Md., according to base officials.
However, the judge in the case declined to punish 1st Lt. Mark Bashaw for his actions.
The court-martial concluded Friday in Col. Robert Cohen's courtroom within the 1st Judicial Circuit, according to the Army's online court records. Bashaw pleaded not guilty.
The charges stem from Bashaw's actions on Nov. 30 when he failed to obey orders meant to prevent the spread of coronavirus, which violates Article 92 of the Uniform Code of Military Justice, said Amburr Reese, a spokeswoman for the base.
The charge, issued Jan. 12, carried three counts, two of which were combined during the court-martial, the Army said. Bashaw, an entomologist, was wrongfully present at his place of duty after failing to submit a negative coronavirus test or submitting to a test prior to reporting to work. He then wrongfully remained at his place of duty. He also wrongfully failed to obey an order to wear a mask indoors.
At that time, Bashaw knew the captain in command of Army Public Health Center Headquarters Company had issued an order to telework until providing a negative coronavirus test, according to a summary of Bashaw's charge sheet.
"After a careful consideration of the evidence, a military judge exercised lawful authority not to adjudge punishment for 1st Lt. Mark Bashaw," Reese said. "Receiving no punishment at a court-martial is not without precedent."
It was unclear Wednesday whether Bashaw has been vaccinated against the coronavirus.
He joined the Army in 2019 after having previously served in the Air Force, according to his official service record. His awards include the Meritorious Service Medal, the Air Force Commendation Medal with two oak leaf clusters, the Air Force Achievement Medal with three oak leaf clusters, the Air Force Meritorious Unit Award and the Air Force National Service Medal.
His Air Force records were not immediately available.
The conviction will be included in Bashaw's military record, which is reviewed during promotions and job placements.
Reese said the federal conviction alone "carries lifelong collateral consequences," including "social consequences and difficulty in obtaining future employment, as criminal convictions are generally public information and frequently reported in federal and state criminal and licensing databases."
Aberdeen Proving Ground is located northeast of Baltimore and has about 21,000 military, civilian and contract employees, according to the base website.
---
---
---
---