Water boil notice near Baumholder partially lifted; most water again safe to use
By
Stars and Stripes
April 20, 2022
---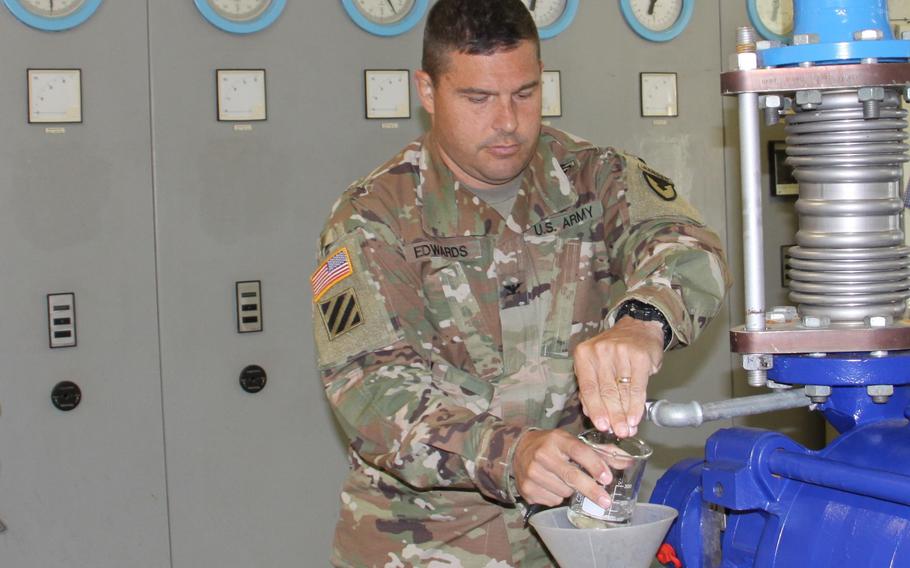 KAISERSLAUTERN, Germany — People living near the U.S. Army's Baumholder bases can again safely use municipal tap water without boiling it, Birkenfeld district officials said in a statement.
The Idar-Oberstein health department gave the all-clear for the towns of Baumholder and Birkenfeld on Tuesday evening and rescinded last week's boil advisory for much of the surrounding area. The advisory was prompted by elevated levels of clostridium perfringens bacteria.
Residents of eight Idar-Oberstein city areas and 16 Herrstein-Rhaunen communities are being asked to continue to boil drinking water until repeat lab results can confirm that the water is safe. The results could come as soon as Wednesday, district administrators said.
The water supply at Baumholder installations, including Smith Barracks, Wetzel Kaserne and Clinic Kaserne, is independently treated and has been safe to use normally, U.S. Army Garrison Rheinland-Pfalz told Stars and Stripes on Monday.
The type of bacteria contaminating the water is a leading source of foodborne illnesses and can produce a toxin that causes diarrhea, according to the U.S. Centers for Disease Control and Prevention.
The first off-base residents were warned as early as Thursday. They were urged to boil their tap water before drinking it, cooking with it or brushing their teeth with it.
Initially, officials believed that only a limited area would be affected after the bacteria were first detected in a day care center in Sien, the newspaper Nahe Zeitung reported over the weekend. Further testing showed that the presence of the germs was more widespread.
The Army, which maintains a major training ground in the area, chlorinates its water supply, a practice that German municipalities generally don't follow.
In 2016, the potentially lethal E. coli bacteria was discovered in the city of Baumholder's water supply, triggering a three-day boil notice in the off-base community.
While officials suspected agricultural runoff to have caused the 2016 contamination, it remains unclear what caused elevated bacteria samples this year.
The Baumholder Military Community is a satellite installation of U.S. Army Garrison Rheinland-Pfalz, which is headquartered about 35 miles southeast in Kaiserslautern.
---
---
---
---