Bacteria contamination triggers water boil notice near Army's Baumholder bases
By
Stars and Stripes
April 18, 2022
---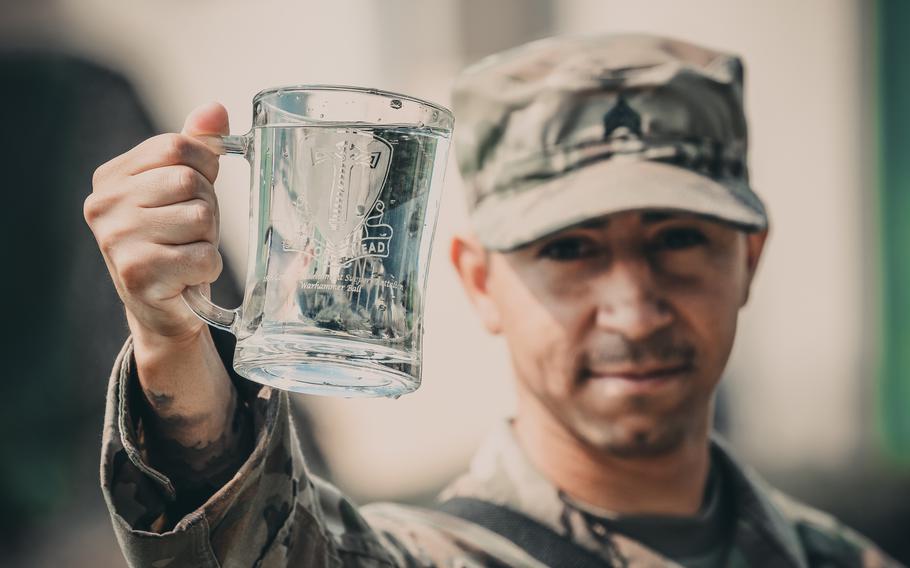 KAISERSLAUTERN, Germany — Baumholder area residents are being advised to boil their tap water after the discovery of elevated levels of a bacteria that is a leading cause of foodborne illnesses.
The boil notice was expanded Friday to cover much of Birkenfeld district, where numerous U.S. military personnel live.
Initially, officials believed that only a limited area would be affected after the bacteria were first detected in a day care center in Sien, the Nahe Zeitung reported over the weekend.
But further testing showed that the presence of the germs was more widespread. The bacteria in the samples, clostridium perfringens, can produce a toxin that causes diarrhea, according to the U.S. Centers for Disease Control and Prevention.
People in the affected areas should boil their tap water before drinking it or using it for domestic purposes, such as cooking and brushing their teeth. The boil took effect in Baumholder, urban areas of ​​Idar-Oberstein and more than 34 towns and villages in Birkenfeld and Herrstein-Rhaunen districts.
Water coming from taps on Baumholder installations, including Smith Barracks, Wetzel Kaserne and Clinic Kaserne, is independently treated and safe to use, a post Saturday on the official Baumholder Military Community Facebook page said.
The Army, which maintains a major training ground in the area, operates its own water supply and disinfects the water with chlorine. German municipalities generally don't chlorinate drinking water.
The water supply for work centers and residents on base is unaffected, U.S. Army Garrison Rheinland-Pfalz told Stars and Stripes on Monday.
The Baumholder military community is a satellite installation of U.S. Army Garrison Rheinland-Pfalz. In 2016, contamination with E. coli bacteria triggered a three-day boil notice in the area.
As of Monday afternoon, it was unclear how long the boil advisory will remain in effect. District officials were unavailable, as local offices remained closed for national Easter holiday observances.
---
---
---
---