Use of Army's prepositioned 'afloat' equipment is expected to grow in the Pacific
By
Stars and Stripes
April 18, 2022
---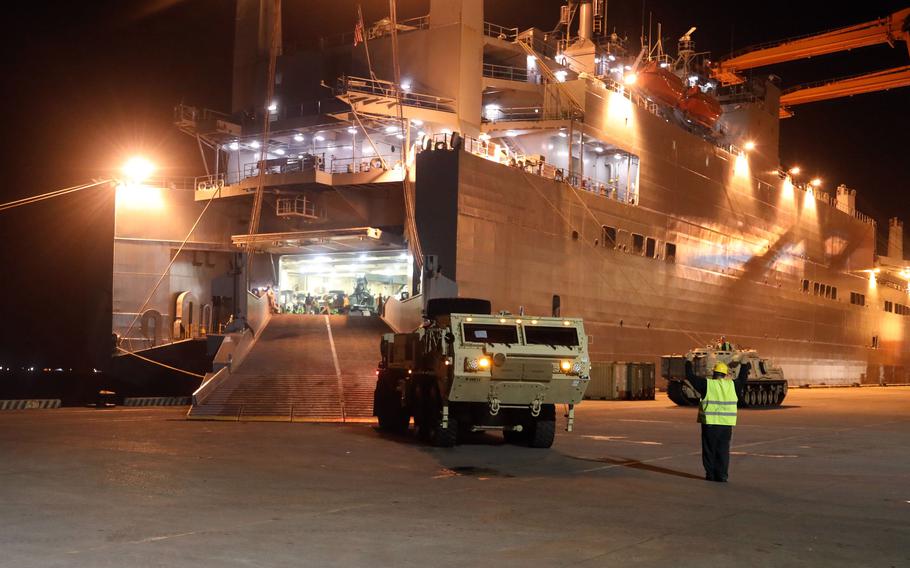 FORT SHAFTER, Hawaii – Army leaders in the Pacific are lauding the inaugural use of floating prepositioned supplies and equipment for a pair of recently completed exercises in the Philippines as a significant step forward in strategic agility.
Vehicles and supplies were delivered aboard the Military Sealift Command's USNS Red Cloud and offloaded at Subic Bay for Hawaii-based soldiers who participated in the back-to-back exercises Salaknib and Balikatan March 5 to April 8.
This week the equipment was reloaded onto the ship, which is now headed back to Hawaii.
"I think the significance of the use of Army prepositioned stocks to extend our operational and strategic reach in the region is substantial," Gen. Charles Flynn, commander of U.S. Army Pacific, said during an interview at his headquarters in Fort Shafter on Wednesday.
Employing land-based prepositioned stocks has been routine in Europe, the Middle East, Japan and South Korea, but prepositioned "afloat" stock has been underutilized, particularly in the Pacific, he said.
"To be able to rapidly offload that equipment, issue it to a unit, have the unit go out and conduct training, and then be able to collapse that equipment back to, in this case, the port, and then be able to reload that on those vessels is really a demonstration of our strategic agility," Flynn said.
The Army will continue to adjust and refine the use of floating prepositioned stocks in this region, Maj. Gen. David Wilson, commander of the 8th Theater Sustainment Command, said at his Fort Shafter headquarters on Tuesday.
"This is an evolution," said Wilson, who heads the Indo-Pacific theater's top Army logistics command that is tasked with enabling and prolonging the operational reach needed by combatant commanders.
"What we have found is that every operation we conduct west of the international dateline is an opportunity for us to conduct strategic rehearsal and strategic movement," he said.
Thus, if offloading prepositioned equipment were needed during a time of crisis or conflict, the Army is now gaining an understanding of the "time and tempo" required for the task, Wilson said.
"And that's invaluable," he said. "I mean, now you're actually operating on the terrain in which you may have to fight."
That cannot truly be replicated even in the Army's massive training centers at Fort Irwin, Calif., and Fort Polk, La., he said.
On the other hand, this inaugural down offloading of prepositioned afloat stock faced no adversary attempting to prevent it, Wilson said.
"We have to be able to account for that in our planning,' he said. "As we can build subsequent exercises, simulations and war games, we will be able to do that and put a finer point on it."
Wilson has been on a quest to expand the logistics "toolbox" for U.S. Indo-Pacific Command since taking the reins of the sustainment command in June 2020.
Within weeks he ordered up a theater sustainment posture review, which he said to his knowledge had not been done before.
"What drove me to that was sitting and looking at a map when taking my initial counseling from [then-commander of U.S. Army Pacific Gen. Joseph LaCamera] when I assumed command," Wilson said. "He described how he saw operations occurring during times [of conflict] out here in the Pacific."
The posture review, completed in December 2020, concluded that while no military service in the Indo-Pacific is advantaged to single-handedly handle sustainment, "we do have enough collectively as a joint force to solve the problems," Wilson said.
With the Indo-Pacific's "tyranny of distance" dilemma, sustaining the joint force requires close collaboration with partner nations throughout the region, he said.
"That investment in or partners and allies is an investment in us being able to execute our requirements west of the international dateline during crisis or conflict," he said.
---
---
---
---