Army logistics chief loses star and job, but investigators found no proof of racism
By
Stars and Stripes
April 6, 2022
---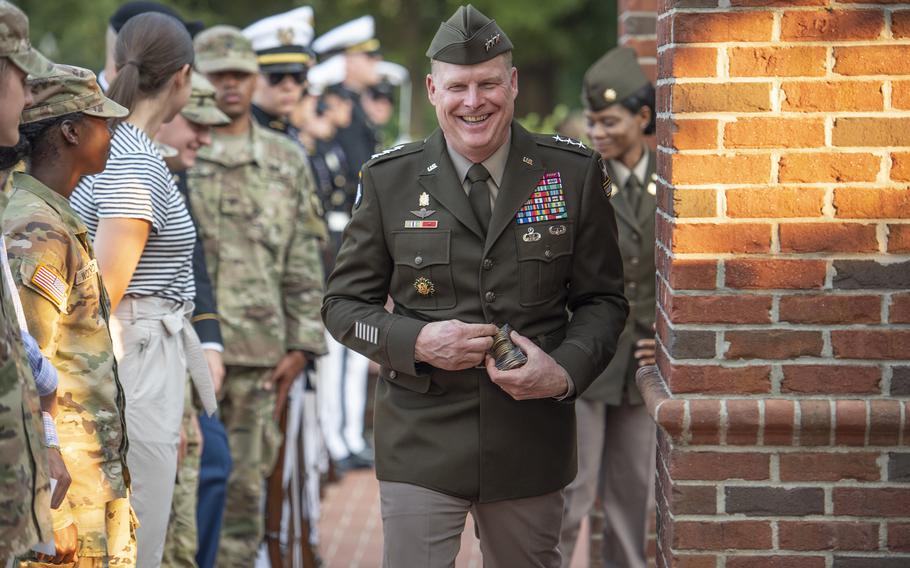 The Army's former deputy chief of staff for logistics, who was suspended earlier this year amid a toxic command climate probe, has been demoted to major general and removed from his Army staff position, the service said Wednesday.
An Army inspector general report concluded now-Maj. Gen. Duane Gamble "displayed counterproductive leadership behaviors at times," but it did not substantiate allegations of racial discrimination, said Cynthia O. Smith, an Army spokeswoman.
Gamble has been reassigned as a special assistant to Lt. Gen. Walter Piatt, the Army's staff director, and his retirement is pending, Smith said.
"The preponderance of credible evidence determined that [former] Lt. Gen. Gamble did not discriminate based on race, and that most of his actions had a positive impact on the organization," Smith said of the IG's findings. "Additionally, command climate surveys identified a majority of [former] Lt. Gen. Gamble's subordinates were satisfied with his leadership."
Gamble was first reported to the Army inspector general in 2020 on allegations that he fostered a toxic command climate, routinely made racist statements and favored white subordinates over Black ones, a senior Army official told Stars and Stripes in February when Gamble — who is white — was suspended from his job as the Army's deputy chief of staff for logistics, known as the G-4. Gamble's troubles were first revealed by the online military news outlet Task & Purpose, which reported multiple incidents in which Gamble made racist statements, citing unnamed officials with direct knowledge of those occurrences.
Gamble is a 37-year veteran of the Army who commissioned into the service as an ordnance officer after graduating from Western Maryland College, according to his official biography. He has served multiple deployments in Iraq and Afghanistan and led other top Army logistics units including Army Sustainment Command and the 21st Theatre Sustainment Command. He became the Army G-4 in September 2019, a Pentagon position charged with overseeing the Army's logisticians and setting policy for the service's myriad logistics operations from combat to moving soldiers and their families from one installation to another.
He will be permanently replaced by incoming G-4 Maj. Gen. Charles Hamilton, who will be promoted to lieutenant general and assume G-4 duties on Wednesday, Smith said. Hamilton was confirmed for the new position and promotion by the Senate in February.
Hamilton had been serving previously as the G-4's director of operations, and he has served in other top logistics positions in recent years. Among them, Hamilton commanded the 8th Theater Sustainment Command at Fort Shafter, Hawaii, served as the top logistics officer for U.S. and U.N. forces in South Korea, and as the deputy chief of staff for logistics and operations for Army Materiel Command at Redstone Arsenal, Ala.
It was not immediately clear Wednesday when Gamble's retirement would be approved. His demotion to a two-star general was an automatic action because of law dictating officers revert to their last permanent grade if they are removed from a position for which they were Senate-confirmed, Smith said.
Gamble was also issued a general officer memorandum of reprimand, a nonjudicial punishment known as a GOMOR, as a result of the probe, Smith said. GOMOR's are often career-ending punishment for officers.
---
---
---
---