Army 3-star general suspended amid toxic climate investigation, allegations of racism
By
Stars and Stripes
February 16, 2022
---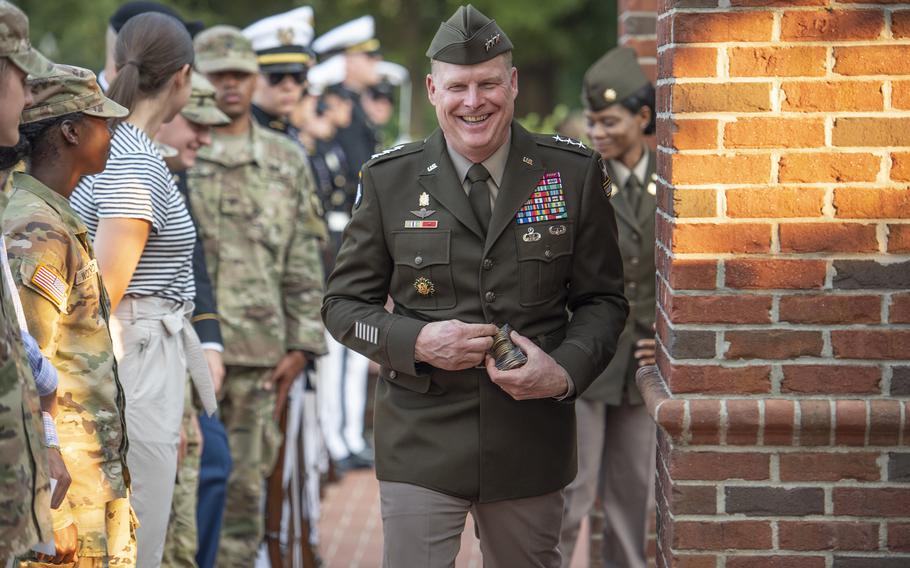 The general in charge of Army logistics has been suspended from his duties amid an inspector general investigation into allegations that he fostered a toxic command climate in his Pentagon office, service officials said Wednesday.
Lt. Gen. Duane Gamble, the Army's deputy chief of staff for logistics, will remain suspended "pending the final outcome of a Department of the Army inspector general investigation into allegations of creating or fostering a counterproductive leadership environment," Cynthia O. Smith, a top Army spokeswoman, wrote in an emailed statement. That investigation, which dates back to 2020, has examined whether Gamble — who is white — had made racist statements or favored white subordinates, according to another Army official who spoke Wednesday on the condition of anonymity.
Smith declined to provide a specific comment on the nature of the investigation and did not say when the probe was likely to be completed.
"As the process is ongoing, we cannot comment further at this time," she wrote in the email.
Gamble is a 37-year veteran of the Army who commissioned into the service as an ordnance officer after graduating from Western Maryland College, according to his official biography. He has served multiple deployments in Iraq and Afghanistan and led other top Army logistics units including U.S. Army Sustainment Command and the 21st Theatre Sustainment Command. He became the Army's deputy chief of staff for logistics, known as the G-4, in September 2019. He was charged with overseeing the Army's logisticians and setting policy for the service's myriad logistics operations from sustaining combat to moving soldiers and their families from one installation to another.
The general was referred to the Army IG in 2020 for investigation after subordinates reported his behavior had contributed to falling morale within his office, according to the senior Army official. The allegations included "more than one" instance in which Gamble made "racially insensitive" statements, said the official, who did not have direct knowledge of such incidents but had been made aware of them.
Among the allegations, Gamble was accused of regularly degrading Black officers for their job performance or work ethics, while praising white officers who appeared to others to perform their work similarly, the official said.
Gamble fostered a "racist and toxic" working environment as the G-4, Army officials with direct knowledge of such incidents told Task & Purpose, which first reported his suspension Wednesday. Among them, the officials said Gamble made inappropriate remarks about a minority staff member shortly after George Floyd's killing on Memorial Day in 2020 by a then-Minneapolis police officer who kneeled on his throat until he died.
"I have to keep my foot on his throat all the time, he's always screwing up," Gamble was accused of saying of the staff member who sent another person to take his place at a meeting that he could not attend, according to Task & Purpose, an online military news outlet.
"The connotation of 'foot on the throat' in the midst of all the George Floyd stuff — he just did not understand why that was a problem," an unnamed senior Army leader who had previously worked for Gamble and had direct knowledge of the comments told the news outlet.
The investigation into Gamble comes as the Army has spent recent years working to ensure its force is diverse and all soldiers are treated with respect. Army Gen. James McConville, the service's chief of staff, has spent his tenure touting his "People First" strategy of placing the needs of soldiers and their families as the top Army priority.
As the service's top general, McConville has repeatedly said the Army does not "tolerate racism, extremism or hatred" in its ranks.
---
---
---
---