Quote credited to pop star Lana Del Rey draws attention to Army's Twitter account
By
Stars and Stripes
January 27, 2022
---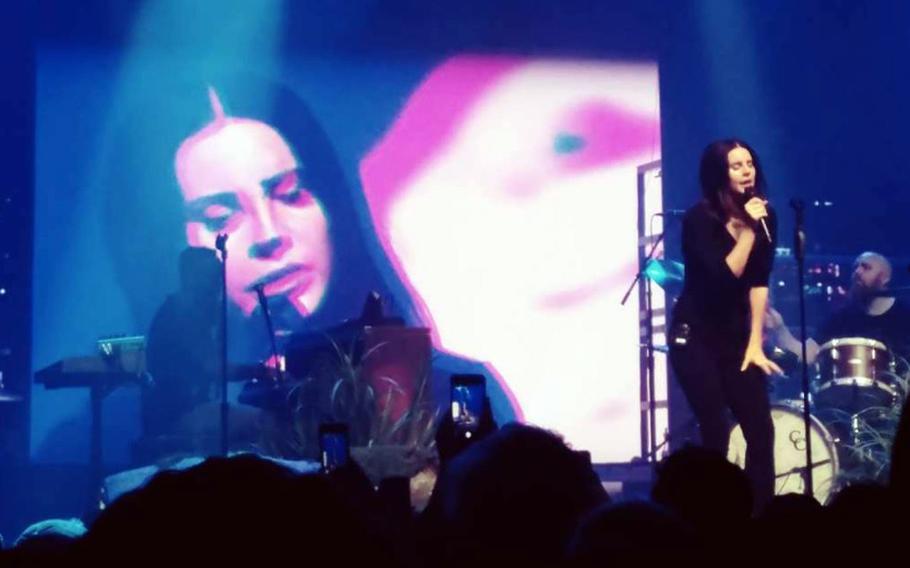 A U.S. Army tweet featuring a quote credited to baroque pop singer-songwriter Lana Del Rey caught the attention of about 10 times more people than the service's usual social media posts.
The official account, @USArmy, tweeted on Saturday a now-viral photo of a 173rd Airborne Brigade soldier low-crawling under barbed wire with a quote, attributed to Del Rey, attached:
"Being brave means knowing that when you fail, you don't fail forever."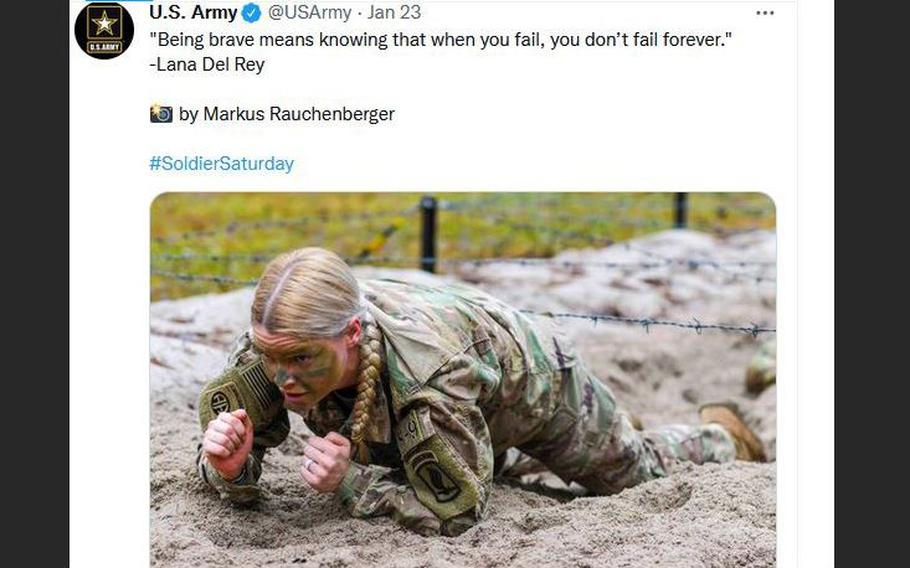 The quote has been attributed online to Del Rey since 2016, though it is not from any of the Grammy-nominated artist's songs across her eight-album career, nor is there any evidence she has ever said it.
The post amassed over 9,000 retweets, 6,000 quote tweets and 10,000 likes as of Thursday. It is among the most popular items on the Army's Twitter page in recent months, with the average retweet count for posts in December and January between 200 and 400 and about 1,000 likes.
Many commenters latched onto the fact that Del Rey's music has a reputation of being moody and melancholic.
"U.S. Army recruiting Lana stans because they know they are depressed and have nothing to lose," Twitter user Nicholas Waggoner, @NicholasWaggo10, wrote Saturday.
A "stan" is a slang term for a fervent fan.
Other users took note that Del Rey's lyrics are often sexually explicit, with song titles that contain vulgarities.
Other fans responded to the use of the quote with delight, citing Del Rey as a better choice than George Washington for pearls of wisdom.
An administrator for the Army's Twitter account declined to comment about the post on Wednesday, and the chief of the Army's Digital Media Division did not respond to email queries sent Wednesday.
Del Rey, whose birth name is Elizabeth Grant, released her first self-titled album in 2010. In November, Variety magazine presented her with its decade award and heralded her as "one of the most influential singer-songwriters of the 21st Century."
Del Rey relies heavily on a 1950s and 1960s Americana theme for most of her music videos and marketing. She has often given live performances in front of an American flag and has worn camouflage for several photoshoots and press tours.
---
---
---
---