Kentucky National Guard soldier returns to hometown for 'deeply personal' mission following tornadoes
by
Rose L. Thayer
Stars and Stripes
December 16, 2021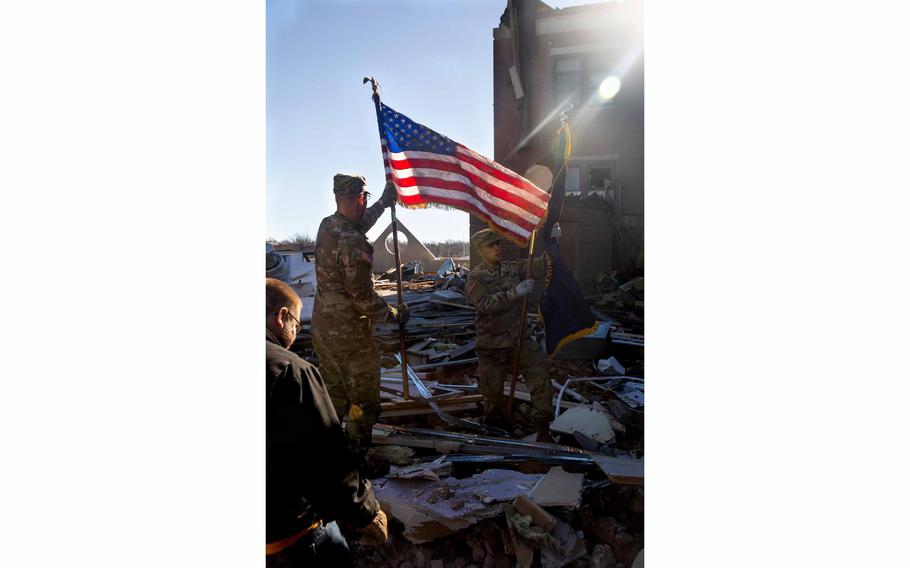 Just two months ago, Spc. James Smithson and his then-fiancé stopped at a small business in his hometown of Mayfield, Ky., to pick up his tuxedo for their wedding.
The brick wall outside the shop featured a mural with angel wings made of flowers and the phrase, "Make someone feel loved today." As they left, Smithson took a photo of his future wife, Esha, standing between the painted wings.
On Sunday, Smithson deployed on state orders with the Kentucky National Guard to help his community recover just days after an historic tornado leveled much of Mayfield. He visited that block where the shop stood, and as he worked helping with the cleanup, he found individual painted bricks that once made up the wings of the mural.
"It was very deeply personal to me to be able to help my community," the 22-year-old said Wednesday during a phone interview. "I kind of took the town for granted growing up, but then seeing it destroyed and in rubble, and me being a native being able to go back in an official capacity and make a difference, that's something I'll never forget for the rest of my life."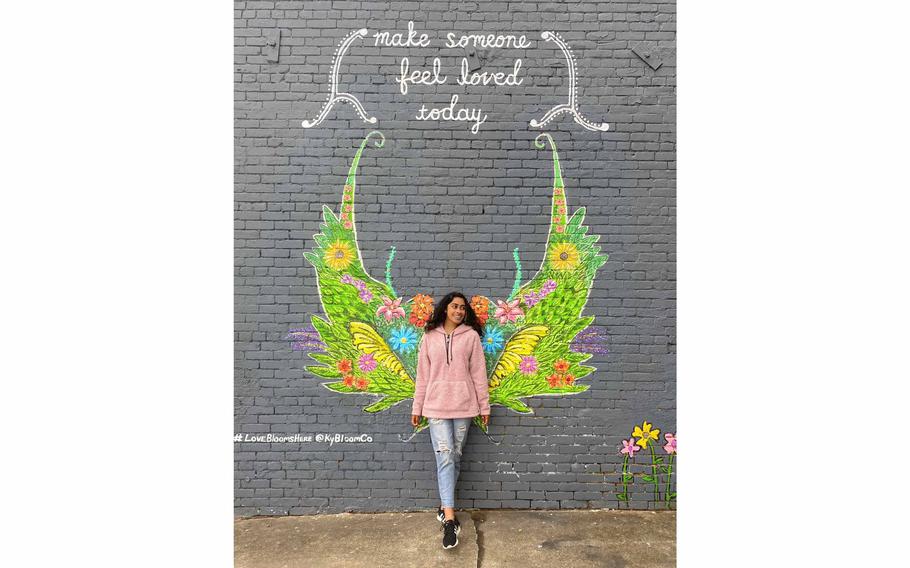 More than 550 members of the state Guard have been activated following a massive storm Friday night that brought several tornadoes through Kentucky and four other states.
More than 88 people were killed during the storms. Most were in Kentucky and ranged in age from 2 months old to 98 years old, said the state's Gov. Andy Beshear. More than 100 people remain missing.
The National Guard began activating troops early Saturday morning as the devastating impact of the storm became clear. Guard members remain in 11 counties helping with search-and-rescue missions, debris removal, law enforcement support, and loading and distributing supplies.
Smithson, a truck driver for the Guard who recently moved to Evansville, Ind., said he'd gone home Friday night from his civilian job at a tire shop, only to be woken at about 11:30 p.m. with a phone call from his cousin. From that moment, he began looking through photos of storm damage and then started packing his gear in anticipation of orders to deploy.
At about 3 a.m., Smithson said he received his orders and made it to Mayfield just as the sun was rising. He first worked at the fairgrounds helping unload water and donations. Then his team was sent to the square around the Graves County Courthouse to patrol the area and let people know they were available to help.
Sunday began much the same, but during the patrol at the courthouse, a number of civilians were working to clear the debris, so the troops began to help, Smithson said. Next door to the courthouse is a jail, and the soldier said, as he moved bricks, he couldn't believe people survived being inside the facility during the storm.
During the work, they uncovered the state and U.S. flags that had been on display inside the courtroom the night of the storm. They also uncovered the bell from the courthouse, still intact and undamaged.
"I couldn't believe my eyes when I saw the flags. I thought they were gone in the wind, ripped away, but somehow they survived," Smithson said. "It was just a very emotional moment. There was so much destruction, but we could still salvage something."
Along with another service member and civilians, Smithson said they folded the flags and carried them over to city officials working on the other side of the building. As for the bell, crews used a tractor to pull it from the rubble, and rang it a couple times.
Smithson has since returned back to his home in Indiana and plans to spend some time helping his family clean up before seeing whether he can return to orders and continue to help with recovery efforts. He said he's still overwhelmed when he thinks about the number of people he met in Mayfield over the weekend who dropped everything and came to help.
"It means so much for so many strangers to come and help us," he said. "I'm really just proud of my community for coming together like this. And I'm proud of all the communities that have just traveled here to help."
---
---
---
---