Ideas from troops for cooling body armor, vehicle safety system and building layout software take top honors in Army innovation contest
by
Corey Dickstein
Stars and Stripes
December 9, 2021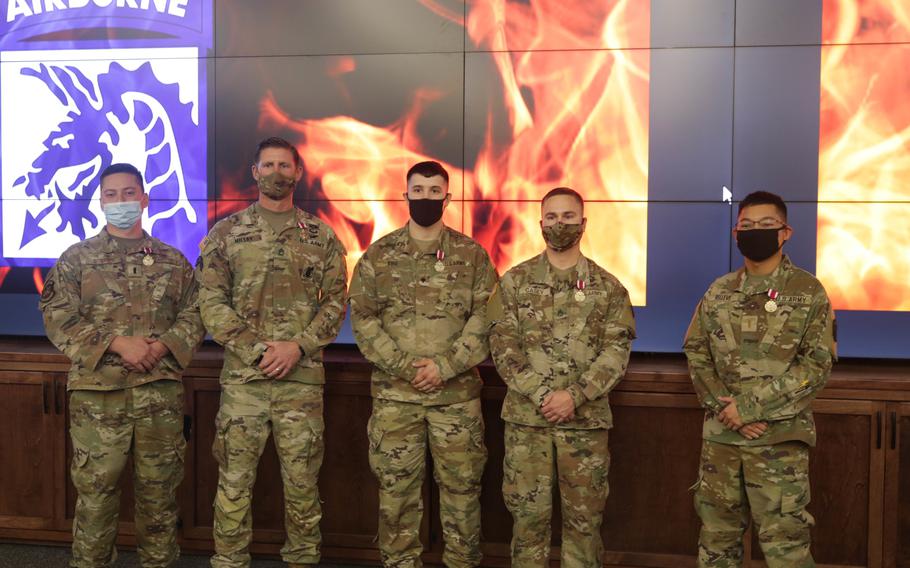 An Air Force lieutenant's cooling apparatus for body armor, an armored vehicle safety system built by three enlisted soldiers, and an algorithm to predict a building's internal layout from an Army lieutenant captured a Fort Bragg innovation panel's attention this week.
The trio of concepts pitched by service members tied Monday for top honors at the 18th Airborne Corps' sixth iteration of its Dragon's Lair innovation competition at the North Carolina Army post. The winners were announced Wednesday by Corps officials, who for the first time opened the competition to troops across all the military's services.
At least five of the seven concepts pitched Monday were highly rated by the panel of military officials and civilians from the technology industry, said Army Col. Joe Buccino, the 18th Airborne Corps' spokesman who produces Dragon's Lair. He said the program proves that service members often have the best ideas for helping the military advance.
"This episode saw a wide diversity of innovations — from augmented reality to machine learning to welding of equipment already available in inventory," Buccino said. "This was the first time we've had three winning innovations. This was also the first time we had a truly joint Dragon's Lair: We had innovations from the Army, Navy, Air Force, Marine Corps, and Army Reserve."
The winners received an Army Meritorious Service Medal, a four-day pass, and admittance to an Army school of their choice. Most importantly, the winners said their innovations will be moved toward further evaluation and, perhaps, implementation across the military.
Cooling body armor
Air Force 1st Lt. Justin O'Brien calls his invention AccliMate Armor Cooling and he said the apparatus could help solve an age-old problem for the military — heat injuries as troops spend hours in high temperatures often wearing full body armor.
O'Brien said he initially came up with the concept before he commissioned as a security forces officer while serving as an enlisted Osprey aerial gunner in some locations where temperatures can get very high.
During long missions wearing body armor, O'Brien said he would often wonder whether there was a way to move cool water from the CamelBak water bladder strapped to the back of his body armor into the inside of his vest.
"When I deployed I'd often fill my CamelBak with frozen water bottles and as they would melt I'd drink it," he said. "On the outside of that ballistic plate it's not doing anything to cool me down, but if I can route some of that water inside, maybe it could cool me while it melts, I thought."
That eventually led him to build his prototype.
The apparatus weighs just 15 ounces, O'Brien said. It connects a service member's water bladder to a cooling pad on the inside of the vest's back using tubes and a battery-powered motor that pressurizes and moves the water from the bladder into the pad and back again, cooling the inside of the vest, he explained.
O'Brien said research has showed the apparatus can cool the inside temperature of a ballistic vest about 30 degrees with ice inside the water bladder. It can run for up to 14 hours.
He said he hopes his winning prototype can be perfected and mass produced to help the Defense Department solve the heat injury issue that it has cost more than $1 billion since 2008.
"It started off as just kind of an experiment, and now I just kind of hope they can take this and run with it and help solve this problem," O'Brien said.
M88 gunner safety restraint
When Army Sgt. 1st Class Keenan Millay arrived to his new unit at Fort Knox, Ky., about a year ago, he noticed one of his platoon's vehicles had no safety restraint for a soldier in its gunner hatch.
The noncommissioned officer knew from experience that it was a potentially deadly oversight, and he set out with two other members of his platoon to develop a safety restraint for the M88A1 armored recovery vehicle's gunner. While Millay was serving in the Fort Benning, Ga.-based 3rd Battalion, 75th Ranger Regiment, a lieutenant in his company was killed when his armored vehicle, a Stryker, rolled over during training. The officer was not wearing a restraint system while in the gunner's hatch, Millay said.
"That's something I'll never, ever forget in my life," he said. "So after that happened it became personal to me that vehicles in my platoon were going to have this system, and if I have gunners in vehicles they're going to be using it. It's just got to happen."
Millay worked with Staff Sgt. Carter Casey and Spc. Jonathan King — fellow vehicle maintenance members of his platoon in the 19th Engineer Battalion at Fort Knox — to develop the seatbelt-like restraint system, which he said ensures a gunner's safety in the event of a rollover or wreck while not restricting their abilities to fire mounted weapons from the vehicle.
In order to add the restraint system to the M88A1, the soldiers had to find a way to mount the vehicle's .50 cal. machine gun more than 14 inches farther from the gunner hatch, Millay said. They built a metal extension, which allows the gunner to use the weapon while wearing their safety harness, he said.
Millay said he hoped the Army would implement the system into all of its M88A1s and any other vehicles that lack a gunner restraint system.
"Winning this competition — that's awesome, and we appreciate all the recognition," he said. "The most important thing to us is, you know, installing the systems in the other M88s across the Army and preventing further casualties."
Building an algorithm
Army 2nd Lt. Christian Lance Relleve, an Army reservist who is an architect in civilian life, built an algorithm that uses artificial intelligence and machine learning to predict the inside floor plans of a building based on its outside architecture.
Relleve, a signals officers, said while studying geospatial intelligence in college that he learned of the challenges military commanders had planning urban operations because of the difficulty navigating unknown urban terrain. His program combines his background in architecture with his interest in geospatial intelligence, he said.
"I wanted to develop a formula or a guide for staff planners or commanders to gain confidence in conducting urban missions," Relleve said. "They can use this tool to rehearse and plan prior" to a mission.
The ability to rehearse an operation knowing what the inside of the building is most likely to look like could be time- and life-saving for service members, he said. It could also help planners cut down on collateral damage or limit civilian casualties, the lieutenant added.
The program uses known data about buildings, like external materials, shape, architecture style and location among others to determine the most likely internal floor plans, according to Relleve's pitch. The algorithm takes into consideration engineering, architectural theory and geospatial intelligence, he said.
Relleve said it could also prove useful to other organizations, such as the FBI and CIA. He told the contest panel that he could develop the product for the military within about one year.
The lieutenant said he did not expect to win Dragon's Lair, especially considering the other ideas pitched Monday. He primarily just wanted the opportunity to share his idea with military decision-makers.
"It was hard to find the right resource to share this idea with [the Defense Department]," Relleve said. "I'm glad Dragon's Lair was there to give this opportunity to pitch this."
---
---
---
---