Visiting congressional delegation serves 'Super Bowl' of Thanksgiving meals in South Korea
by
David Choi
Stars and Stripes
November 25, 2021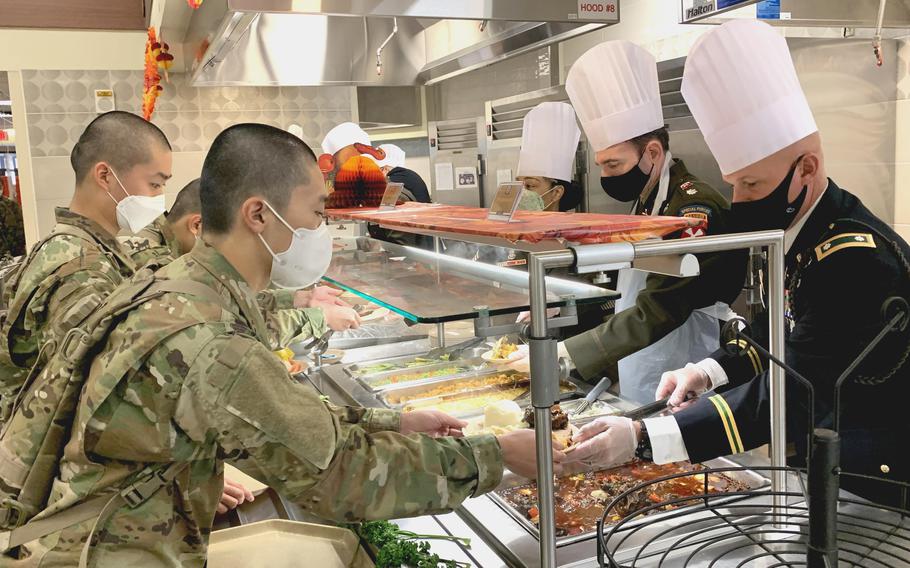 CAMP HUMPHREYS, South Korea — The "Super Bowl" of Thanksgiving meals for U.S. troops, which included 3,097 pounds of turkey, was served by a bipartisan U.S. congressional delegation in South Korea on Thursday.
In addition to the turkey, the lavish meal throughout U.S. bases in South Korea included 2,088 pounds of roast beef, 1,251 pounds of steamship beef, 654 pounds of rib-eye steak and 2,449 pounds of ham, according to the 2nd Infantry Division fact sheet.
Sixty Army culinary specialists and 298 contractors prepared the meal for the roughly 28,500 troops, civilian employees and their families with U.S. Forces Korea.
Ice sculptures and cakes greeted the line of U.S. and South Korean troops at the Spartan Warrior Restaurant, a dining facility at Camp Humphreys.
Culinary specialists went through extra lengths to decorate the dining facility because the "soldiers are away from their families," according to Sgt. 1st Class Michael Hanspard, a culinary specialist and restaurant manager.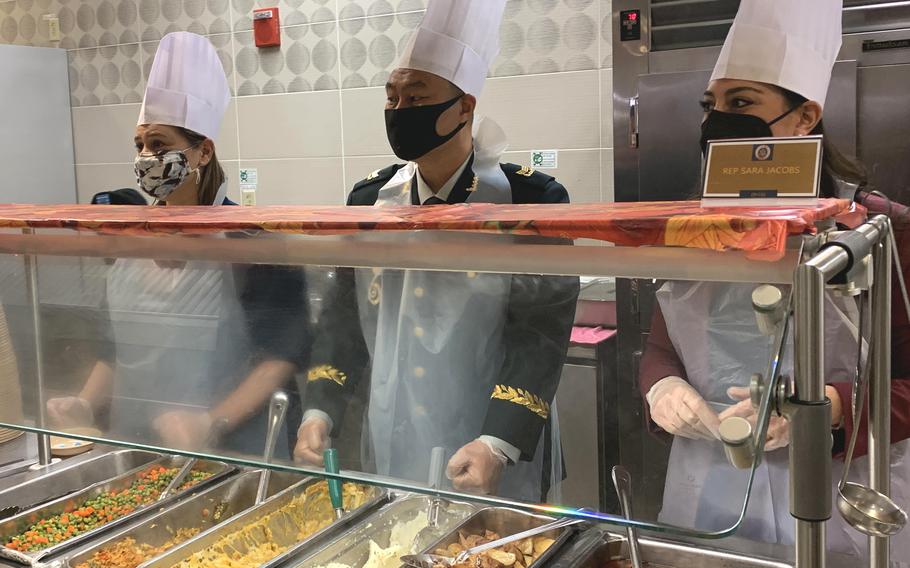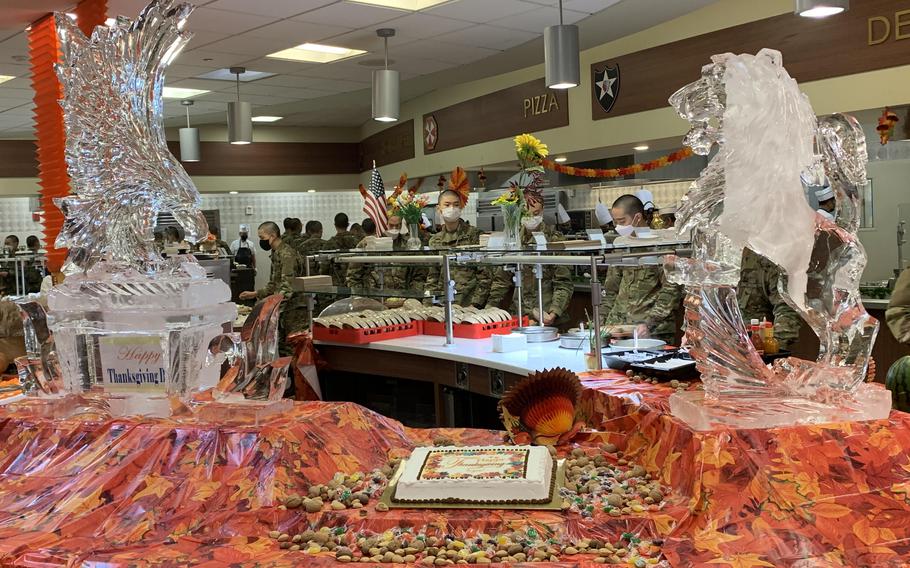 "This is a culinary specialist's Super Bowl every year," Hanspard told Stars and Stripes on Thursday. "This is what we want to throw down on. We really take pride in what we do, in terms of presentation and the taste of the food."
A delegation of five House representatives – Democratic Reps. Mark Takano of California, Elissa Slotkin of Michigan, Colin Allred of Texas, Sara Jacobs of California and Republican Nancy Mace of South Carolina -- also helped serve meals to the troops.
"Come get your vegetables," Slotkin, a member of the House Armed Services Committee and a former CIA analyst, shouted as she served mixed vegetables to a line of service members.
"It was great to meet some of our service members," Takano, chairman of the House Veterans Affairs Committee, said to Stars and Stripes. "It's always a great pleasure to take the Thanksgiving holiday with members of Congress, who give up time with their families, to come and be with our troops, who are also giving up time with their families."
Mace, a member of the House Veterans' Affairs Committee and a graduate of The Citadel Military College of South Carolina, toured the facility and stopped to chat with fellow South Carolinians.
"It's just an honor to spend time with our soldiers who are stationed overseas, many of them don't get to go home that frequently," Mace said. "It's an honor to be out here with our men and women in uniform who do so much for us."
The delegation visited Japan earlier in the week and met with U.S. troops stationed on Okinawa. There, they warned about China's rising regional influence.
"There's a growing sense of a new reality with China, a stronger China, a more equipped China, a China that is closing the innovation gap," Takano told Stars and Stripes on Tuesday.
---
---
---