Soldier killed in crash with wife and son served with sustainment unit in South Korea
By
Stars and Stripes
November 3, 2021
---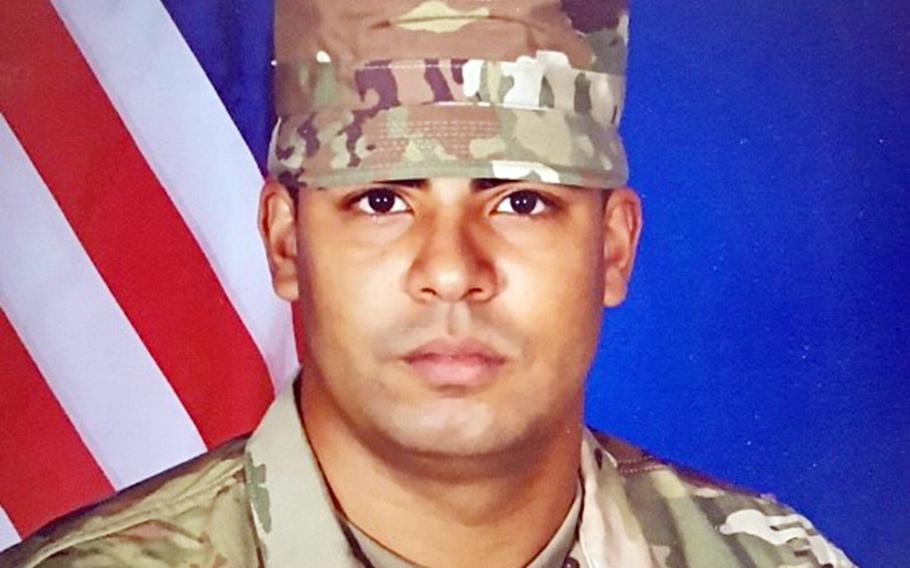 CAMP HUMPHREYS, South Korea — An Eighth Army soldier who died with his wife and their 16-month-old child in a car crash in South Korea earlier in the week was identified by his command on Wednesday.
Army Spc. Luis Taveras, 27, of Jamaica Plain, Mass., his wife, Lisbeth, 30, and their son, Luis, were killed when their vehicle collided with a tow truck around 11 p.m. Monday near Camp Humphreys.
Taveras was a quartermaster and chemical equipment repairer with the 19th Expeditionary Sustainment Command. He served four years in the Army and arrived in South Korea in June.
"No words can accurately express the pain their friends and family are having to confront," Brig. Gen. Steven Allen, the unit's commander, said in a statement Wednesday. "We will, as an Army team, move forward in a manner that provides support and assistance to those grieving."
The family's car collided with a tow truck at a curve in a one-lane road, police and fire investigators told Stars and Stripes on Tuesday. A fire broke out following the accident and the family members were pronounced dead at the scene.
The truck driver, a 27-year-old Korean man, was being treated for non-life threatening injuries at a local hospital.
Investigations are underway by the Army and Korean National Police.
The 19th Expeditionary Sustainment Command is headquartered in Daegu and consists of roughly 5,600 personnel. Its mission is to provide sustainment support for 8th Army on the Korean Peninsula.
Roughly 28,500 U.S. troops are stationed in South Korea, the majority of them at Camp Humphreys. The base also serves as home for the 2nd Infantry Division and U.S. Forces Korea.
---
---
---
---