Vehicle collision kills US service member, wife, child near Camp Humphreys in South Korea
by
David Choi and Yoo Kyong Chang
Stars and Stripes
November 2, 2021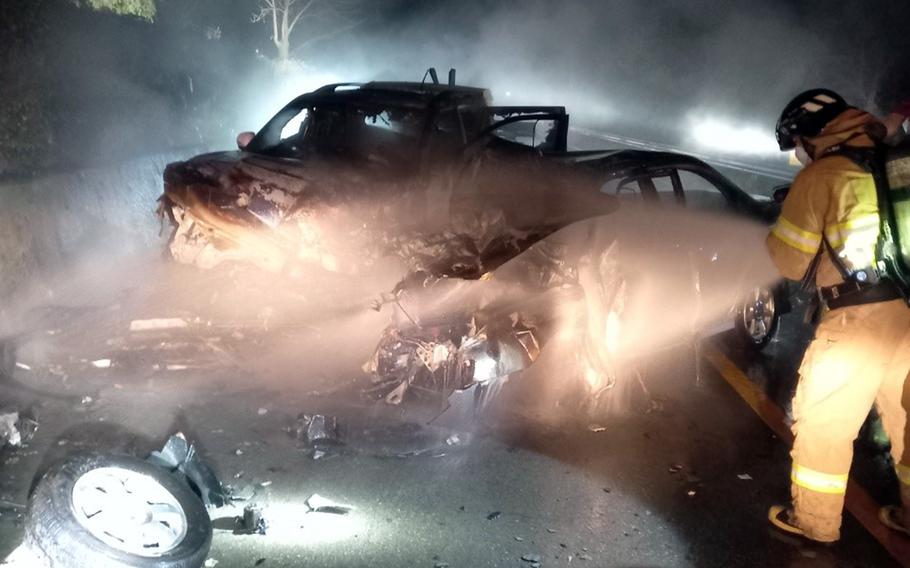 CAMP HUMPHREYS, South Korea — A U.S. service member, his wife and their child were killed Monday night when their vehicle collided with a tow truck in Pyeongtaek City, law enforcement and fire officials told Stars and Stripes.
The collision occurred around 11 p.m. on the outskirts of Camp Humphreys, the largest U.S. military base overseas, a police investigator said Tuesday on the customary condition of anonymity.
The service member's vehicle and the tow truck collided at a curve in a one-lane road, according to investigators from a local police department. A fire ensued, and the three family members died before firefighters arrived.
The truck driver, a 27-year-old Korean man, survived the crash and is being treated at a hospital, police said.
Cars in South Korea typically contain a "black box," or camera recorder. Officials say footage from a witness' car, as well as DNA from those involved, were being analyzed as part of the ongoing investigation.
Eighth Army said details of the incident, including the names of those involved, are being withheld pending notification of their family members.
"On the evening of November 1, we had an incident that involved the death of members of our community," the command said in a statement Tuesday. "We will release further comment and details after the next-of-kin notification process is complete for all involved."
About 28,500 U.S. troops are stationed in South Korea, the majority of them at Camp Humphreys. The base is home to Eighth Army, the 2nd Infantry Division and U.S. Forces Korea.