Army fields prototype launchers for 'Dark Eagle' hypersonic missile
by
John Vandiver
Stars and Stripes
October 8, 2021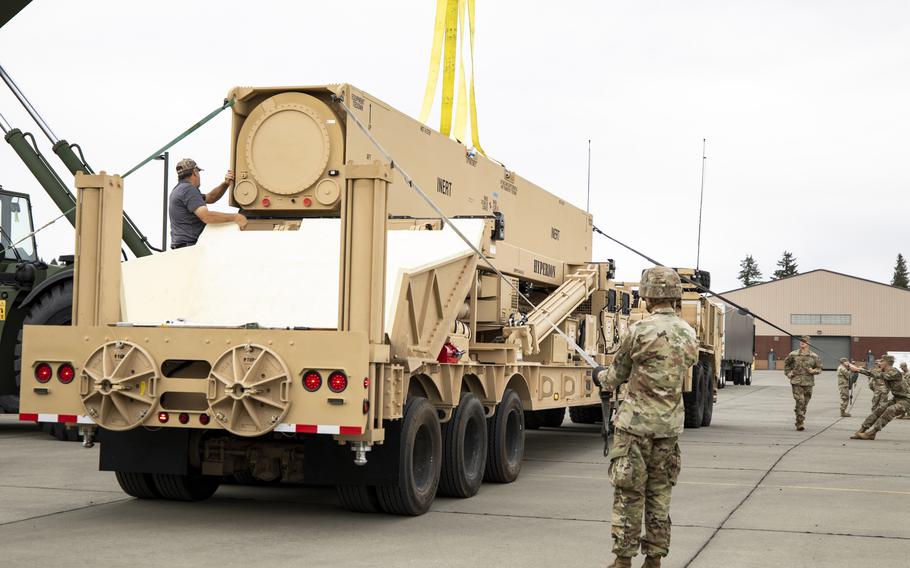 The Army is a step closer to fielding its "Dark Eagle" hypersonic missile after equipping soldiers with ground launchers that would fire the weapon at much higher speed and with greater precision than the service's current artillery systems.
The 5th Battalion, 3rd Field Artillery Regiment based at Joint Base Lewis-McChord in Washington state was issued the first prototype hypersonic ground equipment, the Army announced Thursday.
"Today marks an important milestone in equipping our nation's first hypersonic battery … Now, Soldiers can begin training," Lt. Gen. L. Neil Thurgood, director of the Army's hypersonics program, said in a statement.
The hardware included a battery operations center, four transporter erector launchers, and modified trucks and trailers needed to support the Army's Long Range Hypersonic Weapon.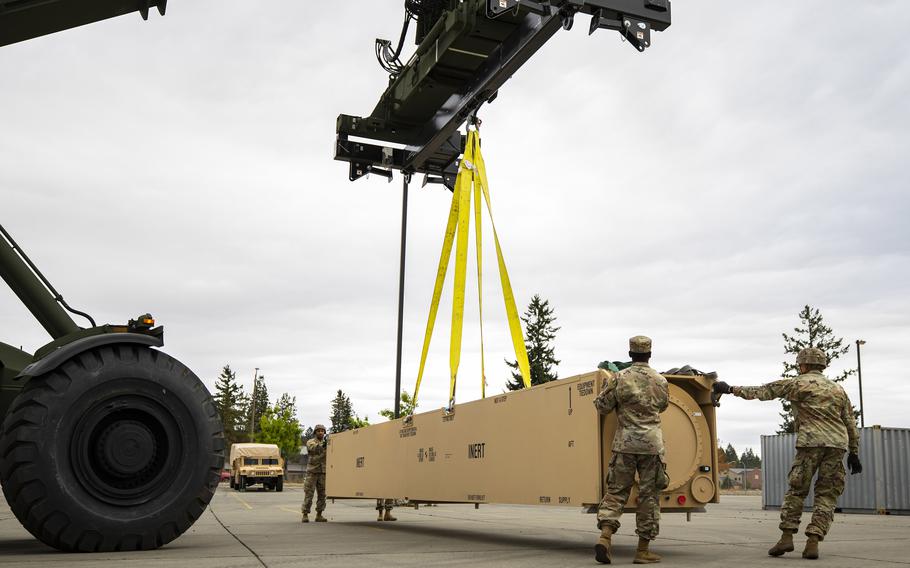 Still missing is the missile itself. But the Army expects the weapon to be ready by 2023. The Dark Eagle is designed to fly 3,800 mph and hit targets 1,700 miles away with precision.
The U.S. is in a race with Russia and China to develop hypersonic weapons systems and the Pentagon has stepped up funding in hopes of getting the edge.
Still, some security analysts say the U.S. is trailing its adversaries in its development of the weapons. On Monday, the Russian Defense Ministry said it test-fired a hypersonic "Tsirkon" missile for the first time from a submarine. In speeches, President Vladimir Putin has touted Russia's advances in various hypersonic systems as "invincible" weaponry.
The Pentagon has been involved in developing hypersonic weapons since the early 2000s. But at the time, the U.S. was heavily involved in Iraq and Afghanistan and funding for such programs was relatively limited. That has changed in recent years.
"This is due, in part, to advances in these technologies in Russia and China, leading to a heightened focus in the United States on the strategic threat posed by hypersonic flight," a July Congressional Research Service report said.
Both China and Russia "have conducted numerous successful tests of hypersonic glide vehicles and likely fielded an operational capability," the report said.