Army sending aviation, assistance brigades to Europe
by
Rose L. Thayer
Stars and Stripes
October 8, 2021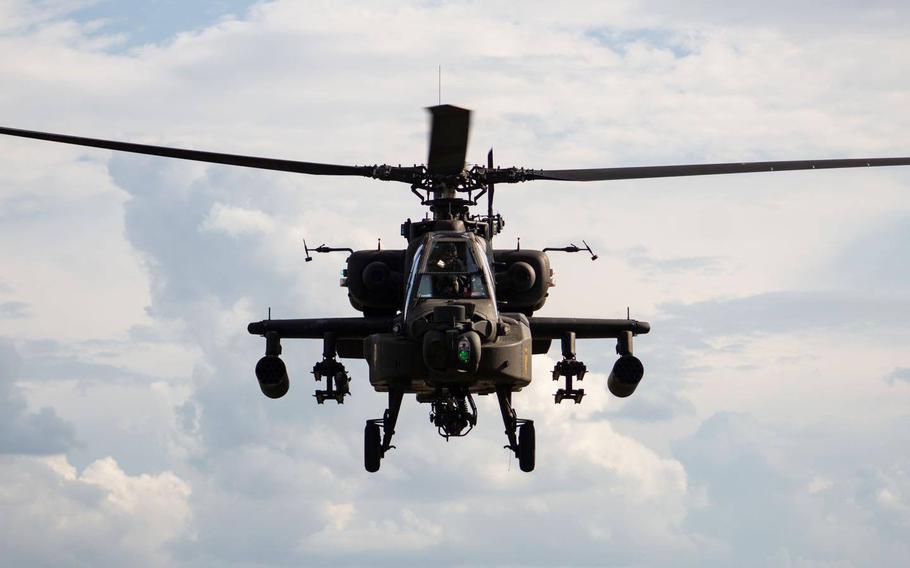 The 4th Security Force Assistance Brigade out of Fort Carson, Colo., and the 1st Cavalry Division Combat Aviation Brigade out of Fort Hood, Texas, will deploy within the next three months to support two different missions spread across Europe, the Army announced Friday.
The assistance brigade, which is a specialized unit tasked to train and advise partner nations, will support security cooperation in Europe, the Army said. Adviser teams from the brigade will deploy in six-month rotations to Georgia, Latvia, North Macedonia, Poland and Romania, where they will establish partnerships with the land forces, Army Europe said.
Deployments will begin this month, but the Army's announcement did not specify the number of troops included in each rotation. The brigade headquarters will remain at Fort Carson, Army Europe said.
"The 4th SFAB provides specialized and experienced, purpose-driven U.S. Army leaders who aim to increase interoperability in support of [U.S. Army Europe and Africa] security cooperation objectives," said Col. Robert Born, commander of the 4th Security Force Assistance Brigade. "Our team of advisers are fully prepared for our upcoming deployment to Europe this fall. We are ready to train with our allies and partners, as well as add 4th SFAB advisers to the 70-year history of the U.S. Army's presence in Europe."
The 1st Air Cavalry Brigade will send about 2,000 troops to participate in Operation Atlantic Resolve, a nine-month training rotation in partnership with more than a dozen European countries, including Poland, Lithuania, Bulgaria and Romania. Troops will replace the 1st Infantry Division Combat Aviation Brigade from Fort Riley, Kan.
"Training to fight and win with our European partners builds confidence across the globe in NATO's combined lethality," said Col. Reggie Harper, 1st Air Cavalry Brigade commander.
The training rotations began in April 2014 and place about 7,000 soldiers across the region at any given time, according to U.S. Army Europe and Africa.