Fort Drum's new commanding general talks about plan for future of 10th Mountain Division
by
Alex Gault
Watertown Daily Times
July 16, 2021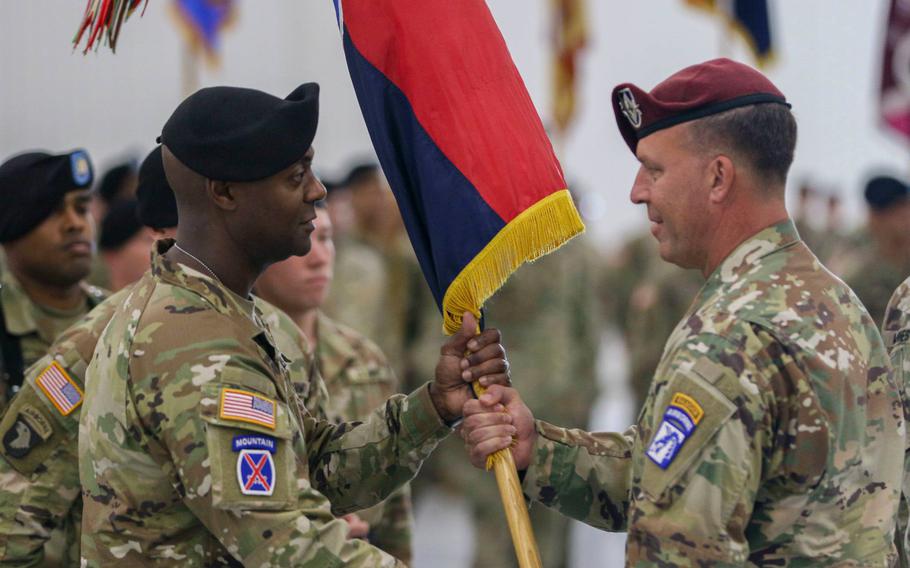 FORT DRUM, N.Y. (Tribune News Service) — A familiar face has returned to command the 10th Mountain Division.
On Monday, Brig. Gen. Milford H. Beagle Jr. assumed command of the division, and of Fort Drum, marking his second assignment to the Army post. In an interview Thursday, he said returning to the north country comes with a sense of familiarity, which has made the command transition comparatively comfortable.
"If feels like I'm coming back someplace familiar," he said. "There's a sense of comfort."
Since 2018, Beagle was the senior commander at Fort Jackson, a post about an hour away from his hometown in South Carolina. He was also the commanding general of the U.S. Army Training Center at Fort Jackson, which provides basic combat training for roughly half of all Army soldiers.
Returning to Fort Drum, Beagle said he is most struck by the sense of community that feels deeply embedded into Fort Drum.
Upon entering Hays Hall, the 10th Mountain Division's headquarters, visitors are met with the faces of the chain of command, both nationally and for the division itself, as in all other headquarters. What is unique are the photos of local leaders, including Assemblyman Mark C. Walczyk, R- Watertown, U.S. Rep. Elise M. Stefanik, R- Schuylerville, and the memorials to the leaders in the division's past. It all culminates in a strong sense of the history that defines the 10th Mountain Division, Brig. Gen. Beagle said, which he walks through daily.
"Every commander brings their own touch, but I'm not sure what I want to do here yet, because the building is already so beautiful," he said, looking around the photos, memorials and plaques that adorn the main lobby of Hays Hall.
Fort Drum has a uniquely close relationship with the surrounding communities in Jefferson, Lewis and St. Lawrence counties. Local leaders and Army officials fought to reactivate the 10th Mountain Division and bring it to Fort Drum in the 1980s, and since then the Army post has maintained close ties with the north country. With no central hospital or school system on post, patients and families brought to the region by the military are woven into the region's communities.
Beagle said he wants to sustain those close relationships during his command of Fort Drum.
"For me the focus with soldiers, families and our civilians is quality of life," he said. "So anywhere we can make that better when we have a family that lives on post, we have to be on par and in sync with one another."
The general commended the health care system in the region, and said local school districts have clearly worked hard to adapt programs to serve the children of military families, who frequently move.
Beagle said an area he continues to pay attention to is job opportunities for military spouses, ensuring there are jobs and industries in the surrounding communities to utilize their skills.
"That's not necessarily a problem here, but it's something you want to continue to think about because it happens with our families," he said. "Every two, three years they move and for the spouse, they start all over again, they really don't have any level of consistency."
Beagle left Fort Jackson after balancing two relatively tense situations. In April, Sgt. Jonathan Pentland, who had in 2017 been stationed on Fort Drum but was then stationed at Fort Jackson, was arrested and charged with assault after getting into a heated encounter with a Black man in a neighborhood.
Less than a month later, a Fort Jackson trainee was arrested after authorities say he took an unloaded rifle off post and briefly hijacked a bus of elementary school students.
Beagle said when situations arise that may be perceived by the community as significantly negative, having strong bonds with the community already is integral.
"Those things will threaten a bit of the trust, if you haven't worked at maintaining those links," he said.
After the bus hijacking incident, Beagle said he spoke with the families of the children who were on board, but his first call was to the bus driver.
"You can only do that if you have access in that way, if you've spent time investing in the community, being transparent," he said.
The next step, Beagle said, is standing up as a leader and explaining what happened and how further instances can be prevented.
The general is taking command of Fort Drum at a time when the division faces some significant changes. After years of de-escalation in Afghanistan, U.S. forces have officially withdrawn. The 10th Mountain is the most deployed division of the Army, and many 10th Mountain soldiers were stationed in Afghanistan, including former commander Maj. Gen. Brian J. Mennes.
Beagle said that as the division moves forward without missions in Afghanistan, their focus will shift to training for a new kind of warfighting concept, multi-domain operations.
"Multi-domain operations mean fighting fights of the future in all domains — cyber, air, land and sea," he said.
The Army has experience fighting in the air, land and sea domains, but Beagle said adding the cyber-warfare perspective is new. Multi-domain operations also mean training for different terrains that have been rarely encountered until now, like subterranean caves.
Beagle said that as the Army and U.S. military disengage from Middle Eastern-focused and counter-terrorism operations, the new focus is on large-scale combat operations, known as LISCO.
LISCO focuses on fighting against peers with comparable forces and capabilities in larger theaters.
"That's generally how the armed services work," he said. "Unless you're engaged in your current conflict, you're preparing for the next one."
Military commanders are also facing a time of change on their own front. In July, U.S. Secretary of Defense Lloyd J. Austin III officially announced his support for a proposed change in the military justice system that would remove the power for a military commander to decide themselves whether to pursue a sexual assault case brought before them.
Congressional leaders, including U.S. Sen. Kirsten E. Gillibrand, D- N.Y., have long pushed for the change in law, but the defense secretary's statement of support is the first time military leadership itself has expressed support for the proposition. The secretary said it has become apparent that the military has failed to make progress in preventing sexual assault among its ranks.
Beagle said it is clear the American people want there to be a change to how the military handles sexual assault cases, and he hopes any changes made to the military justice system are done with a sense of consistency.
"From an outside perspective, when you look at the numbers and the statistics, you get the sense whatever we're doing is not really working," he said. "To reverse the trend, or the trend people say exists, we need to take an approach we can embrace and put our efforts into it."
Brig. Gen. Beagle said that as he looks at the work ahead of him in his new command, he cannot help but be struck by how much of an honor and a privilege it is to be chosen to lead the 10th Mountain Division out of a significant, skilled pool of officers.
"If I had to pick any one of the ten divisions, I got the one that I would have picked any day," he said. "I really look forward to continuing to reach out, engage and see what this community needs from us."
(c)2021 Watertown Daily Times (Watertown, N.Y.)
Visit Watertown Daily Times (Watertown, N.Y.) at www.watertowndailytimes.com
Distributed by Tribune Content Agency, LLC.