McQueen assumes command over Fort Detrick and U.S. Army Medical Research and Development Command
by
Angela Roberts
The Frederick News-Post
June 23, 2021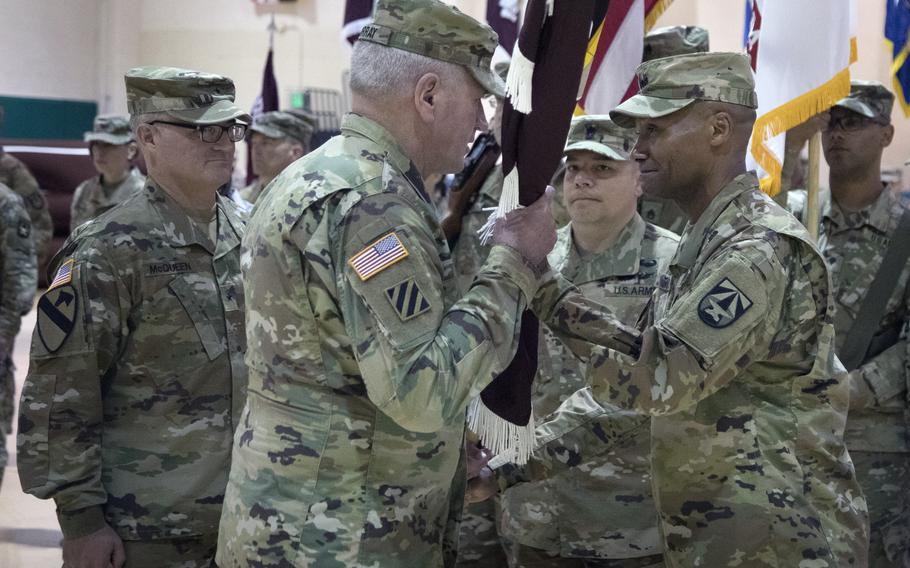 FREDERICK, Md. (Tribune News Service) — Major Gen. Michael J. Talley flashed a smile Tuesday morning as the man who will replace him at Frederick's Fort Detrick ceremonially grabbed hold of a command flag, signaling the start of the new commander's tenure.
Talley said he's confident the fort will thrive under Brigadier Gen. Anthony L. McQueen, who is the new commander of the U.S. Army Medical Research and Development Command at Detrick — a role he assumed during a ceremony in the fort's gymnasium on a rainy Tuesday.
McQueen most recently served as deputy chief of staff for the U.S. Army Medical Command in Falls Church, Virginia.
Talley is headed to a new post as deputy commanding general of operations at the U.S. Army Medical Command in Falls Church.
McQueen thanked his family for their support — including his wife, Molly, his "biggest coach" — and pledged to build on Talley's legacy.
"We all know that the Army's No. 1 priority is our people," he said. "As we remain focused on enabling readiness and creating medical solutions to care for our soldiers and their families, I will make [the] focus on caring for you."
Tuesday's change of command was originally scheduled to be held outdoors, at the Blue and Gray Field, but the morning's dreary weather drove the event indoors. Still, a group of soldiers gathered in the rainy field outside of the gymnasium and fired a set of cannons as the ceremony began.
Talley participated in the same ceremony in July 2019, when he replaced his predecessor, Maj. Gen. Barbara Holcomb.
Gen. John M. Murray of the Army Futures Command praised the outgoing commander's accomplishments. During such a challenging time in the country's history, Talley was the "right man and the right leader," Murray said.
As the novel coronavirus spread, USAMRDC played a critical role in the global fight against the pandemic, Murray said, using artificial intelligence to run millions of simulations to accelerate therapeutics and potential vaccines.
"While he will stand up here and, I will guarantee you, give all the credit to his team," Murray said, "I will tell you that leadership played a big role in MRDC's success when our nation needed it most."
Even beyond the pandemic, Talley dealt with his fair share of challenges during his tenure. During the summer of 2019, the Centers for Disease Control and Prevention shut down research at one of the facility's top labs after noticing lapses in biosafety protocols during a site visit. Eight months later, the labs were restored to full operations in March 2020. According to previous reports, there was never any evidence that any of the breaches were found outside authorized areas.
Then, earlier this year, a Navy Hospital Corpsman stationed at Fort Detrick reportedly shot two naval sailors with a rifle while they were working inside a warehouse rented by the Naval Medical Research Center, Biological Defense Research Doctorate. Immediately following the shooting, police say the gunman drove to Fort Detrick; he was shot dead about half a mile from the Nallin Farm Gate by the military base's civilian police force.
However, Talley said during Tuesday's ceremony, his team turned each challenge they faced into an opportunity. Watching USAMRDC and its government partners mobilize during the pandemic, Talley said, was "nothing short of spectacular."
"I'm thankful and humbled by the opportunity for the privilege to serve the Army as commanding general of MRDC of Fort Detrick during these past two years," he said. "It has been the best job, and I have worked with the best people. And I wish you all the best."
(c)2021 The Frederick News-Post (Frederick, Md.)
Visit The Frederick News-Post (Frederick, Md.) at www.fredericknewspost.com
Distributed by Tribune Content Agency, LLC.