Male soldiers at Baumholder face highest risk among US Army bases of sexual assault, study says
by
John Vandiver
Stars and Stripes
June 21, 2021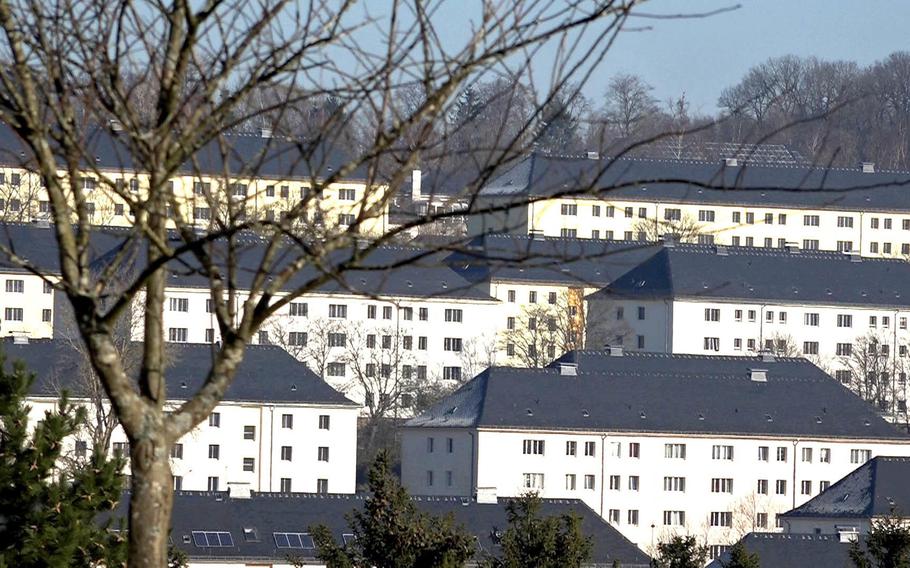 STUTTGART, Germany — Male soldiers based at Baumholder in Germany were more at risk of being sexually assaulted than at any other Army post, according to a service-commissioned study that found two other posts in Germany with similar risks.
A Rand Corp. report released Friday examined sexual assault data at U.S. Army bases worldwide and found elevated risks of male sexual assault at Vilseck and Landstuhl in Germany.
Among women, for whom the risks were found to be substantially higher, soldiers at Fort Hood and Fort Bliss in Texas faced the highest risks of sexual assault.
"These findings provide the Army with increased visibility on where exactly risk is consistently high for sexual assault and sexual harassment," said Jenna Newman, an adviser with the Army Resilience Directorate, in a statement. "It suggests there are location-specific concerns that require targeted interventions into climate and culture and will require additional research to understand."
For years, the Army has grappled with how to deal with sexual harassment and assault in the ranks. Last year, the killing of Fort Hood-based Spc. Vanessa Guillén intensified the scrutiny. For women at Fort Hood, risk of assault was nearly a third higher than the average risk faced by all women in the Army, the Rand report said.
Less is generally known about harassment and assault of men in the Army. The Rand study found that sexual assault targeting men runs higher at some overseas installations.
Overall, sexual assault risk for male soldiers is about 0.64%, according to Rand, compared to 5.8% for women. Total risk for men was highest at H.D. Smith Barracks in Baumholder with an estimated 19 incidents in 2018, the year that was analyzed, the report said. 
After Baumholder, risk was highest at Fort Polk, La., followed by Vilseck, Fort Richardson, Ark., and Landstuhl Regional Medical Center, Rand found.
Among the factors known to elevate a soldier's risk of being assaulted are being single, having a lower education level, being of lower rank and being in a combat unit. That means bases with large combat divisions will generally have higher risk factors. But to take a closer look at risk, Rand also conducted an adjusted analysis to isolate more vulnerable demographics within a given community.
When adjusting for key factors such as age, marital status and education, LRMC rated as the riskiest, followed by Baumholder and Daegu, South Korea, the report said.
"Sexual harassment and sexual assault have no place in the Army, and findings from this study will help Regional Health Command Europe more precisely target and tailor its sexual assault and harassment prevention and response efforts," said Gino Mattorano, Regional Health Command Europe spokesman.
Mattorano said sexual offenses are rare at LRMC, "but when they do occur, victims can feel free to report without fear of retaliation."
Regarding total risk for women, no European installations were in the Army's 10 highest, although Camp Humphreys in South Korea along with Daegu ranked seventh and eighth. But when adjusting to isolate how higher risk demographics fared, the study found that five of the 10 riskiest U.S. Army posts were overseas, including Daegu, LRMC and Kaiserslautern, Germany.
LRMC also was singled out for posting an upswing in risk between 2016 and 2018.
"Despite the relatively high correlation over time, there were some bases that appeared to have noteworthy changes in their risk estimates over time," the report said.
Rand recommended that the Army could conduct case studies of bases where adjusted sexual assault risk to women appears to have changed substantially and identify the causes.
 "This study sheds light on the environmental and occupational factors that contribute to the risk of sexual assault and sexual harassment for our soldiers and, in turn, will help inform future prevention and response efforts," said James A. Helis, head of the Army Resilience Directorate.
Twitter: @john_vandiver