Iraqi interpreter's battlefield work with Stars and Stripes reporters inspired her Army career
by
Seth Robson
Stars and Stripes
June 10, 2021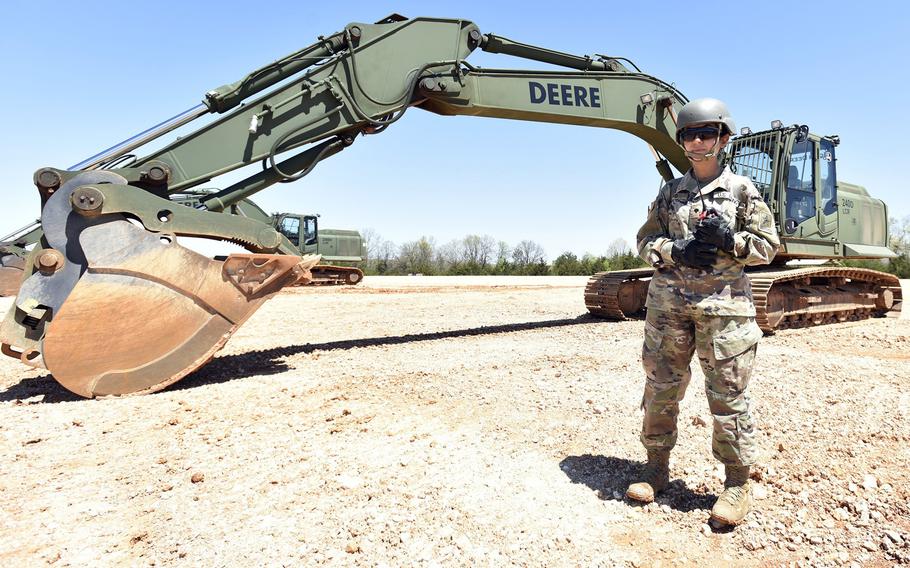 Standing 4 feet, 11 inches and weighing 110 pounds, Army Spc. Zainab Olivo had her work cut out marching with 60 pounds of gear during basic training at Fort Leonard Wood, Mo.
The physical challenge of boot camp, which Olivo, 32, completed in March, was just the latest hurdle for someone who had seen her share of war before putting on a uniform.
As a child growing up southwest of Baghdad in the Iraqi city of Karbala, she dreamed of becoming a police officer or a soldier. Years later, during the war against the Islamic State, she got a taste of that life while working on the front lines as an interpreter and translator for Stars and Stripes.
Olivo was a 14-year-old schoolgirl when a U.S.-led coalition invaded the country and deposed dictator Saddam Hussein in 2003. She recalled the chaos of that time in a May 14 telephone interview from Fort Leonard Wood.
"It was a mess," she said of post-invasion Iraq. "There was no government and no army left and just the American soldiers and Marines. They were handing out food and water to civilians."
Olivo said she was impressed by the seemingly superhuman strength of the U.S. troops who marched in the heat carrying their weapons and heavy equipment.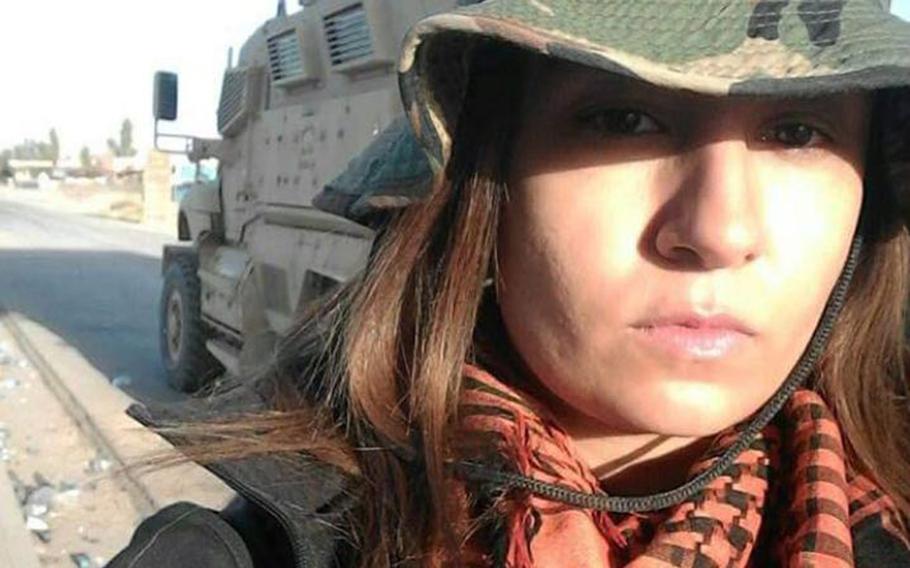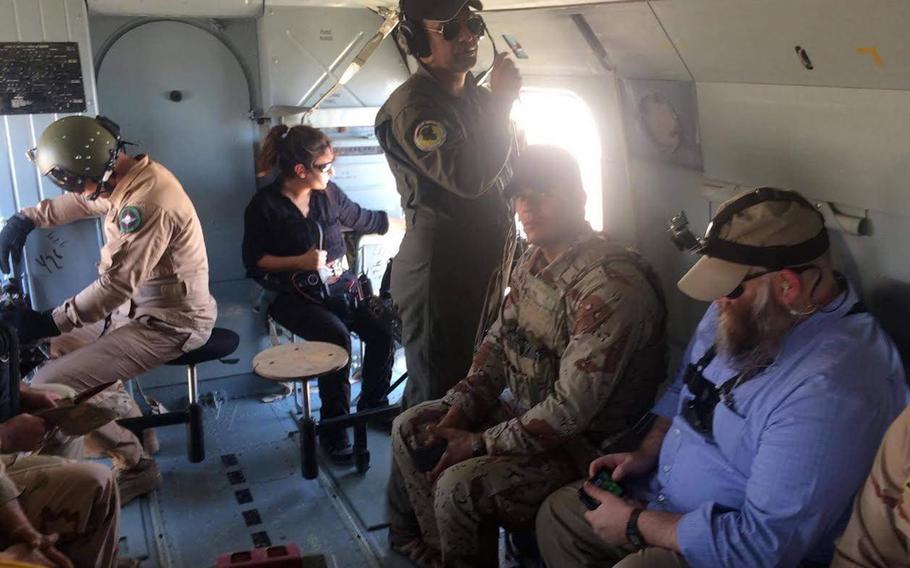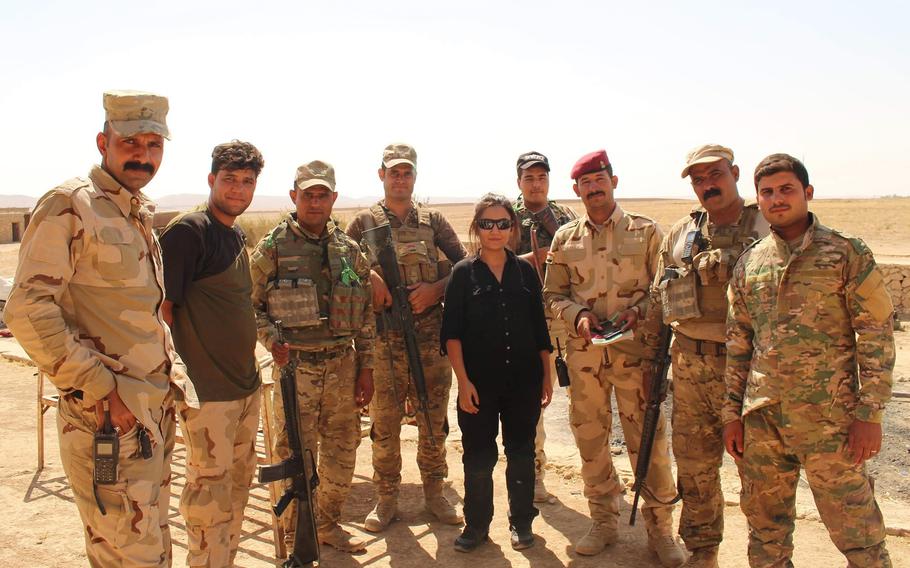 In 2011, as U.S. forces returned home, Olivo's family moved to the northern Iraqi city of Irbil, where she studied business at Dijlah University and continued to improve the English she'd learned in school.
But in 2014, the Islamic State plunged Iraq into conflict once more and brought U.S. forces back to the country. Olivo, who by then had a daughter of her own, answered a job advertisement and started working as a linguist for Stars and Stripes. Soon, she found herself face-to-face with the conflict.
"I am against extremists," she said of her motivation to work with journalists. "I wanted to go to the battlefield and see for myself and do something and get the job done and help."
Olivo's duties with the newspaper took her to combat outposts, where she saw U.S. troops at work, and to the war-ravaged suburbs of Mosul filled with enemy snipers, improvised explosive devices and armed drones.
Stars and Stripes reporter Chad Garland, who worked with Olivo in Iraq, praised her bravery.
"Zainab had a way of getting us closer to the front lines than the Iraqis initially seemed to want to let us go," he said in a June 4 email.
On a ride into Mosul with the Iraqi Counter-Terrorism Service in 2016, the pair found themselves next to a Humvee with a gunner firing a .50 caliber machine gun, presumably at the enemy, Garland recalled.
"I don't think the Iraqis realized they'd brought us that close to the fight until we got there," he said.
The city was recaptured from the Islamic State by the end of July 2017, a year later, Olivo moved to the United States on a family visa. She enlisted in the Army last summer and completed advanced individual training at Fort Leonard Wood on May 29 to become an engineer.
Olivo's company commander during engineer training, Capt. Zachary Hawkins, said she came into the Army with more military knowledge than most recruits since she had interacted with troops in Iraq.
"She saw how they presented themselves, and I think she came into basic training and advanced individual training already knowing a lot of things service members do," he said.
The other trainees, whose are mostly 19 and 20 years old, looked to her for wisdom and knowledge, Hawkins added.
"She is small, but it doesn't seem to faze her," he said. "She is able to operate equipment just as well as anyone and on ruck marches, carrying a heavy load with a weapon, she keeps up."
Part of the engineer training involved learning how to use heavy equipment such as tractors and excavators.
Olivo's experience in Iraq included working at Qayara Airfield West in October 2016. The facility, at that time recently recaptured from the Islamic State, had been repaired by Air Force engineers.
Olivo said her goal is to deploy somewhere with the Army, become an active-duty soldier and train as an officer. She is also planning to become a U.S. citizen with the help of the Army, she said.
"I want to make a difference and I want to be part of something bigger," she said. "And that is why I chose the Army."
Editor's note: The author of this report worked with Zainab Olivo on several assignments in Iraq between 2014 and 2017.
Twitter: @SethRobson1