Renovated airlift terminal in Tokyo ready for military travelers to Asia
By
Stars and Stripes
June 17, 2022
---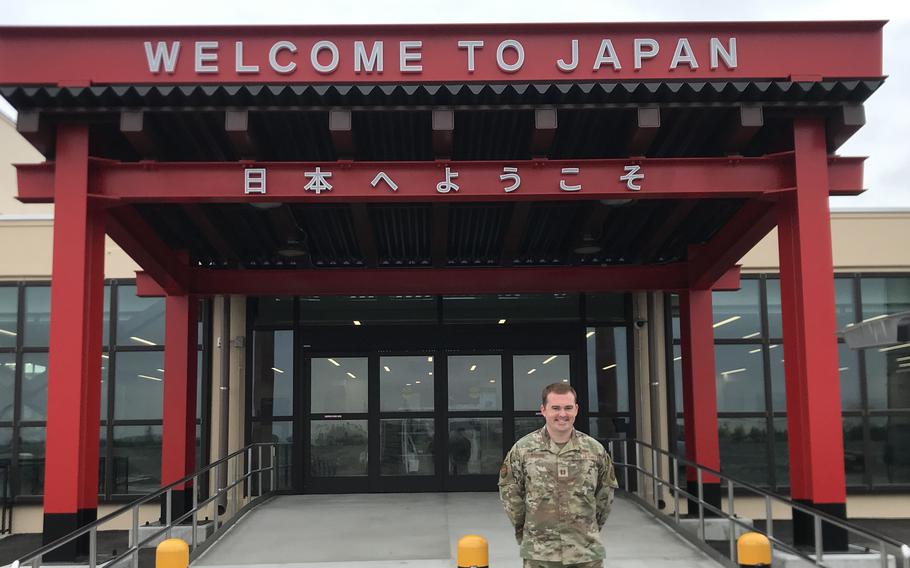 YOKOTA AIR BASE, Japan ⁠— Passengers waiting for flights at this airlift hub in western Tokyo have a new panoramic view of warplanes on the flight line thanks to a $27.5 million terminal renovation.
The Yokota Passenger Terminal, which reopened June 13 after a year-long refurbishment, includes a wall of windows facing a runway where C-130J Super Hercules airlifters, CV-22 Osprey tiltrotors, F-16 Fighting Falcons and various other aircraft take off and land daily.
"The coolest things are the windows up here in front where there used to just be a wall," 730th Air Mobility Squadron logistics and readiness officer Capt. Cody Byford said during a tour of the facility Thursday. "Now we have that perspective for our customers to be able to look out at the flight line."
The windows fill the terminal with natural light that falls on interior walls decorated with pink sakura, or cherry blossoms, red autumn leaves and an illustration of nearby Mount Fuji.
Passengers moving to and from aircraft walk through one of two massive red steel torii ⁠— symbolic gates in Japan's Shinto religion ⁠— on the runway side of the terminal.
The renovation tripled the terminal's seating capacity to 1,500 passengers and doubled the number of check-in counters from three to six. A new conveyor belt moves bags that before the renovation were handled solely by airmen, Byford said.
Folding glass doors allow staff to adjust the size of the area where passengers wait after security checks, said Byford, 27, of Round Rock, Texas.
More than 100 workers and 11 subcontracting companies completed the renovation in 186,977 man-hours, the Air Force said in a news release Thursday.
The new terminal will also feature an Army and Air Force Exchange Service cafe, Byford said.
The terminal, in operation since 1969, caters to passengers and handles luggage on the Patriot Express, which flies Boeing 767 jets between air bases in Japan, South Korea and the Seattle.
However, it can handle passengers from any type of aircraft that arrives or departs from Yokota, and it's a way station for passengers going to destinations in the Indo-Pacific region such as Singapore or Diego Garcia.
On any given day the terminal might be filled with troops in uniform, family members or veterans flying on a space availability, or Space A, status.
During the height of the coronavirus pandemic, Patriot Express missions increased by 300%, with an additional 70,000 Patriot Express passengers traveling through the terminal in 2021 when compared to the previous year, according to the Air Force news release.
During the renovation passengers arriving or leaving Yokota were moved through a prefabricated buildings beside the old terminal.
---
---
---
---