Air Force squadron throws itself birthday bash in German skies
By
Stars and Stripes
May 26, 2022
---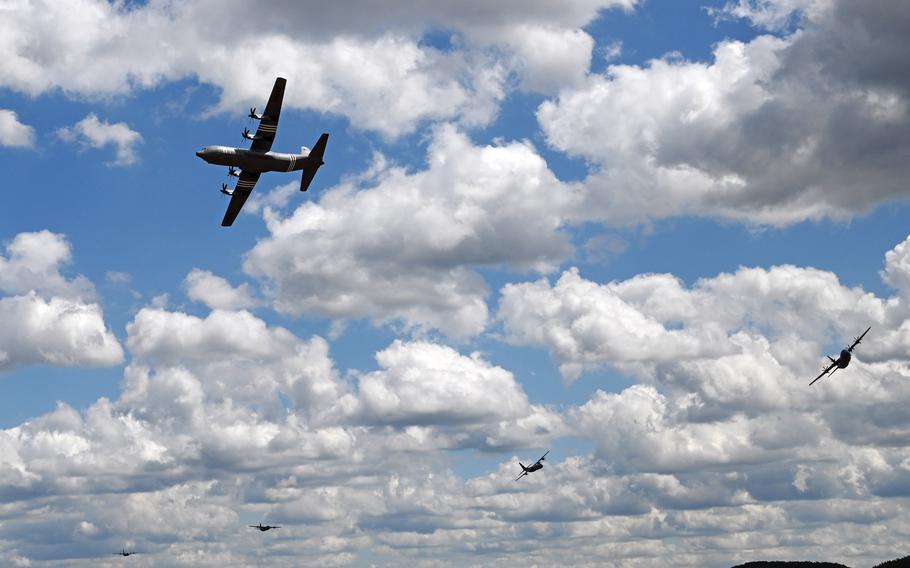 RAMSTEIN AIR BASE, Germany — It was a sight rarely seen over this mobility hub: nine C-130J Super Hercules airplanes flying in formation and dropping 90 paratroopers onto a grassy landing zone between two runways.
Before the Wednesday exercise, it had been more than two years since that many C-130s flew a training mission together and about four years since paratroopers dropped in to Ramstein, said Capt. Mandy Olguin, a member of the 37th Airlift Squadron who flew one of the nine planes.
Ramstein is seldom used as a drop zone because of its busy flightline operations, but this day marked an exception because the mission was an anniversary celebration.
The 37th Airlift Squadron orchestrated the training exercise to commemorate its inception 80 years ago at Patterson Field, Ohio, during World War II.
Activated as the 37th Transport Squadron, the unit initially flew C-47 Skytrain transports from desert airfields in Egypt and Libya. Later, the squadron dropped paratroopers into Normandy on D-Day.
"It was important to do something special today to honor the people who have come before us … the pilots, the crews of those other aircraft," said Olguin, who flew in the formation's No. 3 plane. "It's just a thank you and a big moment of gratitude to everything that they have done."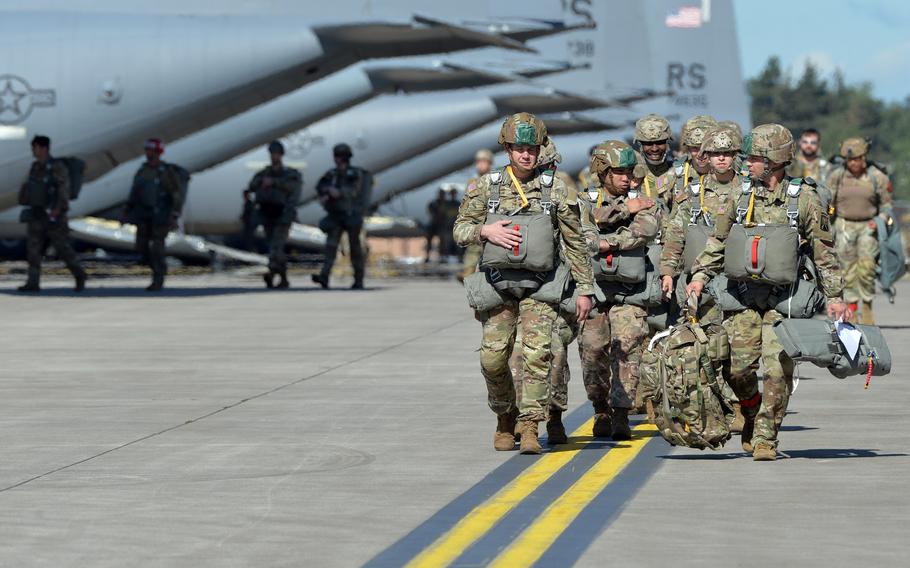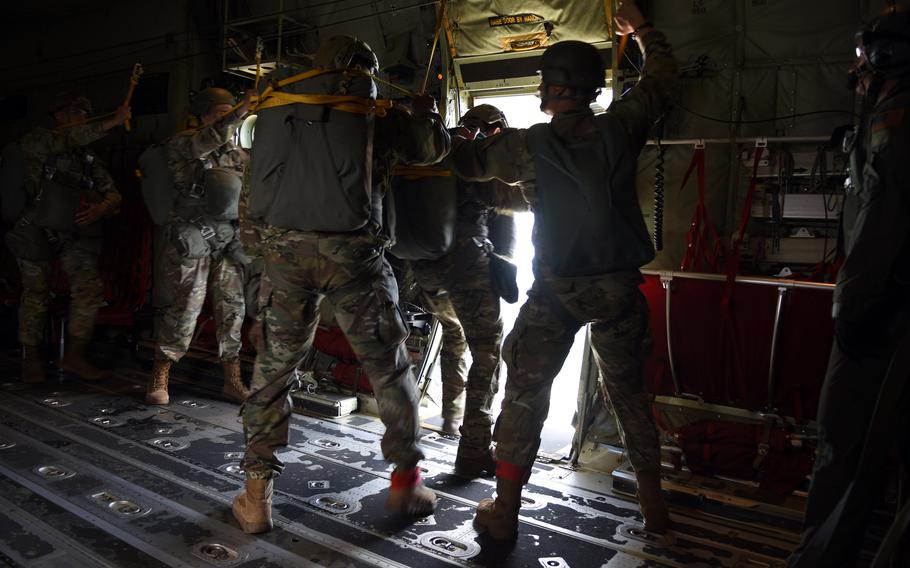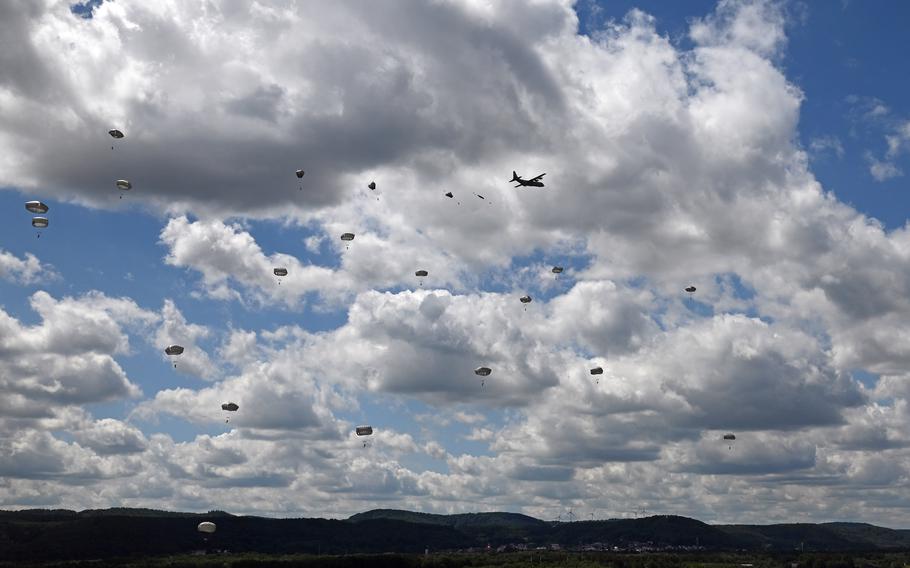 Since 1994, the squadron has called Ramstein home, serving as the linchpin of the Air Force's tactical airlift mission in Europe and Africa.
It's so busy that "we're lucky if we can get three aircraft in the air" at the same time for training, Olguin said.
The squadron employed 18 pilots and nine loadmasters for the flight. Most of the jumpers came from Army units in Germany, though a few Canadians and German paratroopers were last-minute additions.
Master Sgt. Edwin Rodriguez, a paratrooper from Stuttgart, jumped for the 78th time in his 20-year Army career. He wasn't nervous at the outset.
"Once the door opens, yes, I feel it," he said while standing near the plane before it took off.
Paratroopers exited one by one from side doors and floated to the ground in a long line of green chutes.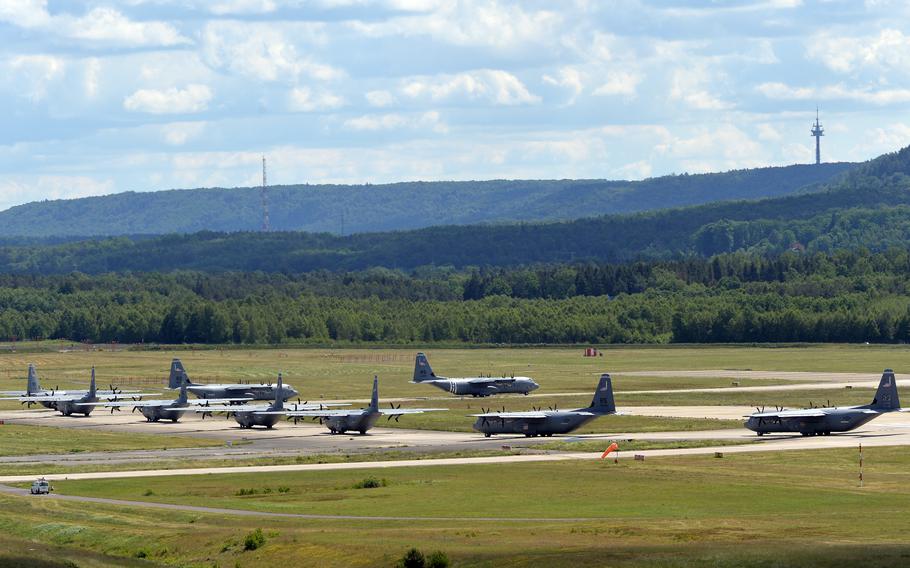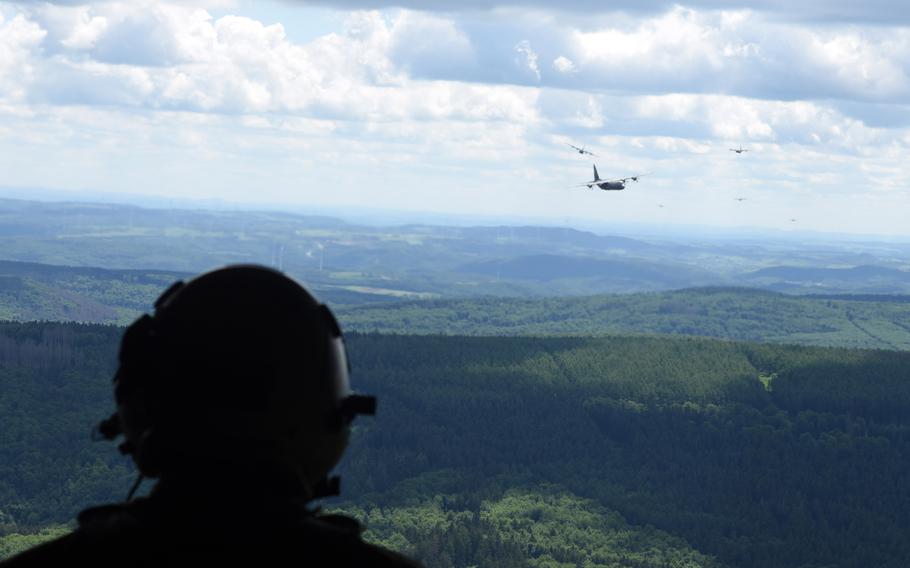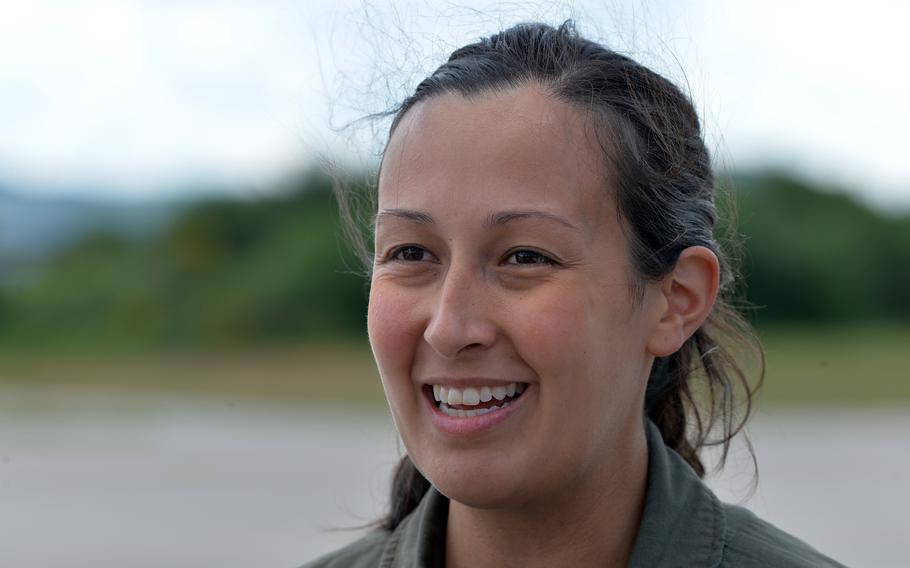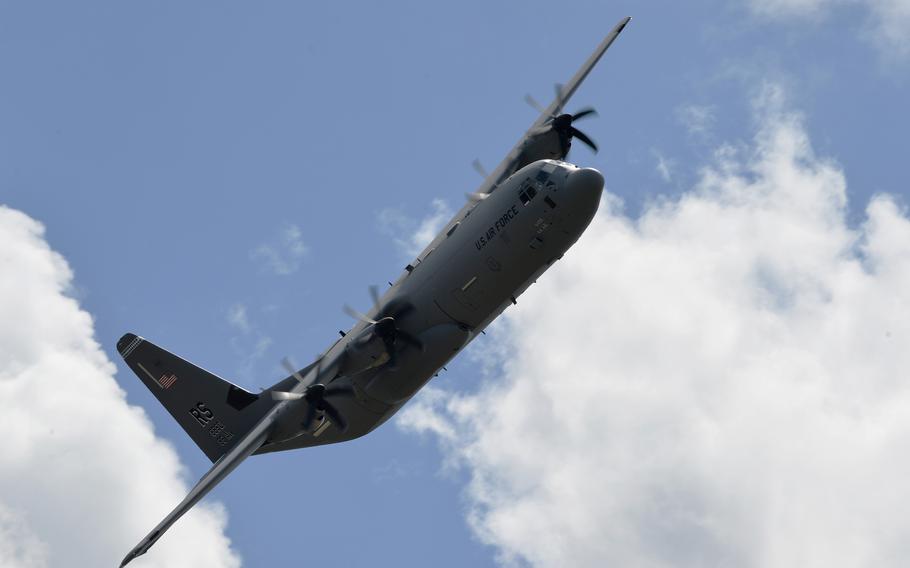 The second portion of the flight involved tactical formation maneuvers, practicing "avoiding towers and different terrains, moving the entire formation as one," Olguin said.
Flying inside the belly of a participating C-130 felt like riding a roller coaster. Some passengers along for the ride to document the flight debarked with used motion sickness bags.
For the pilots, the flying was an adrenaline rush, Olguin said.
"I cannot stop smiling," she said. "I've been here for three years. This has been by far the most worthwhile and rewarding flight I have flown here."
---
---
---
---