Snowman-building, bowing airmen catch Twitter's attention while fixing F-16 in Japan
by
Hana Kusumoto and Joseph Ditzler
Stars and Stripes
December 6, 2021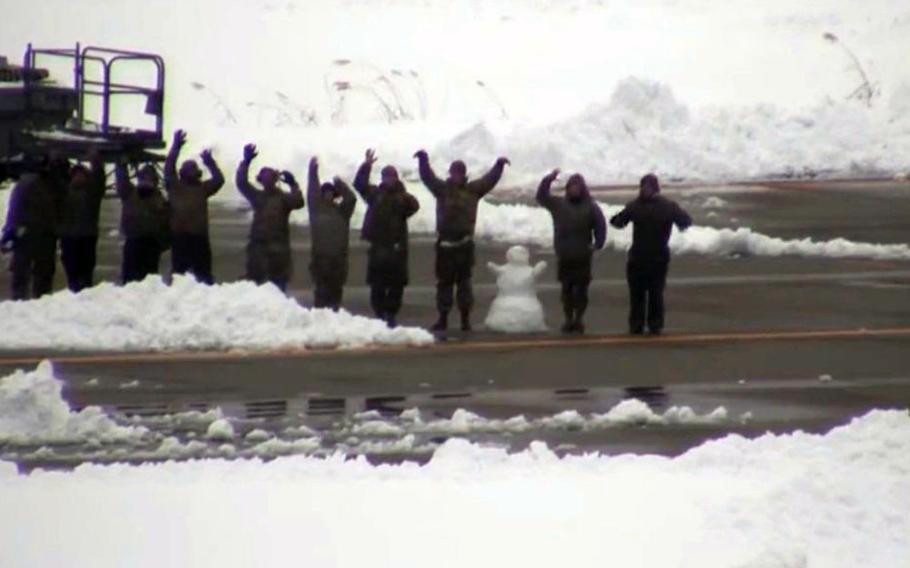 Images of an Air Force maintenance crew sent to repair an F-16 Fighting Falcon in northeastern Japan appeared on Twitter over the weekend, days after the jet jettisoned two fuel tanks on a nearby town.
Photos and video show the 11 crew members lined up on an Aomori Airport ramp beside a snowman as the F-16 taxis away past mounds of snow. Other images show an airman making the snowman on the tarmac.
Still more images show the airmen bowing and waving at the camera after the aircraft departed.
The images were originally captured by live weather cameras at the airport or a local TV station, according to the tweets. Twitter users identified the F-16 as the same aircraft that landed at the airport at about 6 p.m. Nov. 29 after an in-flight emergency.
Most Twitter users posted the images in good humor. Some said the snowman was keeping watch over the aircraft. Another person said they couldn't get the snowman off their mind after the airmen drew their attention to it. Others simply identified the aircraft as airmen removed a covering of snow from it and went to work.
A spokesman for Misawa Air Base expressed thanks for the patience shown to the airmen who worked on the fighter.
The maintainers who traveled to the Aomori Airport to complete all the necessary repairs and inspections on the diverted F-16 worked tirelessly to get the aircraft back to the base, Staff Sgt. Matthew Kakaris said Monday in an email to Stars and Stripes.
"We sincerely appreciate the patience and understanding of the local officials and Aomori Airport staff while maintenance was accomplished to safely return our aircraft," he said.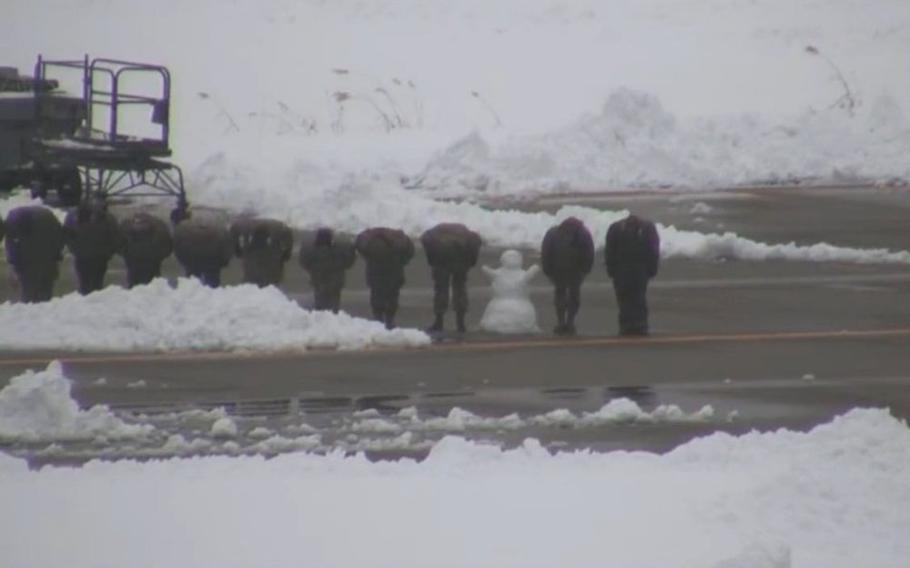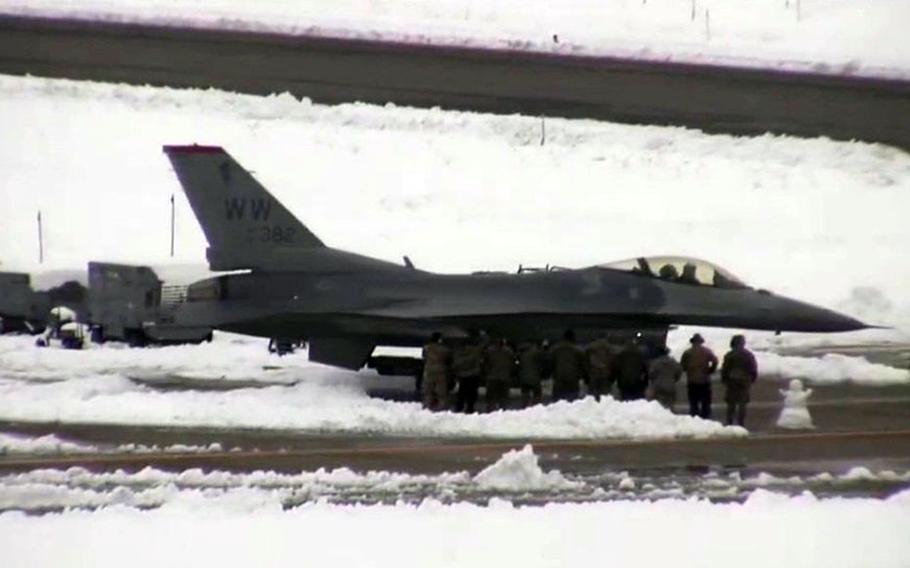 The pilot jettisoned the fuel tanks before landing. Both fell on Fukaura, a coastal town about 100 miles west of Misawa. One tank fell near the town hall and some scattered homes, the Ajigasawa police and Tohoku Defense Bureau said Wednesday. The other fell in woods in town, according to the 35th Fighter Wing.
The pilot was not injured, and the falling tanks caused no injuries. A sidewalk guardrail was damaged, police said. Japan's Defense Minister, Nobuo Kishi, said he would ask the Air Force to ground its F-16s until it would confirm their safety, but the Falcons took to the skies within two days, according to Japanese media.
Aomori Gov. Shingo Mimura, in an official statement, expressed "strong regret" that the fighters were flying again so soon after the incident.
---
---
---
---