Japanese governor disappointed by F-16s' return to skies after fuel tanks fell on seaside town
by
Hana Kusumoto and Joseph Ditzler
Stars and Stripes
December 3, 2021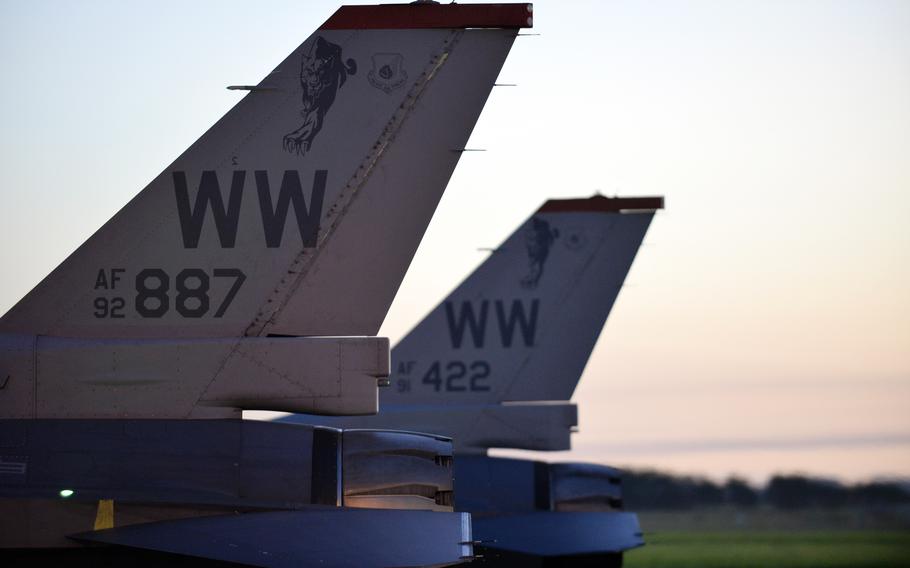 TOKYO – The governor of Aomori prefecture, where two external fuel tanks fell from a U.S. fighter jet onto a coastal town Tuesday, was displeased that the Air Force has resumed flights there, he said Thursday.
Gov. Shingo Mimura, in an official statement, expressed "strong regret" that F-16 Fighting Falcons were back in the air two days after one of the tanks was released near the town hall in Fukaura, roughly 100 miles west of Misawa Air Base.
The F-16 pilot jettisoned the tanks during an in-flight emergency and landed without further incident at Aomori Airport, about 45 miles west of the air base, around 6 p.m. Tuesday.
The Japan Ministry of Defense requested the Air Force ground the fighters until it could assure the government of their safety and provide a plan to prevent further incidents. The 35th Fighter Wing at Misawa did not respond publicly to the request. The base did not respond to a request for further comment Friday from Stars and Stripes.
During a visit Wednesday by wing vice commander Col. Timothy Murphy to the prefectural office, Mimura "strongly requested" the wing take measures to prevent a repeat of Tuesday's incident, according to his statement.
"For F-16 fighters to resume flights without any explanation to the prefecture is regrettable," Mimura said, "and we take it with severity as it causes annoyance to the local residents' feelings and increases prefectural residents' distrust against U.S. Forces as a whole."
The Asahi newsaper reported Thursday that Murphy the previous day told Misawa city officials the F-16 pilot jettisoned the tanks according to procedure after the aircraft indicated a loss of hydraulic pressure. A second aircraft overflew the site to check for fires but found none and continued to the air base, according to the report.
Flights from Misawa Air Base resumed Thursday, Asahi reported.
Spokespeople for the police and the Tohoku Defense Bureau on Wednesday said parts of a tank fell near scattered homes and the town hall. No injuries were reported but a sidewalk handrail was damaged, the police spokesman said. Firefighters left the parts nearby for the U.S. military to collect, he said. The second tank fell in woods nearby, according to the wing.
The F-16 landing at the Aomori Airport caused cancellations of several commercial flights that evening, an airport spokesman said Wednesday.
---
---
---
---